Monsters in a Mist-locked Kingdom: The Shepherd King by Rachel Gillig
Monsters in a Mist-locked Kingdom: The Shepherd King by Rachel Gillig

One Dark Window and Two Twisted Crows (Orbit Books,
September 27, 2022, and October 17, 2023). Cover design by Lisa Marie Pompilio
I enjoy a good fairy tale. Also a well told-gothic romance. My true love, of course, is monster movies. I'm not sure I've ever seen a novel that took a stab at mixing all three. At least, not until I read this tasty copy on the back of One Dark Window:
Elspeth Spindle needs more than luck to stay safe in the eerie, mist-locked kingdom she calls home — she needs a monster. She calls him the Nightmare, an ancient, mercurial spirit trapped in her head…

When Elspeth meets a mysterious highwayman on the forest road, her life takes a drastic turn. Thrust into a world of shadow and deception, she joins a dangerous quest to cure the kingdom of the dark magic infecting it. Except the highwayman just so happens to be the King's own nephew, Captain of the Destriers… and guilty of high treason.
One Dark Window is the debut novel by California author Rachel Gillig, the opening book in a duology. Sequel Two Twisted Crowns arrives later this year.
[Click the images for a Window into a larger world.]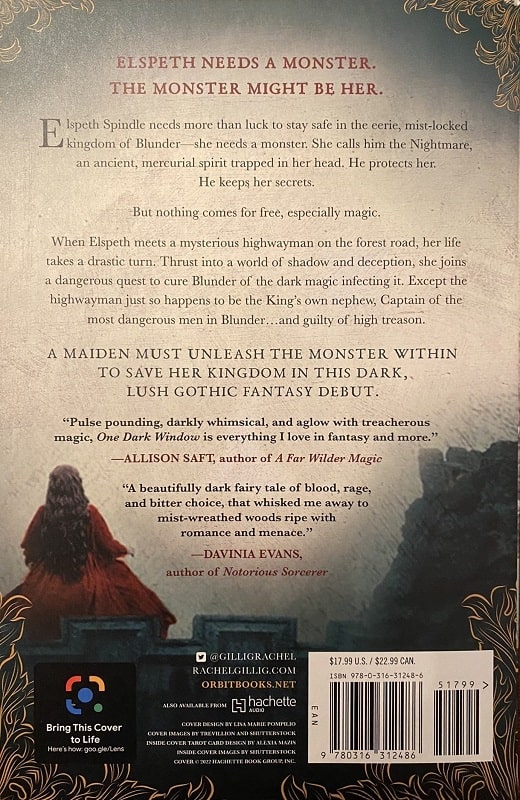 Back cover for One Dark Window
I bought One Dark Window after holding a copy in my hands for about ten seconds at Barnes & Noble last month. However, even if I hadn't, I certainly would have ordered a copy after reading Archita's review at The Chicago Review of Books.
The opening chapter of Rachel Gillig's debut novel One Dark Window, is itself a dark window, inviting readers to look into the misty woods where shadows stalk, explore the medieval town of Blunder with its superstitions and prejudices, and collect the arcane "Providence" cards (not unlike a Tarot deck or a set of Oracle cards) that bestow certain magical powers upon the wielder. Gillig renders this world in delicious, evocative prose and familiar Gothic imagery. Much of the narrative follows Elspeth Spindle, whose family has kept the knowledge of her "infection" a secret from society at large. Infected children, learns the reader, often manifest supernatural abilities and hence, are swiftly put to death in the King's dungeons. But Elspeth's family does not know that she carries a five-hundred-year-old spirit at the back of her mind: the "Nightmare" who grows stronger as she (the Gothic heroine in every sense of the term) slowly degenerates…

Gillig builds her folk horror tale slowly and smartly. Elspeth's yellow-eyed Nightmare speaks almost entirely in rhyme even as he bestows her with the strength to fight her assailants. In a Cinderella-like twist, her stepmother looks down on her, so Elspeth grows up with her aunt's family at the edge of the woods… Elspeth is pulled into a conspiracy plot led by Ravyn Yew, the Captain of the King's "Destriers," the soldiers who are tasked with maintaining law and order as well as hunting down infected children…

One Dark Window is a page-turner. Gillig's lush language is somewhat reminiscent of Alix E. Harrow's excellent portal fantasy, The Ten Thousand Doors of January, as well as Robin McKinley's redolent fairytale retellings such as Spindle's End, Beauty, and Deerskin, in which evocative prose and atmospheric settings take precedence over plot and characterization. Gillig's own prose is steeped in rhymes and Gothic signifiers (wilting roses, crumbling stone castles, Grimms' fairytale woods, and so on) that carefully construct a richly detailed and decadent world that at once feels familiar, distinctive, and wistful.
Here's all the details.
One Dark Window (396 pages, $18.99 trade paperback/$6.99 digital/$15.33 audio, September 27, 2022)
Two Twisted Crows (368 pages, $18.99 trade paperback/$9.99 digital/$25.55 audio, October 17, 2023)
Both are published by Orbit Books, with covers designed by Lisa Marie Pompilio.
See all our coverage of the best fantasy and SF series on the market here.