Interzone 204 now on Sale
Interzone 204 now on Sale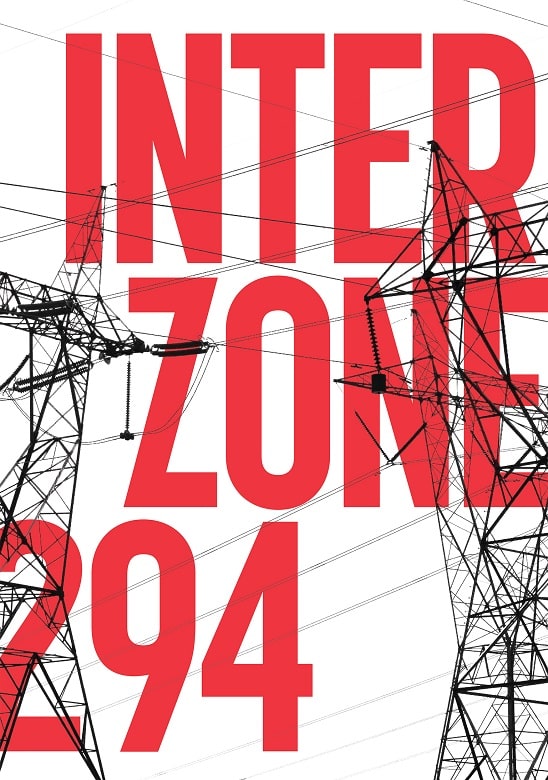 Interzone 294 (MYY Press, January 2023)
Last summer I reported that Interzone, the leading British science fiction magazine, had been sold. After 19 years and exactly 100 issues. Andy Cox at TTA Press brought his storied reign as editor to a triumphant close — though he does continue to produce his excellent magazine of modern horror, Black Static.
Interzone was acquired by MMY Press in Poland, and the new editor is Gareth Jelley. I ordered a copy of issue #294, the first with Jelley at the helm, for €15 (about $16.70 US, including shipping to the US), and was astonished when the massive 256-page issue arrived in my mailbox about a week later.
[Click the images to be in the Zone.]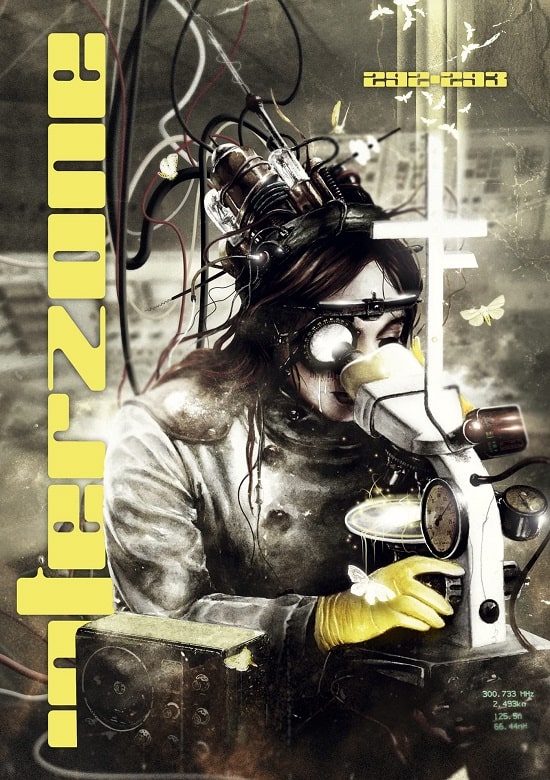 The last TTA press issue: Interzone #292-293 Double Issue (July 21, 2022)
The big new issue contains original fiction by J.F. Sebastian, Philip Fracassi, Kat Clay, Daniel Bennett, Marisca Pichette, R.T. Ester, Louise Hughes, and Liviu Surugiu, plus the usual columns by Aliya Whiteley, Nick Lowe, and David Langford, and interviews with Cassandra Khaw and Christopher Priest. Philip Fracassi posted this intriguing tidbit about his story back on Facebook back in June:
I'm so thrilled that INTERZONE magazine — Britain's longest-running sci-fi mag — has accepted my story "Murder by Proxy" for issue #294, the very first issue under new editor Gareth Jelley, who is taking the IZ editorial reigns from legendary BLACK STATIC editor, Andy Cox.

Huge thanks to Gareth for accepting my novelette about a noir-drenched detective solving crimes in the future while battling his own (terrifying) inner-demons.
Interzone has always been impressively illustrated and designed, and the new publisher proudly carries on that tradition. The issue is fully illustrated, in color, and the layout is as crisp and readable as always (if the print is sometimes a little small for my aging eyes).
The interior art doesn't reach the standard set by Andy Cox — but that was a very high bar indeed, as Interzone routinely had the finest interior art on the market (Gardner Dozois called it the "handsomest SF magazine in the business").
One thing I noticed right off the bat was the intriguing format change. Since it was founded by David Pringle and a collective of British SF fans (including John Clute and Colin Greenland) in 1982, Interzone has been an oversize publication, significantly larger than the US digest magazines. Interzone 294 is considerably smaller, about the size of a paperback, although the impressive page count (256) more than makes up for it. Editor Gareth Jelley tells me:
It is 256 pages, around 84,000 words, full-colour art, and I hope you love reading it as much as I loved making it… the word count is actually a smidge over the word count of IZ 292/293

Book reviews returned, and two interviews, and a very big Mutant Popcorn, plus the stories 🙂
The magazine is now printed in Krakow, Poland. I have no idea how they're able to print a 256-page issue and mail it halfway around the world for just sixteen bucks, but I figured it's best not to question it. I'm just delighted to have it in my hands.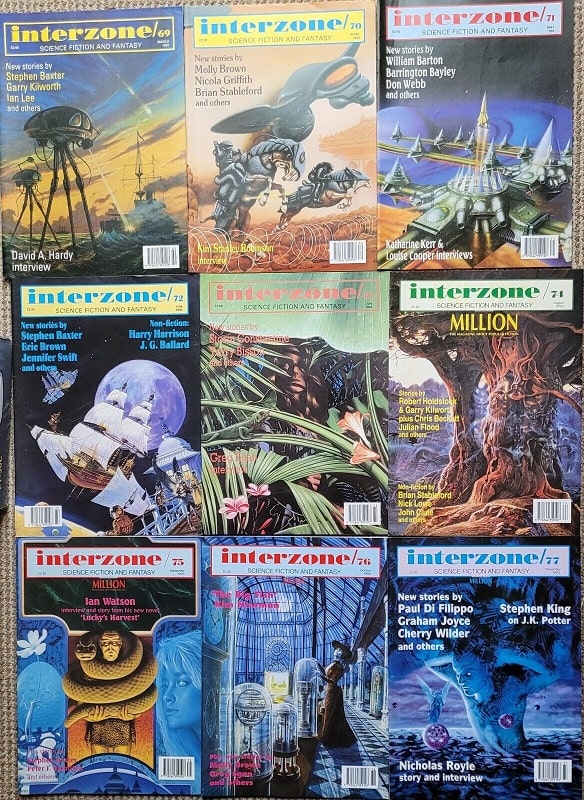 Past issues of Interzone
Here's the complete TOC for the new issue.
IZ #294 Table of Contents

Fiction

"The Disappeared" by J.F. Sebastian // When a refugee awakes on a beach to a personal tragedy, he soon realizes there is truth to the saying 'out of sight, out of mind'.

"Murder by Proxy" by Philip Fracassi // A wise-cracking detective with a deep-rooted fear of ventriloquist dummies tries to solve a locked-room mystery where the victims are being murdered in an impossibly brutal fashion.

"The Black Box Killer" by Kat Clay // In a world where criminals are redacted, ⬛⬛⬛⬛⬛⬛⬛ from the Bureau of Redaction must track down a serial killer before ⬛⬛⬛⬛⬛⬛⬛ strikes again.

"The Coming of the Extroverts" by Daniel Bennett // Aliens invade under the guise of East City's newest band, The Extroverts. Only one person can stop them: Moog, part time holo-synth player, who is looking to replace them on the bill…

"Seven Shots at the Ultimate High" by Marisca Pichette // The club's called EVOLUTION. You know the price, and what you get: 25 minutes of bliss, your mind opened to the stars. Isn't it worth it, to feel like that? Isn't it worth everything for a chance to fly?

"The Building across the Street" by R.T. Ester // To avoid getting chipped and interred at a facility for the unhoused, Leland agrees to help intercept alien dispatches originating light years from Earth.

"Last Act of the Revolution" by Louise Hughes // Esther was a woman who lived the revolution, fighting with every breath she had to free a world from its corporate overlords. Trouble is, the revolution won.

"Neostalgia," by Liviu Surugiu, translated from the Romanian by Teodora Vidrean, Ana Maria Bancea, Alexandru Maniu and Irina Mocanu

Non-fiction

Nothing But Beautiful Things: An Interview with Cassandra Khaw, by Laura Mauro

Semi-Playful Metaphors: An Interview with Christopher Priest, by Paul Kincaid

Climbing Stories, by Aliya Whiteley

Mutant Popcorn, by Nick Lowe

Ansible Link, by David Langford

Zelazny, from A to Z, by Alexander Glass

Folded Spaces, by Val Nolan

Book reviews by Gautam Bhatia, Georgina Bruce, Kat Clay, Alexander Glass, Kelly Jennings, Paul Kincaid, Laura Mauro, and Mike O'Driscoll.
If you're at all curious about what's going on in British science fiction — or you just want to support a new magazine — I encourage you to give the new Interzone a try. Order copies postpaid to the US for €15 (about $16.70 US) here, or a 6-issue subscription shipped anywhere in the world for just €61 here.
You can still buy copies of the last few TTA issues while they last — including their big #292/293 double issue — here.
We last covered Interzone with Issue 290-291. See all our previous coverage here, and all our recent magazine coverage here.