Interzone Finds a New Publisher
Interzone Finds a New Publisher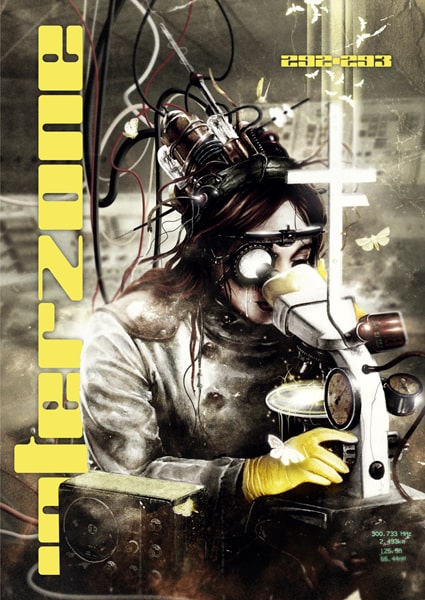 Interzone 292/293. Cover art by Vincent Sammy
Big changes are afoot for Interzone, the leading British SF magazine.
Long time publisher TTA Press has announced that the latest issue, Interzone 292/293, will be its last. The magazine has been sold to MYY Press. The new editor is Gareth Jelley.
The TTA era of Interzone ends with a bang — a big 192-page full color double issue, with new fiction from Rich Larson, Jeff Noon, Alexander Glass, Charles Wilkinson, and many more — plus artwork from Richard Wagner, Vince Haig, Vincent Sammy, and many others, the usual columns and goodies, and a Guest Editorial by Gareth Jelley, in which he outlines his plans and vision for the magazine.
Here's the official announcement from Andy Cox, Interzone's now-former editor and publisher.
INTERZONE HAS A NEW PUBLISHER

From issue #294 Interzone will be edited by Gareth Jelley and published by MYY Press.

Buy a 6-issue print subscription to Interzone and get a high-quality full-colour magazine packed full of mind-expanding fiction and nonfiction delivered directly to your door bimonthly, all for just €47 (price includes VAT and free delivery worldwide).

New subscriptions begin with issue #294.

If you are renewing or extending a TTA Press subscription, we will combine them to ensure you don't miss out on an issue.

Our very best wishes to Gareth.

Many thanks to all the collaborators, contributors, readers, and everybody else who helped and supported us through the past one hundred issues. Interzone #292/293, our 100th and final issue, should be purchased as normal from the TTA Shop.
Here's the details on that gorgeous double issue, the last from TTA Press.
OUT NOW! Our 100th and final issue. 192 gorgeous full colour pages packed full of modern science fiction and fantasy with beautiful wraparound cover art.

Cover Art

The Repairer of Reputations by Vincent Sammy

Fiction

"Wet Dreams" by Rich Larson, illustrated by Richard Wagner
Three stories by Alexander Glass: "The Pain Barrier," "The Faerie Engine," "The Soul Doctors," all illustrated by Richard Wagner
"Thank You, Clicking Person" by Jeff Noon, illustrated by Vince Haig
"Subira's Lattice" by Val Nolan, illustrated by Ev Shipard
"Walking in from the West" by Charles Wilkinson, illustrated by Vincent Sammy
"The Thing About Ants and Astronauts" by Justen Russell
"Bridget Has Disappeared" by Tamika Thompson, illustrated by Ben Baldwin
"Wind, river, angel song" by Cécile Cristofari, illustrated by Dave Senecal
"Rusting" by Lucy Zhang

Features

A Multiversal Consciousness: In Conversation With Alexander Glass, interview by Gareth Jelley
Climbing Stories by Aliya Whiteley
Mutant Popcorn by Nick Lowe
Ansible Link by David Langford
Guest Editorial by Gareth Jelley — Gareth outlines his plans and vision for the magazine
You can buy digital copies of back issue of Interzone at Amazon, and order the big double issue right from the TTA website for £14.00. Buy new subscriptions from MYY Press here. A six-issue sub is €47.
We last covered Interzone with Issue 290-291. See all of our recent Magazine coverage here.