High Fantasy Romance from New-Minted SF Royalty: A Strange and Stubborn Endurance by Foz Meadows
High Fantasy Romance from New-Minted SF Royalty: A Strange and Stubborn Endurance by Foz Meadows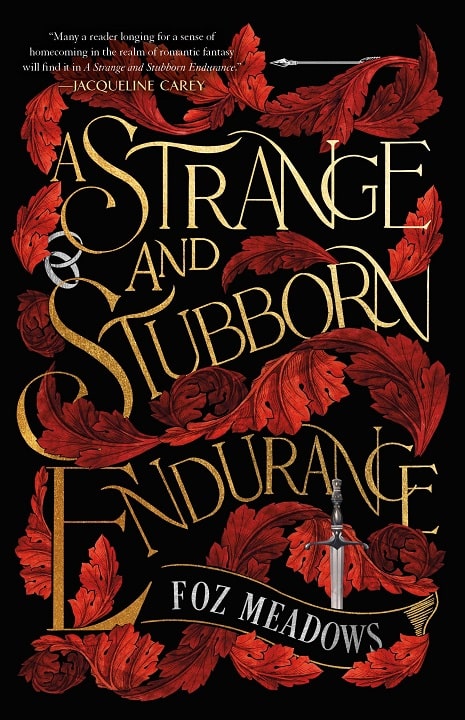 A Strange and Stubborn Endurance (Tor, July 26, 2022)
Foz Meadows is conquering the world.
She won a Hugo Award in 2019 (as she puts it, "for yelling on the internet"), and she's been a widely acclaimed essayist and blogger — at Strange Horizons, The Huffington Post, and Black Gate, among many other fine places — for nearly a decade. Her fantasy novel An Accident of Stars and its sequel A Tyranny of Queens were publishedby Angry Robot in 2016/17, and last year Tor Books announced they'd acquired her massive new fantasy novel, A Strange and Stubborn Endurance.
A Strange and Stubborn Endurance finally arrives next week and, if the early buzz is anything to go by, it's shaping up to be one of the major fantasy novels of year. Publishers Weekly calls it "lushly drawn fantasy romance… skillfully integrates gripping mystery and satisfying slow-burn romance," and Library Journal proclaims it ""an emotionally gripping, delightful queer fantasy filled with political intrigue." But my favorite notice came from SF Chronicle, which heralds Foz as "newly minted royalty of sci-fi fantasy."
Here's a slice of that SF Chronicle review, hot off the press today.
Among the cohort of exciting new writers who have emerged in the past decade is Foz Meadows, a genderqueer fantasy author and essayist born in Australia and living in California since 2018….

Her fifth novel, A Strange and Stubborn Endurance, is a high fantasy tale of queer romance and political intrigue, featuring two heroes who find themselves in a snarl of murder and mayhem arising from their arranged marriage. The tale begins with a familiar scenario, as the youngest son of one noble family is pressured to wed the youngest daughter of another — the problem being that the lordling they've chosen to play the groom, Velasin vin Aaro, not only has never met this woman but has no interest in women at all.

The novel becomes genuinely engaging when the foreign envoy, completely unfazed by the revelation that Velasin is gay, simply pivots to marry him off to a more gender-appropriate partner — instead of Laeca Aeduria, the ambitious daughter of a foreign satrap, Velasin will be promised to Caethari, the battle-hardened son.

What emerges is a complex portrait of love and recovery focused mainly on one character. Caethari Aeduria is the hard-bodied cinnamon roll that every romance novel needs, yet it is Velasin who holds our attention. The survivor of a viciously homophobic parent culture and brutal mistreatment from loved ones, Velasin has a past that will be sadly relatable to many readers. But his will to live and his profound emotional intelligence are also familiar, and it is Velasin's refusal to surrender to despair or hate that gives the book its title.
Read the whole thing here.
A Strange and Stubborn Endurance will be published by Tor Books on July 26, 2022. It is 544 pages, priced at $27.99 in hardcover, and $14.99 in digital editions. Read a pair of excerpts at Tor.com here and here.
See all our coverage of the best upcoming SF and fantasy here.