Future Treasures: The Adventures of Amina al-Sirafi by Shannon Chakraborty
Future Treasures: The Adventures of Amina al-Sirafi by Shannon Chakraborty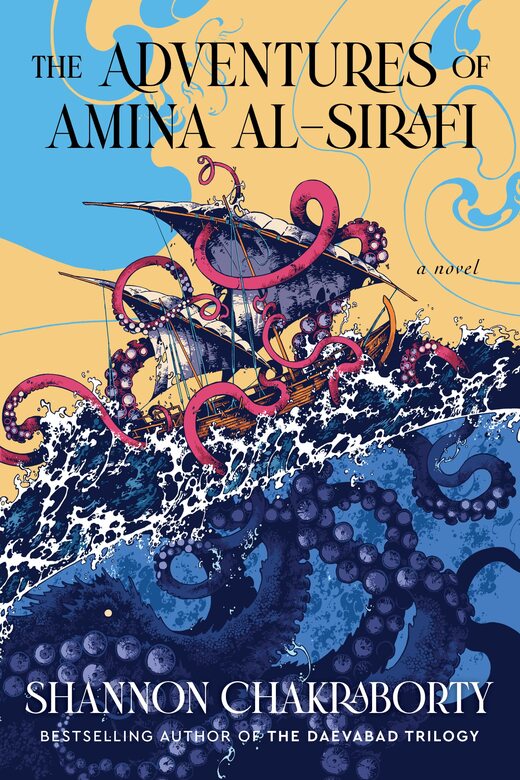 The Adventures of Amina al-Sirafi
(Harper Voyager, February 28, 2023). Cover by Ivan Belikov
I met Shannon Chakraborty at the 2018 World Fantasy Convention in Baltimore, where she conducted a delightful reading from her second novel The Kingdom of Copper, the sequel to her bestselling debut The City of Brass. Back then she went by the very cool name "S. A Chakraborty." For her new book The Adventures of Amina al-Sirafi, she has changed her name slightly to "Shannon Chakraborty," which is much easier to shout at somebody when you're trying to get them to hold an elevator.
The Adventures of Amina al-Sirafi will be published by Harper Voyager next week, and I'm going to go on record here as recommending you clear the end of the month for this one. Publishers Weekly calls it a swashbuckling adventure with "playful plot twists and thrilling action sequences [with a] charmingly crooked cast and dry humor," and BookPage sums it up as "A swashbuckling high seas quest that's rousing, profound and irresistible." This sounds like the book I need.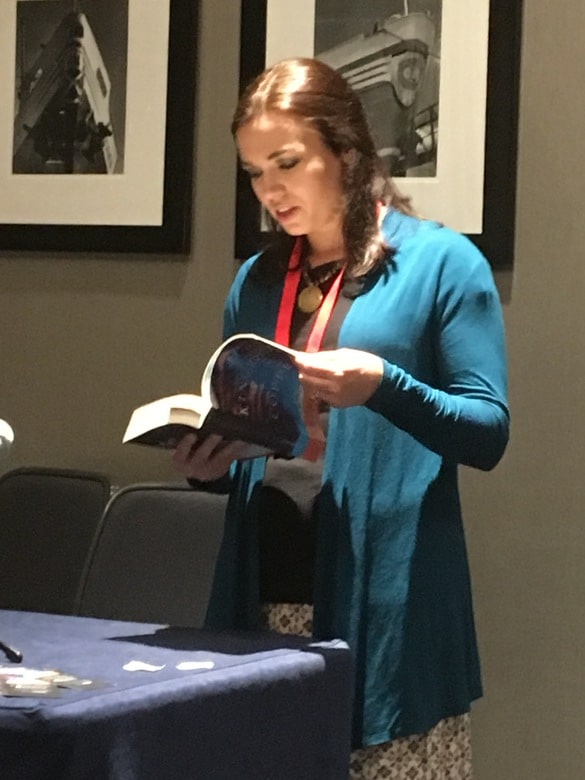 S. A. Chakraborty reads from The Kingdom of Copper
at the World Fantasy Convention in Baltimore, 2018
Here's a snippet from the starred review by Linda M. Castellitto at BookPage.
After 15 glorious years exploring the 12th-century Indian Ocean with her tightknit crew — acquiring precious jewels and artifacts, prevailing in all manner of violent encounters and reveling in the wildness of life on the sea — pirate captain Amina al-Sirafi grounded herself. Why, after all her legendary adventures, would she leave behind her beloved Marawati and abandon the great wide ocean? Because she gave birth to her daughter, Marjana, whom she wants to protect from the sorts of people she used to live among — the sort of person she used to be herself.

But as Shannon Chakraborty's historical fantasy The Adventures of Amina al-Sirafi begins, the past calls to Amina in the form of an irresistible job offer from the wealthy and imperious mother of Amina's former crewmate Asif. Asif's daughter has been kidnapped, and if Amina can rescue the girl, she will receive a million dinars, a life-changing sum that could buy the security and privacy she craves….

Desire and ambition prevail over misgivings, and Amina returns to the sea after 10 years in hiding, convincing her former crew to join her once again…. Chakraborty creates a rousing and inspiring portrait of the beautiful alchemy that results when a group of people fit perfectly together, challenging and supporting one another in invaluable and often hilarious ways.

As in Chakraborty's internationally bestselling Daevabad trilogy, magic and dark forces and bizarre beings pop up in the pages of The Adventures of Amina al-Sirafi, the first volume in a new trilogy… [a] swashbuckling, adventurous tale of a fantastical heist.
Read the whole thing here.
Our previous coverage of Shannon's excellent books includes:
Future Treasures: The City of Brass
Adventure In One of The Most Famous Locales In Fantasy: The City Of Brass
Revisit the Fabled City of Brass: S. A. Chakraborty Wraps The Daevabad Trilogy with The Empire of Gold
In 500 Words or Less: The City of Brass by Brandon Crilly
In 500 Words or Less: The Kingdom of Copper by Brandon Crilly
The Adventures of Amina al-Sirafi will be published by Harper Voyager on February 28, 2023. It is 496 pages, priced at $32 in hardcover and $14.99 in digital formats. The cover is by Ivan Belikov.
See all our coverage of the best upcoming fantasy here.