Repackaging a Classic: The Lunar Chronicles by Marissa Meyer
Repackaging a Classic: The Lunar Chronicles by Marissa Meyer

Cinder, Volume One of The Lunar Chronicles (Square Fish, February 2020). Cover by Tomer Hanuka
I don't usually hang out in the young adult section at Barnes & Noble. OK, that's a blatant lie. I gawk at the colorful table displays like a starving zombie at a Springsteen concert. Let me start over.
I love the young adult section at Barnes & Noble, but I don't usually buy a lot of stuff. On the other hand, I don't often come across book descriptions like this one.
Humans and androids crowd the raucous streets of New Beijing. A deadly plague ravages the population. From space, a ruthless lunar people watch, waiting to make their move…. Cinder, a gifted mechanic, is a cyborg. She's a second-class citizen with a mysterious past, reviled by her stepmother and blamed for her stepsister's illness. But when her life becomes intertwined with the handsome Prince Kai's, she suddenly finds herself at the center of an intergalactic struggle, and a forbidden attraction.
A Cinderella retelling dressed up as cyberpunk noir, described as "a cross between Cinderella, Terminator, and Star Wars" by Entertainment Weekly? That's worth twelve bucks. I totally missed Marissa Meyer's Cinder when it was released in hardcover a decade ago, but I was delighted to bring the new paperback edition home with me, and you know what? I'm glad I did.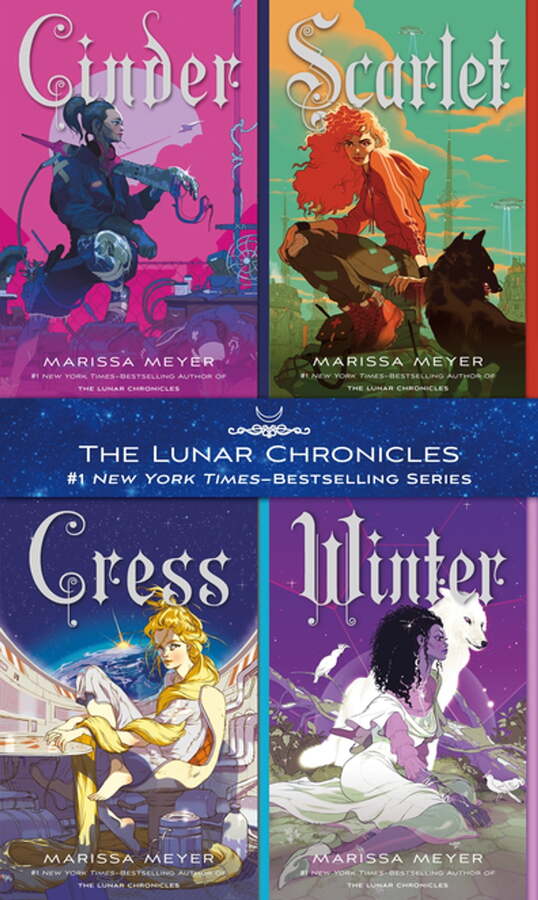 The four-volume Lunar Chronicles by Marissa Meyer
(Square Fish, 2020). Covers by Tomer Hanuka
Turns out Cinder is the first book in a four-volume fairy-tale retelling (of course it is). The Lunar Chronicles hit the New York Times bestseller list, and Cinder was a Publishers Weekly Best Book of the Year, so this will certainly be old news for many of you.
But the repackaging by paperback publisher Square Fish is new, as is the more science-fictional marketing. I'm not generally in the market for (yet another) fairy-tale retelling, but apparently I'm a sucker for a good noir-cyberpunk fairy-tale romance. Who knew?
The Lunar Chronicles consists of:
Cinder
Scarlet
Cress
Winter
Plus there's also a short story collection, Stars Above, and one additional novel, Fairest, just to confuse things (don't ask me to explain, I just take notes and follow orders).

Stars Above and Fairest (Square Fish, 2017 and 2020)
And, yes, there's a Lunar Chronicles Coloring Book, because that's automatically the seventh book in any popular fantasy franchise these days.
Why the enduring enthusiasm for these books? Publishers Weekly explained it pretty well in their starred review for Cinder.
Meyer's brilliance is in sending the [Cindersella] story into an entirely new, utterly thrilling dimension. Cinder is a talented teenage mechanic and cyborg — part human, part robot — who has been living in New Beijing with a demanding adoptive mother and two stepsisters, ever since her late stepfather took Cinder in after a hovercraft accident. Several events abruptly turn Cinder's world upside down: a chance meeting with the handsome Prince Kai has her heart racing; a plague pandemic threatens her beloved sister Peony; Cinder learns she is immune to the plague; and the evil Lunar Queen Levana arrives on Earth, scheming to marry Kai… it unfolds with the magic of a fairy tale and the breakneck excitement of dystopian fiction. Meyer's far-future Earth is richly imagined, full of prejudice and intrigue, characters easy to get invested in, and hints of what might await in future books.
Marissa Meyer is also the author of the Renegades trilogy (Renegades, Archenemies, and Supernova), one of the more popular recent superhero series. We covered the first book here.
Cinder was published in hardcover by Feiwel and Friends in 2012, and reprinted in paperback by Square Fish in February 2020. It is 387 pages, priced at $11.99 in trade paperback and $9.99 in digital formats. The cover is by Tomer Hanuka. The other books in the series have also been re-released with matching covers by Hanuka.
See all our recent coverage of the best new SF and Fantasy here.