If, December 1957, A Retro-Review
If, December 1957, A Retro-Review

IF, December 1957. Cover by Mel Hunter
If was a classic digest magazine of what might be called the "second tier" of SF magazines. (The term second tier might be a bit dismissive — there were a number of quality magazines that for a time surpassed one or more of the so-called "Big Three" (Astounding/Analog, Galaxy, and F&SF.) That said, those three magazines, via comparative longevity, consistent quality, and simply tradition were considered "the big three" by the SF community for most of the '50s through '70s.) It was founded by James Quinn (Quinn Publishing Company) in 1952, with Paul Fairman the initial editor. Quinn took over from Fairman fairly soon (though Larry Shaw was listed as Associate Editor but was apparently the actual editor from May 1953 to March 1954), and he edited it until 1958, after which Damon Knight briefly took over. Quinn sold the magazines to the publishers of Galaxy, and it was a companion to Galaxy for the rest of its existence; under the editorship, sequentially, of H. L. Gold, Frederik Pohl, Ejler Jakobsson, and Jim Baen, before folding after the November-December 1974 issue.
There was a single-issue revival in 1986, edited by Clifford Hong, officially called Worlds of If. Though that revival quickly failed, it should be said that the list of contributors is fairly impressive (Niven, Van Vogt, Salmonson, Schenck, Card, Zelazny, etc.) As far as I know the official title of the magazine (except for the last issue) was always If, sometimes subtitled "Worlds of Science Fiction," but the cover, especially late in the run, often appeared to give the title Worlds of If. During Pohl's editorship, when it was positioned as the somewhat lighter, more adventure-oriented, magazine in the Galaxy stable, it won three consecutive Hugos as best magazine, supposedly to Pohl's slight dismay, as he considered Galaxy the better product.
[Click the images IF you want bigger versions.]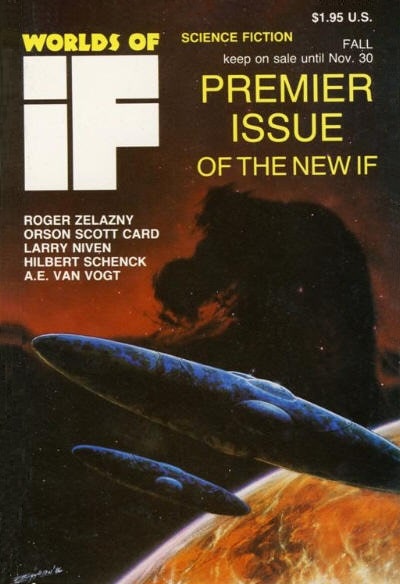 Worlds of If, Fall 1986. Cover by Bob Eggleton
I never saw an issue of the magazine new — I began reading Galaxy in August 1974, but by then my newsstand no longer carried If. But I have bought several used copies, and I do generally find it enjoyable. Pohl's stretch was strong, but I find the three issues Knight edited to be intriguing — each has a Richard McKenna story (and of course Knight published some McKenna stories posthumously in Orbit), and there are a couple early Cordwainer Smith pieces, and good work from Rog Phillips and Algis Budrys.
This issue, however, is from late in James Quinn's term, December 1957. I bought it primarily for the lead novella, "And The Walls Came Tumbling Down," partly because that story became a novel, Invisible Barriers, that is all but impossible to find at a reasonable price. But naturally I read the whole issue.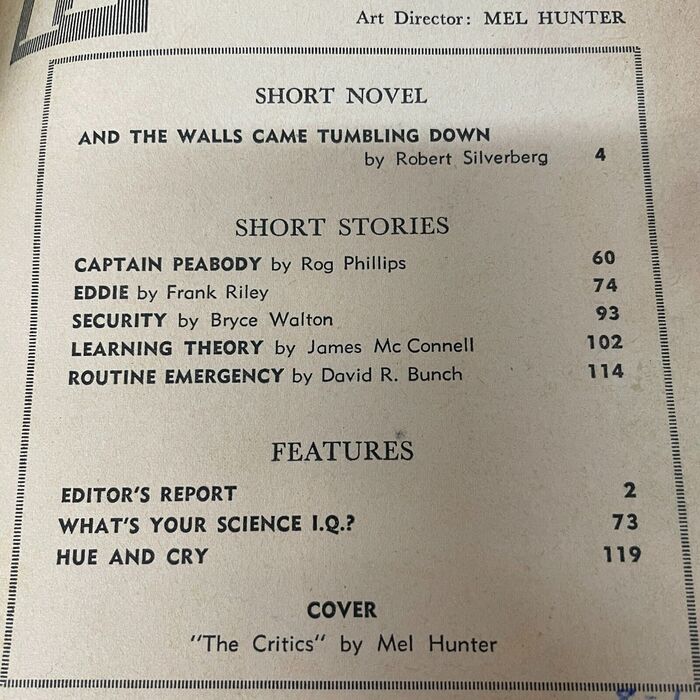 Table of Contents for If, December 1957
Contents:
"And the Walls Came Tumbling Down," by Robert Silverberg (25,000 words)
"Captain Peabody," by Rog Phillips (5,500 words)
"Eddie," by Frank Riley (8,000 words)
"Security," by Bryce Walton (4,400 words)
"Learning Theory," by James McConnell (4,700 words)
"Routine Emergency," by David R. Bunch (1,100 words)
There are also three features. "Editor's Report" is a chatty two-page piece, discussing Rog Phillips, recommending some non-fiction and a "future house" exhibit at Disneyland, mentioning the Second World of If anthology, etc. What's Your Science I.Q. is a 15-question quiz. Hue and Cry is the letter column, with letters from A. D. Barnhart, K. V. Fletcher — and one Isaac Asimov.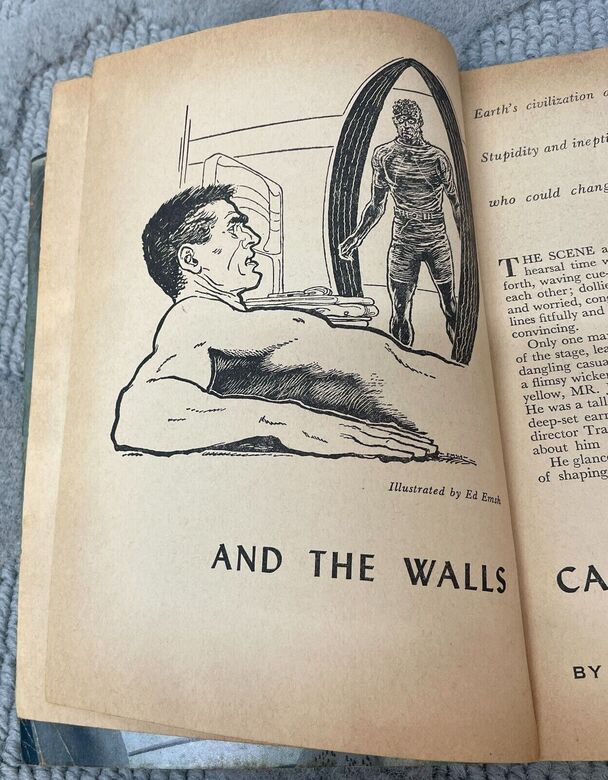 Art for Robert Silverberg's "And the Walls Came Tumbling Down" by Emsh
Robert Silverberg's novella "And the Walls Came Tumbling Down" is about John Amory, a successful television director in the year 2021 — almost now! But he's a dissatisfied man — the scenarios he directs are always heavily rewritten, with the object of pleasing the advertisers and suppressing any knowledge of places outside the US. For there are "Walls," as the novella has it; or "Invisible Barriers," as the novel version's title puts it, between the countries of the world. Originally this was sold as a means of preserving peace.
Amory, with several of his friends, including some of the better writers in his circle, regularly attends parties at which smuggled foreign films are shown, and this night there is another. He attends and enjoys the film, amateurish as it is — but suddenly he falls unconscious. Evidently he was drugged! When he wakes, he is in the presence of a very strange looking being — who puts a curious proposition to him: the aliens are visiting Earth to make copies of the great art humans have produced. This seems odd but interesting — but by chance Amory sees a piece of paper that reveals the aliens' true goal — the cultural harvest is simply prelude to eliminating humans.
Amory is shocked, but almost resigned. Do humans really deserve to survive? But he realizes — a unified Earth, instead of the enforced isolationist Earth of the "invisible barriers," might be able to resist the aliens, and also could throw off the censorship regime that reinforces the "barriers." But how to do this? The plan — necessarily accomplished while seeming to cooperate with the aliens — is to sneak some anti-isolationist messages into his TV shows. This can't last long — but maybe he can reveal the presence and motives of the aliens before he's caught …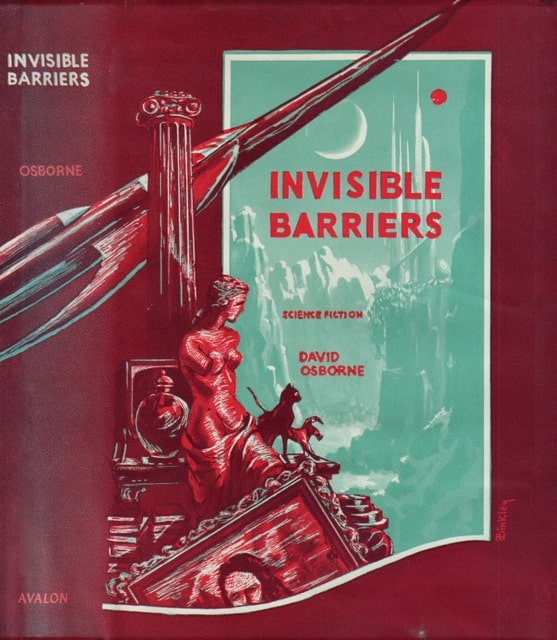 Invisible Barriers by David Osborne (Robert Silverberg).
Avalon Books, 1958. Cover by Ric Binkley
The story continues as Amory develops his next program. But things don't go quite as he hopes — and there is, in the end, a shocking twist, that probably won't surprise most readers. Still — it's an effective enough story, readable throughout, with a decent message. That said, I think the story is about the right length — or even a bit too long.
The novel was expanded and was published by Avalon Books in 1958, under the name "David Osborne." My guess, based on another Silverberg/"Osborne" novel for Avalon in 1958, Aliens From Space, with the same page count, is that the expansion was to about 40,000 words. I'm not sure I see the point of an expansion (except to make it saleable as a novel). It is not available for sale in the US, though ebooks can be had in the Commonwealth. The only used editions I can find seem to offer the jacket only, for about $50.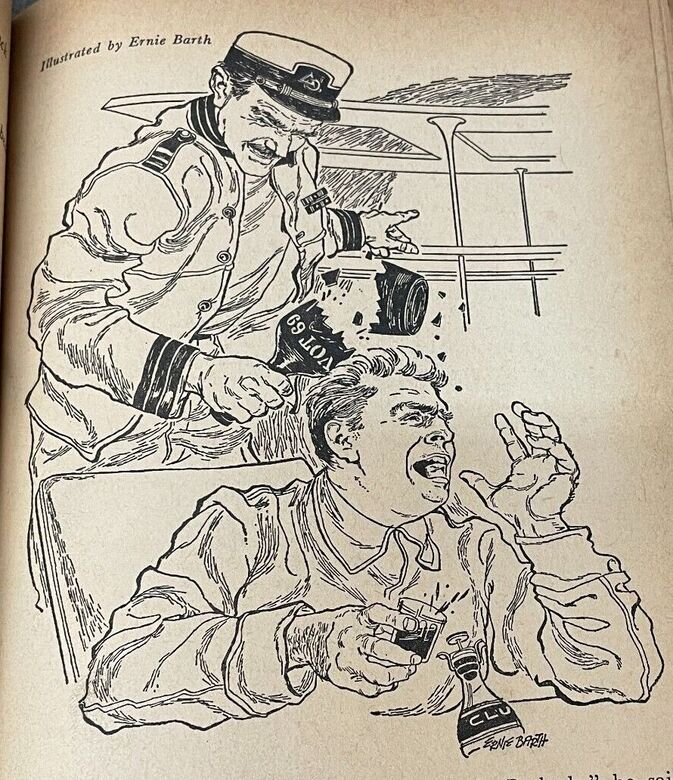 Art for Rog Phillips' "Captain Peabody" by Ernie Barth
Rog Phillips' "Captain Peabody" concerns the title Captain, who tells of his first journey in charge of a spaceship. He's been stuck with a notorious malingerer and bully, who threatens to ruin his position from the beginning. He learns that his orderly had had to deal with this man earlier, and had failed to control him. The Captain realizes he'll be branded a coward if he doesn't solve the problem — but the solution is pretty terrible — he beats the guy up, basically. Not much of a story, even if the central issue is worth addressing — and, also, a story that isn't really SF, it could just as easily have been set on an ocean ship.
Phillips (1909-1966) was a regular contributor to the SF magazines from 1945 through about 1959, and also published about half a dozen novels. Some of his work was quite intriguing — best known, likely, are "The Yellow Pill," from Astounding in 1958, and "Game Preserve," from the issue of If just before this one. Both were selected by Judith Merril for her Best of the Year anthologies. (He shouldn't be confused with Peter Phillips, a British writer who published about 20 stories in the same timeframe as Rog Phillips, and was also very interesting at his best (such as "Dreams are Sacred."))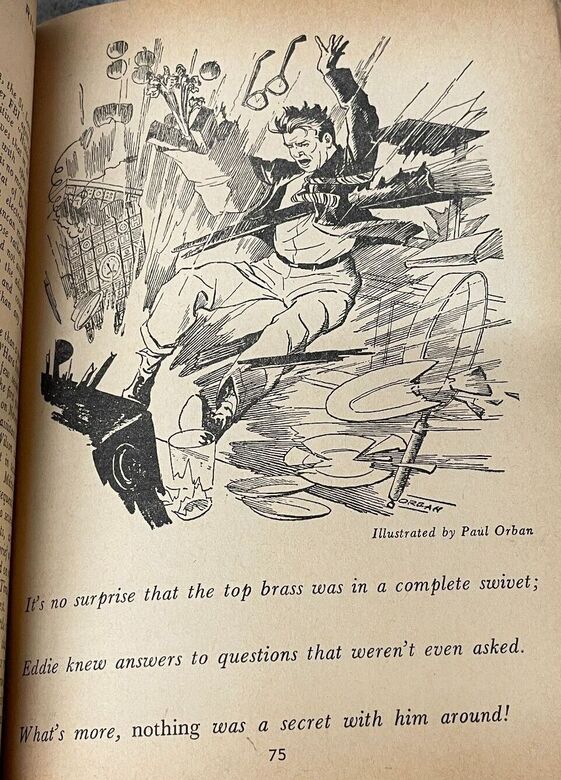 Art for Frank Riley's "Eddie" by Paul Orban
Frank Riley is known as the co-winner of the second ever Hugo for Best Novel, "They'd Rather Be Right," with Mark Clifton. Besides that one collaboration, he wrote 8 short SF stories on his own.
"Eddie" is about a researcher who has developed an AI that can design — and also predict — advanced missiles. It's immediately clear that this could be a big deal for either side of the Cold War… and then the researcher decides to take things — and the AI, Eddie — into his own hands. Ultimately a bit minor — posing a question that really doesn't make sense when you understand the problem well enough.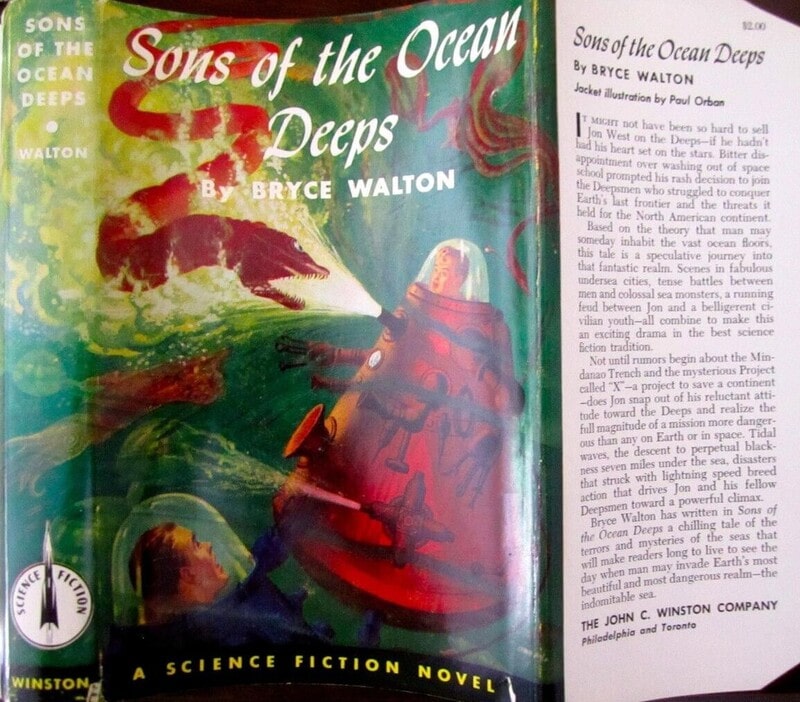 Sons of the Ocean Deeps by Bryce Walton (Winston, 1952). Cover by Paul Orban
Bryce Walton (1918-1988), was a regular in the SF magazines for a quarter century beginning in 1945, but to be honest he really was never a memorable writer. He did publish one novel, a Winston Juvenile, Sons of the Ocean Deeps (1952).
"Security" posits a military research base with such strict security requirements that they know nothing of what's going on outside. The main character is in love with another researcher who can't qualify for a clearance for the work he does — thus they are not allowed to marry. In the end, his frustration leads him to plot a way to break out — and what he finds is entirely predictable, and cynical. I never believed this story — but it does probably rank at close to the top of Walton's range.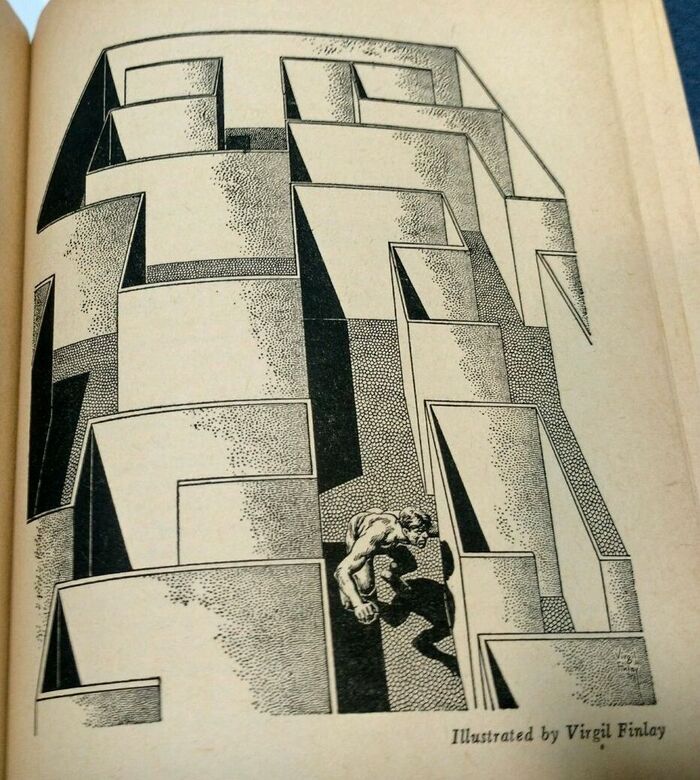 Art for James V. McConnell's "Learning Theory" by Virgil Finlay
James V. McConnell (1925-1990) published less than 10 SF stories, but he was quite famous in another field, biology, as an expert on Planarian worms, and the publisher of The Worm-Runner's Digest, which was a curious combination of scientific journal and fanzine. He was also a victim of the Unabomber.
"Learning Theory" concerns a human scientist who has been captured and subjected to a variety of tests — not unlike those humans subject rats to (or even, perhaps, worms!) The scientist figures out what is happening, and works out a means of escape. The last page, then, is a cynical look at the alien researcher's reaction to this — a dark comment on scientific researchers in general.

Moderan by David R. Bunch (New York Review Books Classics, September 2018). Cover by Pavel Tchelitchew
The last story in this issue is quite significant — it's the first story David R. Bunch published in an SF magazine. Bunch of course is best known for his remarkable Moderan stories, many or most of which were published in Cele Goldsmith Lalli's Amazing and Fantastic. But James Quinn also published Bunch a couple of times.
"Routine Emergency" is not a Moderan story but it shares the mordant attitude of most of those pieces. It's told by a "shovel man," part of a team responsible for keeping traffic moving smoothly after accidents. The emergency this time is that a survivor got away from the wreck — and, well, I won't ruin the story but it's a fine little piece.
(Thanks as ever to Todd Mason, Robert Silverberg, and others whose remarks and reminiscences helped improve this piece.)
---
Rich Horton's last article for us was a Retro-Review of the June 1955 issue of The Magazine of Fantasy and Science Fiction. His website is Strange at Ecbatan. Rich has written over 200 articles for Black Gate, see them all here.