New Treasures: Renegades by Marissa Meyer
New Treasures: Renegades by Marissa Meyer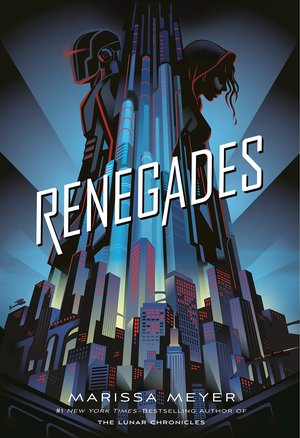 Marissa Meyer is the bestselling author of the Lunar Chronicles (Cinder, Scarlet, Cress, Fairest, Winter). Her latest is a teen superhero saga that has hit the New York Times bestseller list — an unusual feat. Superhero novels are definitely popular these days, but there aren't many that have hit bestseller lists. Might be worth a look.
Secret Identities.
Extraordinary Powers.
She wants vengeance. He wants justice.

The Renegades are a syndicate of prodigies ― humans with extraordinary abilities ― who emerged from the ruins of a crumbled society and established peace and order where chaos reigned. As champions of justice, they remain a symbol of hope and courage to everyone… except the villains they once overthrew.

Nova has a reason to hate the Renegades, and she is on a mission for vengeance. As she gets closer to her target, she meets Adrian, a Renegade boy who believes in justice ― and in Nova. But Nova's allegiance is to the villains who have the power to end them both.
If you're in the market for quality superhero fiction, we also recommend checking out Matthew Hughes To Hell and Back trilogy, Carrie Vaughn's After the Golden Age, and of course George R.R. Martin's Wild Cards.
Renegades was published by Feiwel & Friends on November 7, 2017. It is 576 pages, priced at $19.99 in hardcover and $9.99 for the digital edition.