A Classic Returns: In A Lonely Place by Karl Edward Wagner
A Classic Returns: In A Lonely Place by Karl Edward Wagner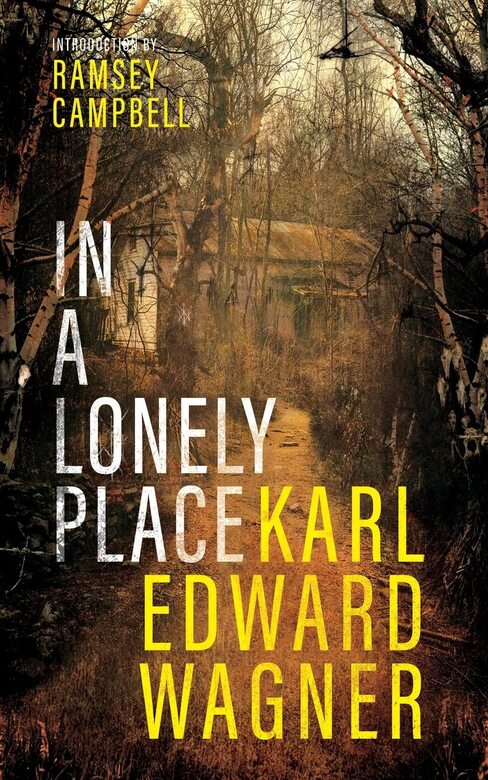 In A Lonely Place (Valancourt Books, January 17, 2023)
Ah, Valancourt Books. You're always full of delightful surprises. How well I remember that fateful day in 2014 when I first laid eyes on your table at the World Fantasy Convention in Washington, D.C. Groaning it was (the table, not the convention), under the weight of uncountable literary treasures. Since that day I've kept a keen eye on your catalog, and you've never disappointed.
I've been extra-special not disappointed this week, since you saw fit to rectify one of the great publishing injustices of the last four decades: returning Karl Edward Wagner's legendary first collection, In a Lonely Place, back to print, where it can delight and horrify a whole new generation of readers.
[Click the images to be alone with bigger versions.]

In A Lonely Place (Warner Books, March 1983). Cover by Barclay Shaw
In A Lonely Place was first published as a paperback original by Warner Books in 1983, and reprinted the following year as a deluxe hardcover by Scream Press. It has been out of print ever since — and the Warner edition is one of the most sought-after horror paperbacks of the 80s, routinely commanding prices of $80-100 and up on eBay and from online booksellers.
It's been enormously frustrating for Wagner fans of all kinds, to have one of his most important books out of reach of all but the most serious collectors. To finally have a reasonably-priced edition — packaged with a brand new introduction, an additional rare tale, and Wagner's own afterword, included only in the deluxe hardcover edition — is a godsend.
Here's the publisher's description for the new edition.
One of the most important horror collections of modern times, back in print at last!

Karl Edward Wagner (1945-1994) has earned a reputation as one of the finest horror writers of the modern era, but his work has been out of print and nearly unobtainable for many years. His seminal volume In a Lonely Place collects eight of his best tales, including "In the Pines," a classic ghost story evocatively set in the Tennessee woods, "Beyond Any Measure," an original take on the vampire story, "River of Night's Dreaming," a surreal and nightmarish masterpiece inspired by The King in Yellow, and the author's most famous tale, "Sticks," a disturbing story thought by many to have been the basis for The Blair Witch Project.

This new edition includes all the stories from the original 1983 edition, plus an additional rare tale and the author's afterword from the Scream/Press limited edition, and features a new introduction by Ramsey Campbell.
In A Lonely Place contains some of Wagner's best early fiction, including two World Fantasy Award nominees: the famous Cthulhu Mythos tale "Sticks' and the fine King in Yellow novella "The River of Night's Dreaming;" as well as the World Fantasy Award-winning novella "Beyond Any Measure."
I don't have the TOC for the new edition, but here's the contents for the original Warner paperback:
Introduction by Peter Straub
Prologue by Karl Edward Wagner (Midnight Sun, 1974)
"In the Pines" (The Magazine of Fantasy and Science Fiction, August 1973)
"Where the Summer Ends" (Dark Forces, August 1980)
"Sticks" (Whispers #3, March 1974) — World Fantasy Award nominee, British Fantasy Award winner
"The Fourth Seal" (Whispers #6-7, June 1975)
".220 Swift" (New Terrors, July 1980)
"The River of Night's Dreaming" (Whispers III, August 1981) — World Fantasy Award nominee
"Beyond Any Measure" (Whispers #15-16, March 1982) — Locus nominee, World Fantasy Award winner
Afterword by Karl Edward Wagner
In A Lonely Place was published in paperback by Warner Books in March 1983; the Valancourt reprint was published this week, on January 17. It is 270 pages, priced at $34.99 in hardcover and $19.99 in trade paperback. Get all the details and order your copy directly from the Valancourt website.
See all our recent coverage of the best new fantasy and horror releases here.