Snuggle Under a Blanket With Close to Midnight, the Latest Horror Anthology from Mark Morris
Snuggle Under a Blanket With Close to Midnight, the Latest Horror Anthology from Mark Morris

After Sundown, Beyond the Veil, and Close to Midnight
(Flame Tree Press, 2020, 2021, and 2022). Covers: Nik Keevil and Flame Tree Studio
I've been enjoying Mark Morris' recent run of unthemed annual horror anthologies. He kicked it off with the highly regarded After Sundown in 2020; the success of that volume convinced the publisher, Flame Tree Press, to make it an annual event. Beyond the Veil followed last year, and Close to Midnight arrived just last month.
The newest installment looks like it could be the best one yet. It contains 20 original stories, 16 commissioned from established names and four selected from new writers who sent in stories during an open submissions window. The result is a terrific cross section of horror from the most acclaimed writers in the business — including Steve Rasnic Tem, Ramsey Campbell, Muriel Gray, Alison Littlewood, Seanan McGuire, Brian Keene, and Adam L.G. Nevill — alongside some talented and exciting newcomers.

New Fears 1 and 2 (Titan Books , 2017-2018)
Mark Morris is known primarily as a novelist, with more than 20 titles under his belt, including Dead Island, It Sustains, and The Winter Tree. In 2017 and 2018 he edited a 2-volume set of original horror anthologies for Titan Books, New Fears and New Fears 2.
The Flame Tree volumes have been his most successful foray as an editor, and I hope they continue for many years. If you enjoy modern horror, maybe think about supporting this series by picking one up and trying it out?
Close to Midnight contains 20 original new stories:
"Wolves" by Rio Youers
"Best Safe Life For You" by Muriel Gray
"Souvenirs" by Sharon Gosling
"The Operated" by Ramsey Campbell
"In The Wabe" by Alison Littlewood
"I Promise" by Conrad Williams
"Flat 19" by Jenn Ashworth
"The Forbidden Sandwich" by Carl Tait
"Autumn Sugar" by Philip Fracassi
"Collagen" by Seanan Mcguire
"Remains" by Charlie Hughes
"The Floor Is Lava" by Brian Keene
"The True Colour Of Blood" by Stephen Laws
"The Nine Of Diamonds" by Carole Johnstone
"Room For The Night" by Jonathan Janz
"Welcome To The Lodge" by Alison Moore
"Going Home" by Evelyn Teng
"The Spaceman's Memory Box" by Laura Mauro
"Bags" by Steve Rasnic Tem
"Rise Up Together" by Adam L.G. Nevill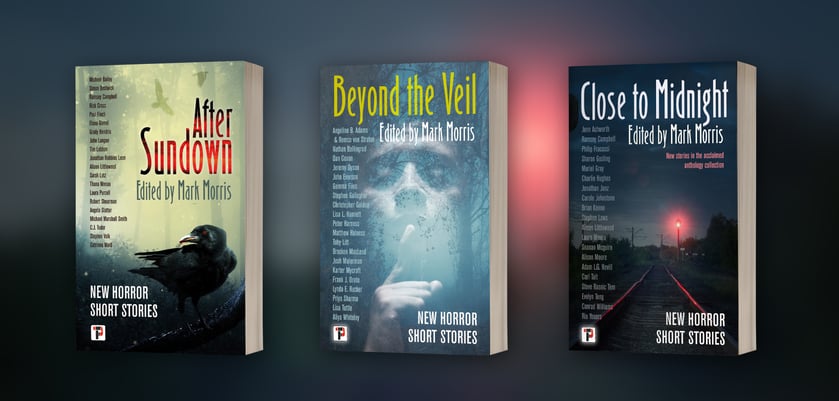 Here's the complete details for all three volumes. Links will take you to our previous coverage.
After Sundown (295 pages, $24.95 hardcover/$14.95 paperback/$6.99 digital, October 2020) — Cover by Nik Keevil
Beyond the Veil (320 pages, $24.95 hardcover/$14.95 paperback/$6.99 digital, October 2021)
Close to Midnight (320 pages, $26.95 hardcover/$16.95 paperback/$6.99 digital, October 2022)
All three book were published by Flame Tree Press. Get more details on the latest volume at the Flame Tree Blog.
See all our recent New Treasures here.