Vintage Treasures: Heroic Fantasy edited by Gerald W. Page and Hank Reinhardt
Vintage Treasures: Heroic Fantasy edited by Gerald W. Page and Hank Reinhardt

Heroic Fantasy (DAW, 1979). Cover by Jad
If you were a sword & sorcery fan in the 70s and 80s, there wasn't a lot to get excited about. Lin Carter's Flashing Swords anthologies. Andrew J. Offutt's Swords Against Darkness, naturally. And the occasional Conan pastiche and Lancer paperback.
And there was Gerald W. Page and Hank Reinhardt's one-shot anthology Heroic Fantasy, which came out of nowhere, never had a sequel, but was packed with terrific original stories by Charles Saunders, Andre Norton, Adrian Cole, E. C. Tubb, Tanith Lee, H. Warner Munn, Darrell Schweitzer, F. Paul Wilson, and Manly Wade Wellman — and kept readers talking for years.
Heroic Fantasy was edited by two Georgian SF fans with very different careers. Gerald W. Page is best known as the editor of four volumes of The Year's Best Horror Stories (1976-79), also published by DAW. The main reason I remember him these days is because of James McGlothlin's title-by-title survey of the series here at BG.
Fortunately Steve H Silver has a much better memory than I do. Here's what he wrote in his Golden Age of Science Fiction column entry on Gerald Page back in 2019:
Gerald W. Page joined the Atlanta Science Fiction Organization in 1954. He was a member of the Southern Fandom Group during its three years of existence from 1960 through 1963. In 1963, he began publishing short fiction with the story "The Happy Man," which appeared in Analog. He has continued to publish short stories, occasionally using pseudonyms such as Carleton Grindle or Leo Tifton.

He began working as a consulting editor for Amazing and Fantastic in 1967 when the magazines were being edited by Joseph Ross. In 1973, he took over the magazine Coven 13 from Arthur Landis and began editing the renamed magazine Witchcraft & Sorcery, beginning with issue 5 and continuing through its tenth and final issue, published in 1974. He edited the anthology Nameless Places for Arkham House in 1975 and in 1976 took over editing The Year's Best Horror Stories for DAW Books from Richard Davis. Page edited the fourth through seventh volumes before turning the duties over to Karl Edward Wagner, who edited the series from its eighth volume until its final, twenty-second volume. In 1979, Page also edited the anthology Heroic Fantasy with Hank Reinhardt, which received a Balrog nomination for Best Collection/Anthology.
Hank Reinhardt is more of a mystery man, at least to me.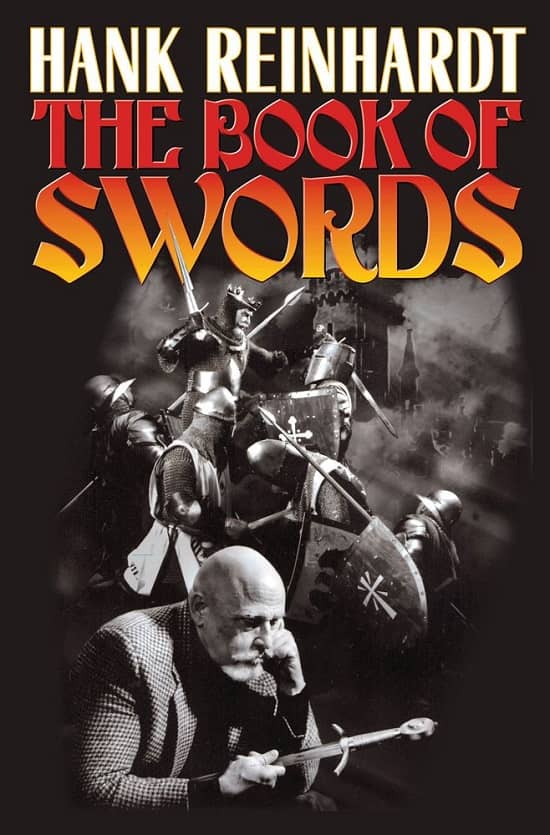 The Book of Swords (Baen, August 2009)
I know Reinhardt was married to Baen publisher Toni Weisskopf, and he released The Book of Swords, a treatise on swords and armor over a decade ago (perhaps inspired by the brief articles he published on the same topic in Heroic Fantasy, which certainly struck a chord with some readers.)
A while back I read a brief article at DMR Books by someone who knows Reinhardt a lot better than I, Deuce Richardson. Here's Deuce:
I first learned of Mr. Reinhardt when I bought the DAW sword and sorcery anthology — quite possibly the greatest ever published — Heroic Fantasy. Hank was co-editor of that book along with Gerald W. Page. Reinhardt also had a fine story in that volume, "The Age of the Warrior," but what really caught my weapon/historical geek's eye were the articles interspersed between the tales of adventure and bloody mayhem. Hank wrote those and they were awesome. There were only three. One on armor, one on swords and one on courage. They really put the cherry on top of the whole anthology. Reading the articles, you got a sense of who this guy, Hank Reinhardt, was. That sense was, "This guy is pretty cool and knows his history and weapons. I'd love to have a beer with this dude."…

He was a legend in Southern SFF fandom for fifty years. He loved hanging out with people and talking swordplay, Eric John Stark or Conan of Cimmeria. I mean, this was the guy who shipped a frikkin' axe to John Maddox Roberts while JMR was serving in 'Nam just so John would have that extra little edge versus the VC.
Page and Reinhardt co-authored the introduction to Heroic Fantasy, and I quite enjoyed it. Here's a the section in which they credit the late-70s fantasy boom, quite rightly, to the joint influence of Tolkien and Howard:
The modern taste for heroic fantasy grew from the popular discovery of the fiction of two men: Robert E. Howard and J.R.R. Tolkien. It was their success that showed us the rich and unexplored world of the imagination, and dozens of writers have been encouraged to explore the possibilities of that world. Regretfully, too many of those who set out to negotiate the fierce rapids of heroic fantasy do so with a large houseboat, so that they blunder downstream. rather than skillfully negotiating the currents with speed and zest.

There are two major factors which explain the success of Conan. The first is the background of the stories. Howard's Hyborean Age is a brilliant, shining invention that he handled skillfully and magnificently. It appears to be an amalgam of familiar pulp-magazine adventure backgrounds and Howard was well aware of the opportunities it offered to rewrite stories he couldn't sell in the straight adventure market. "Beyond the Black River" seems to be a rewrite of what was originally an Indian story on the order of James Fenimore Cooper's.

The second major factor was Conan himself. A complex and fully realized character, Conan dominates any story whether he is there from the first or comes into the scene in a later chapter. "The Phoenix on the Sword" is a revision of an unsold Kull story "By This Axe I Rule." Howard added some magic, and the enormous factor of Conan's personality. It is astonishing to see the differences. Kull, a fine character, nevertheless pales alongside Conan. The story is entirely different from the moment Conan comes on stage…

Throughout the Conan stories Howard displays this insight, that larger than life accomplishments should be accompanied by larger than life motivations, Howard never forgot that fantasy, like every form of fiction, deals with human beings, even when the characters may appear in the guise of monsters or demons, or barbarians.
Re-reading the intro today, I found myself chuckling at the line "dozens of writers have been encouraged to explore the possibilities of that world." It's been many decades since the number of fantasy authors influenced by Tolkien and Howard could be numbered in the mere "dozens."

The editors' introduction to Heroic Fantasy
Deuce mentioned Reinhardt's "awesome" articles interspersed with the stories, and they are definitely worth a mention. There are three:
Commentary on Swords and Swordplay
Commentary on Armor
Commentary on Courage and Heroism
Averaging about five pages each, these are thoughtful, informative, and entertaining pieces that add color to the stories, explaining (for example) what a "falchion" is ("a wide-bladed single-edged sword that was quite popular because of its cutting power"), how much force you can actually deliver with a blade ("astounding"), tales of a few famous blades, and more.
Heroic Fantasy contains all original fiction, including a Witch World novella by Andre Norton, a Cyrion story by Tanith Lee, an Imaro tale by Charles R. Saunders, a Kardios novelette by Manly Wade Wellman, a story in Darrell Schweitzer's Julian sequence, a Voidal tale from Adrian Cole, and a lot more. Many of its most popular stories were later gathered in author collections, including the three below.

Some collections containing stories from Heroic Fantasy: Lore of the Witch World (DAW, 1980, cover by
Michael Whelan), Cyrion (DAW, 1982, Ken W. Kelly), and We Are All Legends (Starblaze, 1981, Stephen Fabian)
Here's the complete table of contents for Heroic Fantasy.
Editor's Introduction by Gerald W. Page and Hank Reinhardt
"Sand Sister" by Andre Norton
"The Valley of the Sorrows" by Galad Elflandsson
"Ghoul's-Head" by Donald J. Walsh
"Astral Stray" by Adrian Cole
"Blood in the Mist" by E. C. Tubb
"The Murderous Dove" by Tanith Lee
"Death in Jukun" by Charles R. Saunders
"The De Pertriche Ring" by H. Warner Munn
"The Hero Who Returned" by Gerald W. Page
"The Riddle of the Horn" by Darrell Schweitzer
"The Age of the Warrior" by Hank Reinhardt
"The Mistaken Oracle" by A. E. Silas
"Demonsong" by F. Paul Wilson
"The Seeker in the Fortress" by Manly Wade Wellman
Heroic Fantasy was published by DAW Books in April 1979. It is 320 pages, priced at $1.95. The cover is by Jad. It has never been reprinted and there is no digital edition. Used copies are fairly easy to find at the usual outlets.
See all our recent Vintage Treasures here.