The Triumphant Return of Fantasy Magazine
The Triumphant Return of Fantasy Magazine

The September, December and January issues of Fantasy Magazine (Adamant Press).
Covers by Thana Wong, OopsPixel, and Warmtail
Fantasy Magazine has a long and storied history. It was founded as a print mag by Sean Wallace in 2005, and edited by Wallace and Paul Tremblay. In 2007 it shifted to digital format, and Tremblay was replaced by Cat Rambo. In 2011 the magazine was acquired by John Joseph Adams' Adamant Press; Adams became the new editor, and in 2012 he merged it with Lightspeed.
In November 2020 we covered the news that Fantasy was returning as an independent magazine, with new editors Christie Yant and Arley Sorg at the helm. The new regime has now produced sixteen issues, every one on time, publishing popular writers like Dominica Phetteplace, Beth Cato, Marissa Lingen, Bogi Takács, and many others. I've been very impressed with the timeliness, top notch art direction, and overall contents of the new edition of Fantasy. It deserves your attention.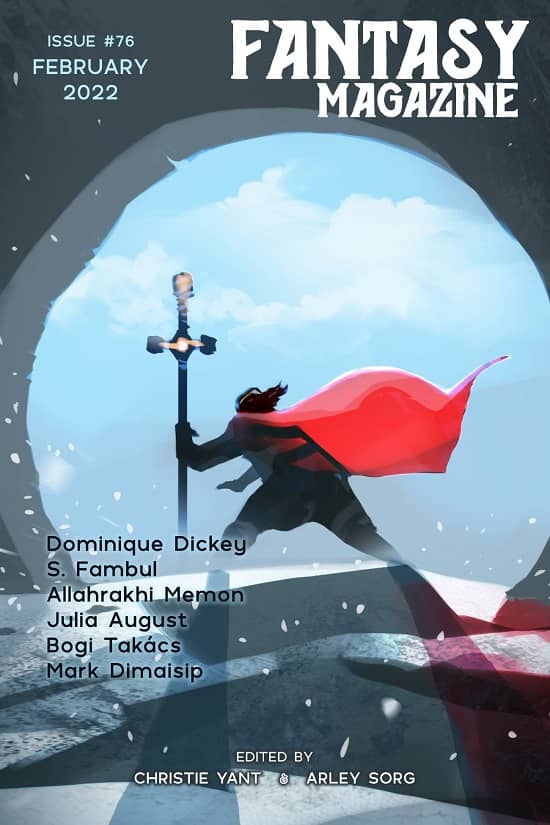 The February 2022 issue of Fantasy. Cover by Thana Wong
Fantasy is published monthly in digital formats for just $2.99 an issue. Plenty of recent stories have garnered praise. Here's Mike Bickerdike on the August 2021 issue.
"My List of Bedtime Bogeyman Blues" by Sarina Dorie is literally a list, recording the protagonist's erotic desires for the 'bogeyman' under her bed… amusing flash fiction.

"Ghost Riders at Hutchinson's Two-Pump" by Inez Schaechterle is an entertaining short story… both well-written and engaging. The Jubles gang, made up of four bandits who died in the old West, come back to Arizona as ghosts in modern times, where they meet up with George, who's at the end of his tether. The dialogue is amusing and deftly handled, and the story is effective, despite its simplicity… the highlight of this issue.
Check out Mike's complete review at Tangent Online. Here's Geoff Houghton on the best of September 2021:
"What is Mercy" by Amal Singh… is a disturbing short story that just fails to reach novelette length. Although it is set in present day rural India, this is the caste-ridden, superstitious India of the deep countryside, far from the superficial veneer of western values that the British Raj briefly imposed on the sub-continent.

The protagonist, Nanda, is a low-caste child forced to abandon childhood innocence by the cruel murder of her mother and many of the people of her village for nothing more than the circumstance of their low-caste birth. She is granted the power to revenge those dead, but first she must overcome the century-long traditions of hopelessness and powerlessness that permeate the lowest parts of rural Indian society… [a] harrowing story.

"An Arrangement of Moss and Dirt" by K.P. Kulski… a short, dark horror story that could be set near the author's home in the woods of North Ohio, or in any other place in the world where dark woods crowd down to almost touch isolated rural homesteads. A caring, precocious child is desperate to aid her ailing, bed-bound mother but learns that bargaining with the faerie-folk is perilous and that sometimes the cure is worse than the disease.
Geoff's full review is at Tangent Online.
Here's the issue description for the most recent issue, February 2022.
Welcome to issue 76 of FANTASY MAGAZINE! In this issue's short fiction, family gatherings are rendered larger than life in S. Fambul's "Cousins Season," and "Slow Communication" by Dominique Dickey explores a conversation over generations; in flash fiction, Allahrakhi Memon takes us on a strange journey in "The Unseen," and Julia August's "After Naxos, Ariadne" redefines the labyrinth; for poetry, we have "The Prophet, To His Angel" by Bogi Takacs and "Mister Potato Head" by Mark Dimaisip. Plus a collective interview with a few notable short fictioneers: Christopher Caldwell, WC Dunlap, Tenea D. Johnson, Sam J. Miller, Russell Nichols, Suzan Palumbo, Pamela Rentz, Eden Royce, and A.C. Wise.
And here's the complete table of contents for February.
FICTION
"The Unseen" by Allahrakhi Memon
"Slow Communication" by Dominique Dickey
"After Naxos, Aria" by Julia August
"Cousins Season" by S. Fambul
NONFICTION
Editorial: February 2022 by Arley Sorg
Interview: Short Fictioneers by Arley Sorg
POETRY
The Prophet, to His Angel, by Bogi Takács
Mister Potato Head, by Mark Dimaisip
Get complete details and read the complete stories at the magazine's website.

Print issues of Fantasy Magazine: Fall and Winter 2006, and Spring 2007.
Covers by Natalie Shau, Alexandra Bach, and Erica Leighton
Some of you may remember the handsome print edition of Fantasy, which lasted for six issues, and was available at better newsstands. I've collected a small sample of print issues above; keep an eye out next time you're in a good used bookstore.
Fantasy Magazine is edited by Christie Yant and Arley Sorg and published by Adamant Press. It is published twelve times a year. Individual issues are $2.99; 6-issue ebook subscriptions are just $11.94, or 12 issues for $22.88. Order subscriptions here.
See all our recent magazine coverage here.