The Return of Fantasy Magazine
The Return of Fantasy Magazine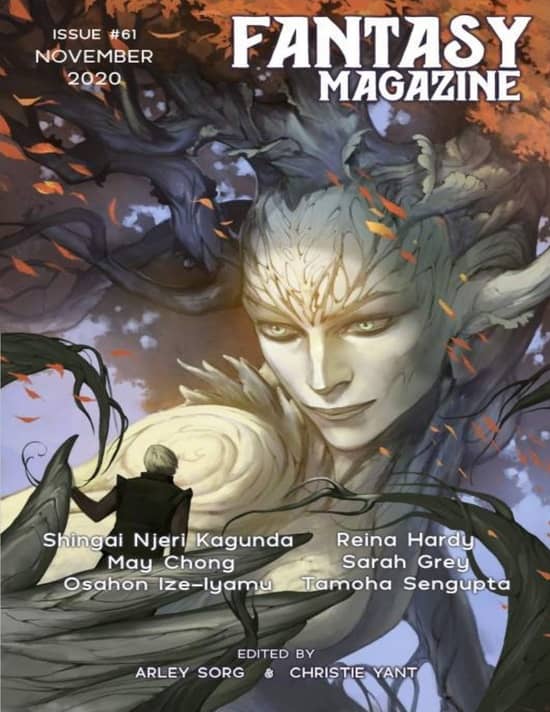 Fantasy Magazine is back! Nearly ten years since publisher John Joseph Adams merged it with Lightspeed, Fantasy has returned as a standalone digital magazine co-edited by Christie Yant and Arley Sorg and published by Adamant Press.
The magazine has a rich history. It originally appeared in 2005, publishing six print issues before moving online in 2007. Its editors have included Sean Wallace, Paul Tremblay, and Cat Rambo; John Joseph Adams took the reins in March 2011, and bought the magazine from Sean Wallace's Prime Books in November of that year. We last covered Fantasy Magazine in April 2011 with issue #49 — an issue that included Peter S. Beagle, Jonathan L. Howard, and Carrie Vaughn.
What's in the first issue of the new Fantasy? Here's Arley and Christie from their editorial.
In this issue we have Shingai Njeri Kagunda's heartbreaking tale of a time-skipping sister told with a dash of poetry, "And This Is How to Stay Alive"; a surreal tale of perspective, "An Introduction" by Reina Hardy; May Chong's wildly fun and sensual werewolf fantasy poem, "things i love about my werewolf girlfriend"; "The Secret Ingredient is Always the Same," by Sarah Grey, a poem of heartbreak, survival, and friendship; Osahon Ize-Iyamu brings us a story of personal truth and potential in "To Look Forward"; Tamoha Sengupta gives a brief, vivid account of young love and pure rebellion in "Love Laws and a Locked Heart"; and we have an interview with Burning Roses author S.L. Huang.
It's enormously exciting to see Fantasy reappear, and in such capable hands. Check it out here, and buy digital issues for just $2.99 at Amazon and other fine online venues. See all our recent magazine coverage here.