Arthur C. Clarke: Omnibuses, Collections, and Remixes
Arthur C. Clarke: Omnibuses, Collections, and Remixes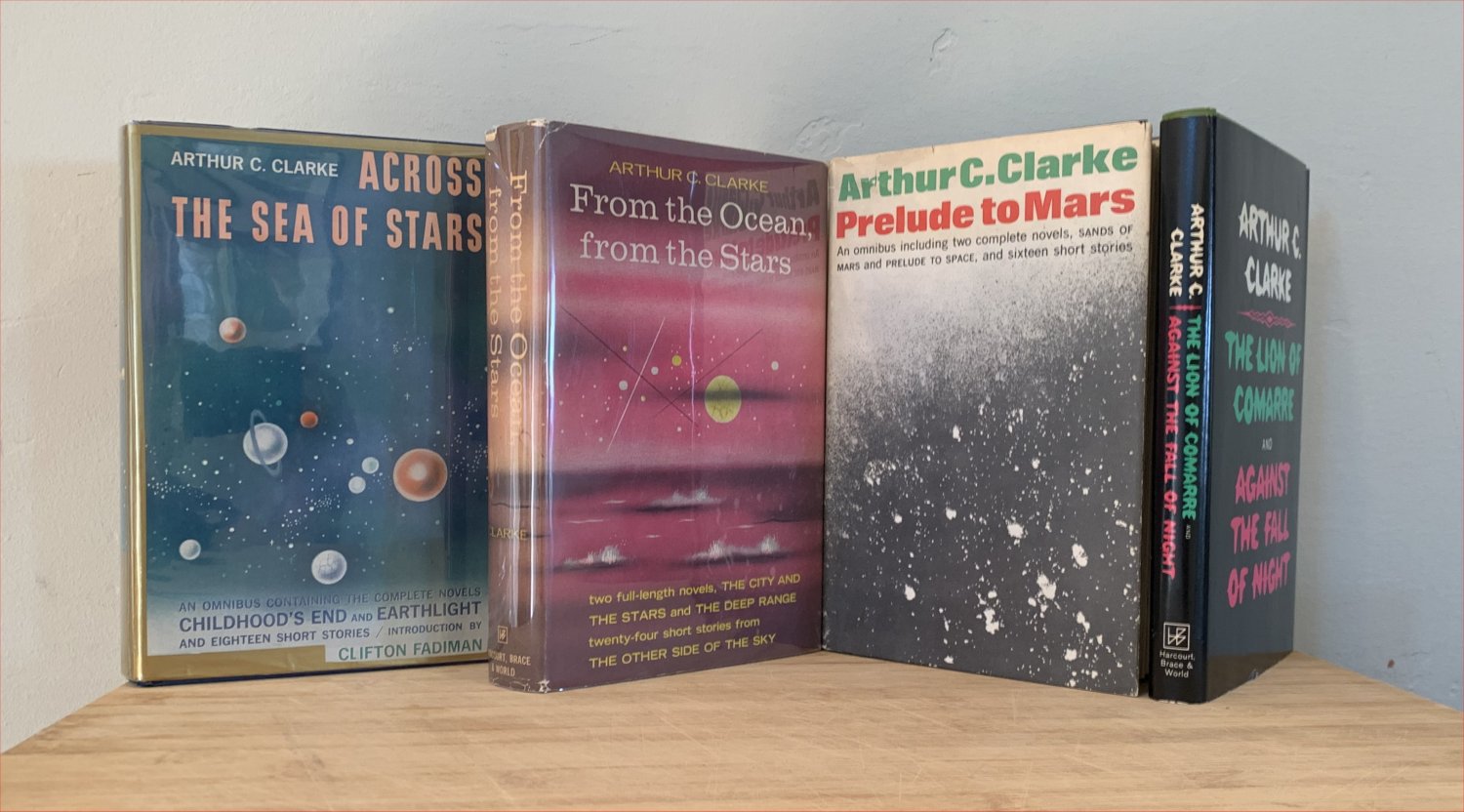 Omnibuses:
Across the Sea of Stars (Harcourt Brace World, 1959)
From the Ocean, From the Stars (Harcourt Brace World, 1961)
Prelude to Mars (Harcourt Brace World, 1965; book club edition shown)
The Lion of Comarre and Against the Fall of Night (Harcourt Brace World, 1968; book club edition shown)
Arthur C. Clarke was one of the major science fiction writers of the 1950s through the 1970s; his biggest claim to fame was as coauthor, along with filmmaker Stanley Kubrick, of the film and novel 2001: A Space Odyssey. He was a British scientist who lived most of his life in Ceylon, later known as Sri Lanka, and wrote numerous books about his skin diving adventures in that area. He began publishing short stories as early as 1937, and his novels beginning in the 1950s included Childhood's End, The City and the Stars, and Rendezvous with Rama.
This is the first of two posts about Arthur C. Clarke's short fiction, which comprise nearly 100 titles and include such famous works as "The Star" and "The Nine Billion Names of God," not to mention "The Sentinel," one of the  (several) inspirations for 2001. This post will trace the overlaps between Clarke's early collections and the later "omnibuses" and "remixes." The next post will review the stories, both in general terms and to highlight the 8 or 10 or 12 best, or most significant, Clarke stories, in my judgment.
Most science fiction readers, I imagine, as they reach the proverbial "golden age of science fiction" (i.e. age 12), discover books either at libraries (school or public) or at retail outlets (bookstore or newsstand), or both. Ideally both, since the selections between libraries and retail outlets don't overlap by much; libraries have older books, bookstores and newsstands and latest in print.
A particular case that I noticed in my early experience was that of Arthur C. Clarke, whom I discovered, a bit belatedly in my personal golden age, via 2001: A Space Odyssey in 1968. (I was 13.) Living in the suburbs, I didn't see that film until late in the year, but it was a cultural phenomenon by mid-year and I bought the novel version by Clarke that July, in paperback (from a school vendor, as it happens, yet another book-buying option back then).
Looking for other books by Arthur C. Clarke, I discovered a discrepancy between those in bookshops and those in libraries. By early 1969 the shops sold a set of five Clarke paperbacks reprinted from the 1950s, including two novels and three collections of stories, in new Ballantine editions with cover art obviously inspired by the spaceships in 2001. Within the next year or two, I found two other Clarke collections in paperback, from HPL and Signet (again, reprinted from earlier editions). And some years later, the sixth and last independent collection of Clarke short stories appeared in 1972, which I have in a book club hardcover. Here's a photo of these six independent, non-overlapping Arthur C. Clarke collections, showing the editions that I have.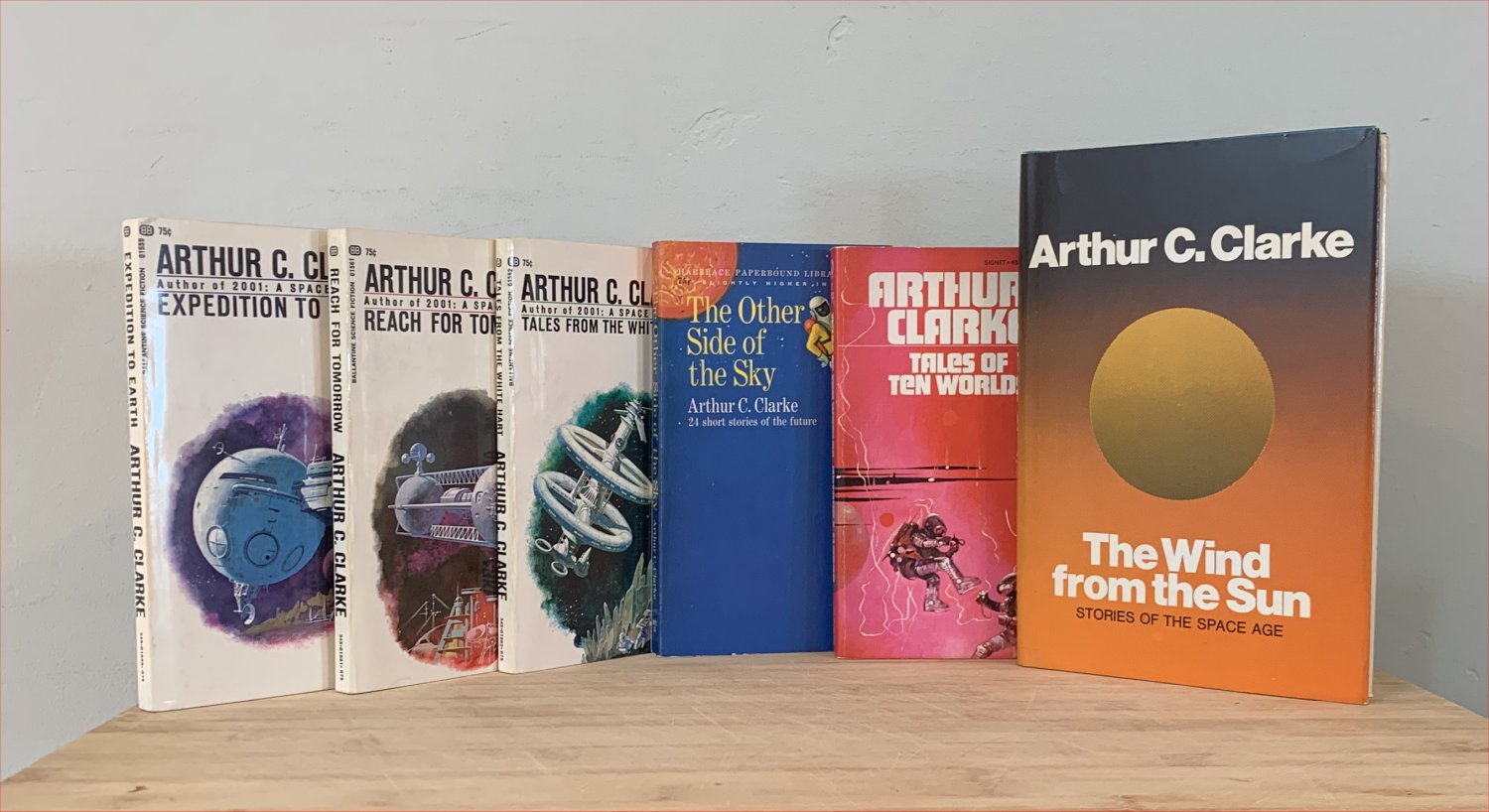 Clarke's Six Independent Collections of Short Stories:
Expedition to Earth (Ballantine, 1953; fourth printing March 1969 shown)
Reach for Tomorrow (Ballantine, 1956; fourth printing March 1969 shown)
Tales from the White Hart (Ballantine, 1957; fourth printing March 1969 shown)
The Other Side of the Sky (Harcourt, Brace, 1958; Harbrace Paperbound Library 1968 edition shown)
Tales of Ten Worlds (Harcourt Brace, 1962; Signet reprint April 1973 edition shown)
The Wind from the Sun (Harcourt Brace, 1972; 1973 book club edition shown)
Yet at the library, none of those early five titles was available, when I was looking in 1968 or so. Instead, there were three large hardcover "omnibuses" with grandiose titles like From the Ocean, From the Stars. Each of these contained two Clarke novels and a selection of Clarke short stories.
Over the years I gathered that, while Clarke's novels and collections of the 1950s had been published in hardcover by the likes of Ballantine (limited editions simultaneously with paperback editions), Harcourt Brace, and Gnome, those editions (even from Ballantine) had been quickly superseded in the marketplace by paperback editions, from Ballantine again and from Signet/New American Library. (I'm neglecting UK editions, which I never saw.)
Meanwhile, those three hardcover omnibuses, published by Harcourt, Brace, and Company (to give it its full name), made their way into libraries and stayed there for a decade or more, at least until the late '60s and early '70s when I first noticed them.
Only recently, in rereading many of Clarke's early novels and virtually all of his short fiction, did I revisit those three omnibuses. I already had one, and found decent copies of the other two from online dealers.
So: one might naturally wonder, did those three omnibuses include *all* the stories from the five earlier collections?
As I type at this moment, I don't know the answer. (Though I suspect so.) The plan for this column is to identify the overlaps and see if they are complete.
Meanwhile, after first noticing all these titles, a sixth collection of Clarke stories appeared in 1972, The Wind from the Sun, and a fourth "omnibus" from Harcourt appeared in 1968, though it was a much slenderer volume than the earlier ones, containing just one novel and one previously-uncollected story (not a story that had been included in any of the five collections to date).
For this exercise in identifying overlaps, I'll also address, in addition to the omnibuses, several later Clarke collections that I'll consider "remixes." (They include stories from earlier collections, but are not technically "omnibuses" because they don't include any titles previously published separately, as Harcourt's volumes did novels.)
These begin with Clarke's first version of a "best of" volume, 1967's The Nine Billion Names of God (also from Harcourt Brace), subtitled, "The best short stories of Arthur C. Clarke." The other two "remixes" were illustrated trade paperbacks from the 1980s. These include mostly stories from the six earlier independent volumes, but adding this or that rarity, such as early versions of what later became full novels.
Then in 2000 there appeared The Collected Stories of Arthur C. Clarke, first in the UK and then in 2001 from Tor in the US, which I will presume without checking contains *all* the stories in all of the above volumes. (An earlier, somewhat incomplete volume called More Than One Universe: The Collected Stories of Arthur C. Clarke appeared from Bantam Spectra in 1991, also not tracked here.)
Finally, I'll acknowledge that there are several additional "remix" titles that were published only in the UK, meaning I have never seen these books, but can reference their TOCs at isfdb. These include Of Time and Stars (1972); two Arthur C. Clarke Omnibus volumes (1965 and 1968, including stories and novels); The Best of Arthur C. Clarke: 1937-1971 (1973); and others. Since there never was a US volume with the title "The Best of Arthur C. Clarke," I'll include the UK volume of that title in the table as well, in the last column.
Clarke "Remixes" And Complete Collections:
The Sentinel (Berkley, 1983)
The Nine Billion Names of God (Harcourt Brace, 1967; HPL paperback shown; purchased 1971, though isfdb has no date for this edition)
The Collected Stories of Arthur C. Clarke (US edition Tor 2001)
Tales from Planet Earth (Bantam Spectra, 1990)
So now I will attempt to create, within the limitations of Black Gate's WordPress parameters, an HTML table to track, along the left side in rows, all the stories in those six independent collections, against the omnibuses and remixes in the columns.
The first two columns show the book or story title, then the year of first publication of the story ("orig." means original to that book, so the same year as the book). Note that The Other Side of the Sky included two story cycles of six vignettes each; vignette titles, some of which were later reprinted separately, are indented.
For this exercise I have ignored alternate titles that a number of stories were first published under, as well as pseudonyms sometimes used for first publications. The set of titles here are consistent among all these books except where footnoted.
The third through tenth columns therefore represent all the omnibus and "remix" volumes compiled here, in this order:
ASS = Across the Sea of Stars (Harcourt Brace World, 1959)
FOFS = From the Ocean, From the Stars (Harcourt Brace World, 1961)
PM = Prelude to Mars (Harcourt Brace World, 1965)
NBN = The Nine Billion Names of God (Harcourt Brace World, 1967)
LCAFN = The Lion of Comarre and Against the Fall of Night (Harcourt Brace World, 1968)
TS = The Sentinel (Berkley, 1983)
TPE = Tales from Planet Earth (Bantam Spectra, 1990)
UKBest = The Best of Arthur C. Clarke: 1937-1971 (1973 UK)
ASS
FOFS
PM
NBN
LCAFN
TS
TPE
UKBest
Novels
Prelude to Space
1951
X
The Sands of Mars
1951
X
Against the Fall of Night
1953
X
Childhood's End
1953
X
Earthlight
1955
X
The City and the Stars
1956
X
The Deep Range
1957
X
Collections and contents
Expedition to Earth (Ballantine, Dec '53)
Second Dawn
1951
X
X
"If I Forget Thee, Oh Earth…"
1951
X
X
X
Breaking Strain
1949
X
X
History Lesson
1949
X
X
Superiority
1951
X
X
Exile of the Eons
1950
X
Hide and Seek
1949
X
X
X
Expedition to Earth
1953
*
*
Loophole
1946
Inheritance
1947
X
The Sentinel
1951
X
X
X
X
Reach for Tomorrow (Ballantine, Mar '56)
Rescue Party
1946
X
X
X
A Walk in the Dark
1950
X
X
The Forgotten Enemy
1948
X
Technical Error
1946
X
The Parasite
1953
X
The Fires Within
1947
X
The Awakening
1952
X
X
Trouble with the Natives
1951
X
The Curse
1946
X
X
Time's Arrow
1950
X
Jupiter Five
1953
X
X
The Possessed
1953
X
X
Tales from the White Hart (Ballantine, 1957)
Silence, Please!
1950
X
Big Game Hunt
1956
X
Patent Pending
1954
X
Armaments Race
1954
X
Critical Mass
1957
X
The Ultimate Melody
1957
X
The Pacifist
1956
X
The Next Tenants
1957
X
X
Moving Spirit
(orig.)
X
The Man Who Ploughed the Sea
1957
X
X
The Reluctant Orchid
1956
X
X
Cold War
1957
X
What Goes Up…
1956
X
Sleeping Beauty
1957
The Defenestration of Ermintrude Inch
(orig.)
The Other Side of the Sky (Harcourt Brace World, 1958)
The Nine Billion Names of God
1953
X
X
Refugee
1955
X
X
X
The Other Side of the Sky
1957
X
   Special Delivery
X
   Feathered Friend
X
   Take a Deep Breath
X
   Freedom of Space
X
   Passer-By
X
   The Call of the Stars
X
X
The Wall of Darkness
1949
X
X
X
Security Check
1956
X
No Morning After
1954
X
X
Venture to the Moon
1956
X
X
   The Starting Line
X
X
   Robin Hood, F.R.S.
X
X
   Green Fingers
X
X
   All That Glitters
X
X
   Watch This Space
X
X
   A Question of Residence
X
X
Publicity Campaign
1953
X
X
All the Time in the World
1952
X
Cosmic Casanova
1958
X
The Star
1955
X
X
X
Out of the Sun
1958
X
X
Transience
1949
X
X
The Songs of Distant Earth
1958
X
X
Tales of Ten Worlds (Harcourt Brace World, 1962)
I Remember Babylon
1960
X
Summertime on Icarus
1960
X
X
Out of the Cradle, Endlessly Orbiting
1959
Who's There?
1958
X
Hate
1961
X
X
Into the Comet
1960
X
An Ape About the House
1962
Saturn Rising
1961
X
Let There Be Light
1957
Death and the Senator
1961
X
X
Trouble with Time
1960
X
Before Eden
1961
X
A Slight Case of Sunstroke
1958
Dog Star
1962
X
The Road to the Sea
1951
X
The Wind from the Sun (Harcourt Brace Jovanovich, 1972)
The Food of the Gods
1964
Maelstrom II
1965
The Shining Ones
1964
The Wind from the Sun
1964
X
**
The Secret
1963
The Last Command
1965
Dial "F" for Frankenstein
1965
Reunion
1971
Playback
1966
The Light of Darkness
1966
The Longest Science-Fiction Story Ever Told
1966
Herbert George Morley Roberts Wells, Esq.
1967
Love That Universe
1967
Crusade
1968
The Cruel Sky
1967
X
The Neutron Tide
1970
Transit of Earth
1971
A Meeting with Medusa
1971
X
X
(others not in the above six)
Guardian Angel
1950
X
The Other Tiger
1953
X
The Deep Range
1958
X
The Lion of Comarre
1949
X
X
On Golden Seas
1987
X
…and others in Complete Stories
Castaway
1947
X
Whacky
1942
X
Retreat from Earth
1938
X
Travel by Wire
1937
X
* As "Encounter at Dawn" in ASS and NBN
** As "Sunjammer" in UK BEST
Now we can answer the initial question I had about the three big hardcover omnibuses: do they contain *all* of the stories from the earlier independent Clarke collections? Answer: almost but not quite. Missing are "Loophole" from the first collection (one of Clarke's earliest stories), and three stories from the third. At the same time, *all* the stories from the fourth collection are included in the second omnibus.
Three of Clarke's novels published up to 1963 were not included in any of the four Harcourt Omnibuses: Islands in the Sky (1952), A Fall of Moondust (1961), and Dolphin Island (1963).
Having now accounted for all the US-published collections and omnibuses, we can ask another, worthwhile, question: which is the best book to buy (tracking down if need be), to read the best selection of Clarke stories? Especially if you're completely unfamiliar with the author?
The answer: the only one that does the job is The Complete Stories. None of the other volumes include all of, for example, "The Star," "The Nine Billion Names of God," "The Sentinel," and "A Meeting with Medusa," to name off-hand the four best and/or most popular stories. Two of the volumes have three of these each; but NBN omits "Medusa" (published later) and UK Best omits "Nine Billion Names of God," oddly.
This is unfortunate, but not unusual. It would be nice if there were moderately-sized volumes of selected "bests" to entice new readers into discovering the short fiction of classic author like Clarke, Asimov, Bradbury, Sturgeon, et al. But the majority of retrospective volumes for authors like these are either 1) sets or enormous single volumes of "complete" stories, such as those by Anderson and Brown from NESFA Press, and for Ballard, Clarke, Williamson, Sturgeon, and Simak from others; or 2) selected but nevertheless enormous "Best of" volumes, many of these from Subterranean Press, for writers from Vance and Swanwick to Benford and Niven. And these latter are pricey and not casually found; you won't see them on the shelves at B&N.
All of these are aimed at readers who already know these authors and want retrospective revisits. What would be more effective in attracting new readers are more moderately sized "best of" selections that are reasonably available and priced. There are a few of these, fortunately: a couple from New York Review Books, such as one for Robert Sheckley; and a couple from Vintage Books, including Theodore Sturgeon and Philip K. Dick (and Ray Bradbury, going back to 1965). Most of these are moderately-priced trade paperbacks and can indeed be found in bookshops. Would that there were more of these; there is not one for Arthur C. Clarke.
The next column, in two weeks, will review specifically Clarke's stories, some in broad groups, but with special attention on the top 10 or 12 of what I think are Clarke's best stories.
---
Mark R. Kelly's last review for us was of Carl Sagan's Contact. Mark wrote short fiction reviews for Locus Magazine from 1987 to 2001, and is the founder of the Locus Online website, for which he won a Hugo Award in 2002. He established the Science Fiction Awards Database at sfadb.com. He is a retired aerospace software engineer who lived for decades in Southern California before moving to the Bay Area in 2015. Find more of his thoughts at Views from Crestmont Drive, which has this index of Black Gate reviews posted so far.