Vintage Treasures: Supermind by A.E. van Vogt
Vintage Treasures: Supermind by A.E. van Vogt
Supermind (DAW Books, 1979). Cover by Attila Hejja
In the mid-70s A.E. van Vogt was one of the most prolific and respected SF authors on the shelves. His books Slan, The Voyage of the Space Beagle, and The World of Null-A were required reading for any serious science fiction fan, and half a dozen publishers — including DAW, Ace, Berkley and Pocket Books — were competing to keep his large and lucrative back catalog in print.
Today he's essentially forgotten. And unlike a lot of popular authors of the era — Heinlein, Asimov, Philip K. Dick, just as a few examples — there isn't a highly visible group of fans fighting to keep his memory alive, or bring his most popular work to the attention of Hollywood. Van Vogt first emerged in the pulps, and he mastered the art of writing for a pulp audience. Of the writers I still read read today, his voice most vividly reminds me of the pulp era of science fiction, with all its strengths and weaknesses — including, unfortunately, a simple and unadorned writing style that's largely unappealing to modern readers.
There aren't a lot of Van Vogt books I would recommend to a curious modern reader. I tried to reread Slan a few years ago, a book that mesmerized me when I first encountered it in 1977, and I found that to my adult eyes it read very much like a middle grade chapter book.
That doesn't mean that there aren't still Van Vogt titles that interest me, and stubbornly refuse to leave my TBR pile. Tops on that list at the moment is Supermind, a 1977 fix-up novel composed of three acclaimed novellas originally published between 1942-68, all dealing with humanity's struggle against a sinister race of alien vampires:
"Asylum" (Astounding Science-Fiction, May 1942) — 2018 Retro Hugo Nominee, Best Novella
"Research Alpha" (World of If, July 1965) — Nebula nominee
"The Proxy Intelligence" (World of If, October 1968)
Prospero's Isle currently has my favorite one-sentence review of the retro-Hugo nominee "Asylum":
In "Asylum" we followed the adventures of an (apparently) average-Joe kind of space pilot, Steve Hanardy, who gets inadvertently tangled up in the battle between a galactic observers who are trying to protect mankind and the solar system from deadly, and superiorly-intelligent, vampire-like aliens, the Dreeghs, from overrunning the solar system and destroying mankind.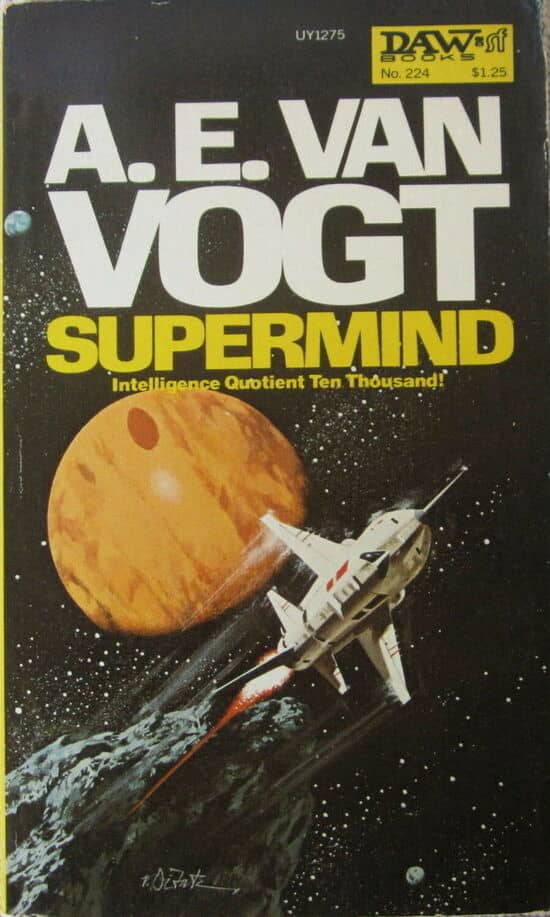 Supermind (DAW Books, 1977 edition). Cover by Vincent Di Fate
Wikipedia has a handy (though spoiler-filled) summary of all three tales. Here's the start of the summary for "Research Alpha."
The third section takes place at Research Alpha, where one of the researchers is experimenting with a serum to rewrite human genetic code to create superminds. It follows a secretary as she undergoes two treatments, eventually reaching IQ 10,000….
Supermind has a 3.53 rating at Goodreads; here's an excerpt from Brian Schwartz's 3-star rating, focusing on "Research Alpha":
RESEARCH ALPHA – even in this fix up book – is a great stand alone story and reveals what a great teller of short stories A.E. Van Vogt was. The characters are interesting and complex. In most stories of this sort, we see illustrated the old maxim of how absolute power corrupts absolutely. In the case of the young typist, it does corrupt her to some degree because she enjoys her omniscience. However, she retains her essential humanity and makes conscious decisions not to harm anyone.
Most of the modern critiques I've read of Supermind complain about the way the stories were rewritten to shoehorn them into a single coherent narrative. I can't comment without having read the original tales on how accurate that is, but it's probably a valid critique.
Our previous coverage of Van Vogt includes:
The Voyage of the Space Beagle by A.E. van Vogt
The Worlds of A.E. van Vogt
The Weapon Shops of Isher by A.E. van Vogt
Classically Awful or Awfully Classic: A.E. Van Vogt's The World Of Null-A by Thomas Parker
Rich Horton on Empire Of The Atom by A. E. Van Vogt
An Interlude with Messrs Brunner & van Vogt by Tony Den
Birthday Reviews: A.E. Van Vogt's "War Of Nerves" by Steven H Silver
The Golden Age of Science Fiction: A.E. van Vogt by Steven H Silver
Supermind was published in paperback by DAW Books in January 1977. It is 176 pages in paperback, priced at $1.25. The cover was by Vincent Di Fate. It was republished many times by DAW, including a 1979 reprint with a new cover by Attila Hejja. An ebook version was released in 2015 by Agency Editions.
See all our recent Vintage Treasures here.