Blast from the Past: Marvel Super Heroes RPG
Blast from the Past: Marvel Super Heroes RPG
It's funny how different tabletop roleplaying games have aged over the years. For instance, the granddaddy of them all, Dungeons & Dragons, has waxed and waned in popularity since its inception in the 1970s, but at least to the general public it has always remained synonymous with the very notion of tabletop RPGs. Other games that were popular decades ago have now been all but forgotten, sometimes even by collectors and the most hardcore of fans. Some newer games have found purchase and are readily available, while untold numbers of RPGs have been created over the decades without drawing so much as a yawn from the market.
Perhaps surprisingly, some older games that were once popular seemed to have been pretty much forgotten by any potential audience but then decades later have suddenly sprang into popularity once again. My guess would be the age of the Internet and then the rise of social media have had a lot to do with this, with older gamers gathering online to talk about or even play their favorite games while drawing in a new generation.
One such game has been the Marvel Super Heroes roleplaying game from TSR Inc. Originally published in 1984 in the famous yellow box, with an advanced box set released in 1986, this RPG designed by Jeff Grub has had quite the uptick in popularity during the last handful of years. Not only are there multiple websites devoted to the game, but there are even Facebook pages and podcasts, plus YouTube videos devoted to discussing and playing the original Marvel RPG. There is even a modern version of the game (without the Marvel connection, of course) simply called FASERIP and free from Gurbintroll Games.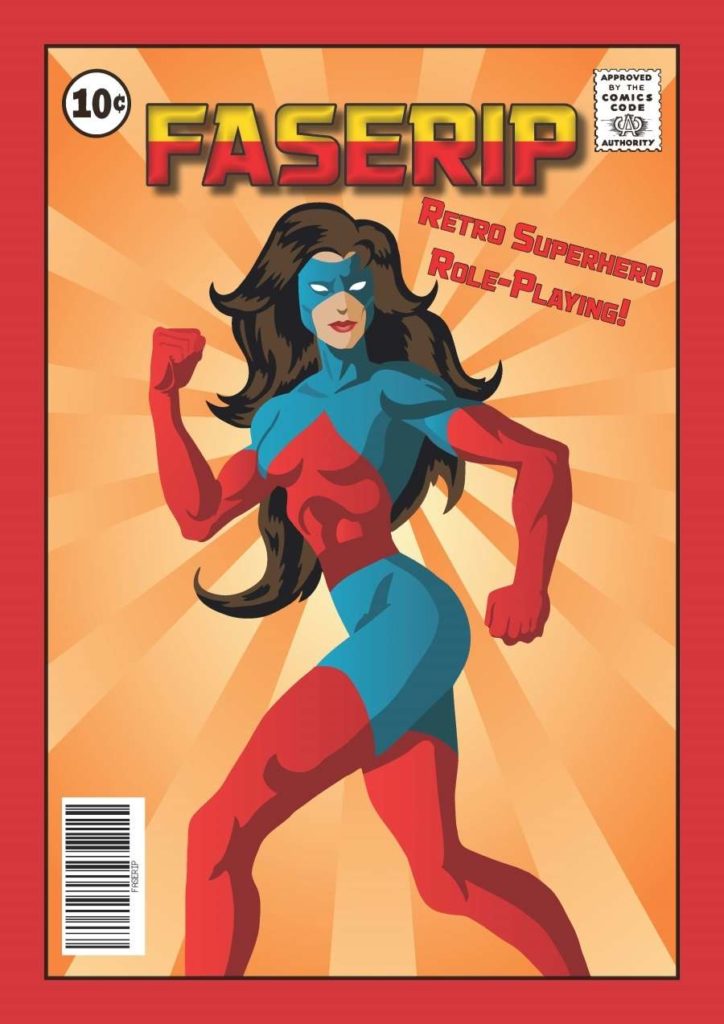 There have been other tabletop RPGs based upon Marvel characters and the Marvel universe, even from TSR back in the day, but none of them have proven as resilient as that first Marvel RPG, commonly referred to as FASERIP by fans. Perhaps it is the simplicity of the system that has brought this about, or maybe it's because that original Marvel Super-Heroes game wasn't all dark and foreboding, but was not only fun to play but fun in its content, the flavor of the system focusing upon the sometimes silly but always entertaining heroes of an earlier era when BANG! and CRASH! often appeared in big, colorful letters upon the very pages of comic books.
If you've never played the Marvel Super Heroes RPG, you might be wondering why it is so often known as "the FASERIP game." It's because FASERIP is an acronym for Fighting, Agility, Strength, Endurance, Reason, Intuition, and Psyche. Those are the seven Primary Abilities for player characters within the game. Plus, FASERIP is pretty catchy sounding, one has to admit.
Then there were the Secondary Abilities of Health, Karma, Resources, and Popularity. On top of that, characters also had Talents (basically skills), Contacts, and Powers. The notion of Karma was relatively rare for RPGs of the time, allowing characters to save up or even pool Karma points to spend when wanting to make sure a task would be a success. For most players, however, Powers was really where things were at, though those Primary Abilities at higher levels were practically powers in and of themselves.
Powers were broken down into Categories, which consisted of Resistances, Senses, Movement, Matter Control, Energy Control, Body Controls, Distance Attacks, Mental Powers, Body Alterations/Defensive, and Body Alterations/Offensive. Each category had 10 individual Powers listed, and those combined with Power FEATS that characters could learn as they progressed pretty much allowed a player to come up with any kind of super hero they wanted. And I can't forget Hardware and Magic, which allowed some characters to have their own version of Powers, and even some abilities not normally available otherwise.
How good or strong a character was with their individual Abilities and Powers was based upon the Rank of each Ability or Power. Ranks ranged from the weakest, Shift-0, to the most powerful, Beyond. All the Ranks were: Shift-0, Feeble, Poor, Typical, Good, Excellent, Remarkable, Incredible, Amazing, Monstrous, Unearthly, Shift-X, Shift-Y, Shift-Z, Class 1000, Class 3000, Class 5000, and Beyond. The higher a rank, the better chance a character had of performing a task. To perform a task, or FEAT as they were called in the game, a character rolled percentile dice based upon the Rank of the appropriate Ability or Power and compared the roll to the famed Universal Table printed on the back of the game's rules books. The table not only had all the Ranks listed, but offered four differing degrees of success. If a player's dice roll was in the white area, a failure occurred, but a roll in the green region meant a success; rolls in the yellow area meant a stronger success usually with better results for the character, and a roll in the red area meant an awesome success, most times providing the task involved with fun bonuses.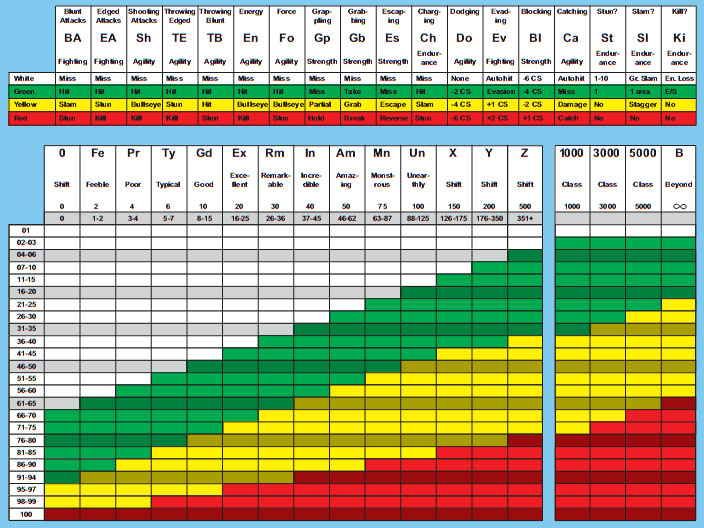 Those are the basics of the game. There were some minor differences between the original boxed set's rules and those of the Advanced set, but the two were mostly interchangeable.
One of the great strengths of the Marvel Super Heroes RPG was that it allowed fans to play the myriad of characters available in the Marvel Universe. From Captain America to Captain Marvel and beyond, everyone and anything was available, with character sheets for many Marvel characters being printed in the original box sets or the multitude of adventure modules and other books which were published.
That being said, there were some faults with this game.
For instance, to put it bluntly, character creation sucked. Yes, if you wanted to play a pre-existing Marvel character, then the game was awesome, but to come up with your own original super hero was not fun. Making your own character was too random. You could end up with Abilities that did not accentuate one another or Powers that did not make sense for a single super figure to have. Also, character creation was pretty much limited to lower levels on the Rank scale, which meant you couldn't make a really super-powered individual, practically a necessity if one wanted to play anything beyond street level adventures. Added to this, character advancement was somewhat complicated and a bit messy, a shame for a game that's otherwise relatively easy to pick up and play.
One other potential fault is that the original version of the game, the basic version in the yellow boxed set, is perhaps just a little too basic. I'm not sure what the game designers were thinking at the time, but for those who were familiar with the likes of other TSR products of the day such as AD&D or Star Frontiers, that first Marvel Super Heroes game was different, which was nice, but it also seemed a bit dumbed down. Maybe the designers had hoped to pull in a younger audience, to introduce them to RPGs, or maybe they still thought of comic book heroes as only kids' stuff. Whatever the case, this was mostly corrected a couple of years later when the Advanced boxed set was released.
If you played this game back in the day and want to get back into it, or you've read enough to raise your interest, try out some of the links I made available above or go searching throughout the Web. I'm sure you can find plenty of information and people who are looking to play and/or referee one version or another of the Marvel Super-Heroes RPG from TSR.
I had the pleasure of playing the game a fair amount in my teen years and even a little later in my twenties, and more recently I lucked into a few online games with friends, and I have to say this game is not only enjoyable, but it's something of a bit of fresh air, mainly because of its relative simplicity and its willingness to be fun. It's worth checking out.
---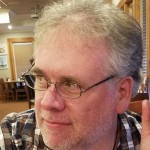 Ty Johnston is vice president of the Rogue Blades Foundation, a non-profit organization focused upon bringing heroic literature to all readers. A former newspaper editor, he is the author of several fantasy trilogies and novels, including City of Rogues and The God Sword.