Goth Chick News: Finally – The Girls Get to Howl…
Goth Chick News: Finally – The Girls Get to Howl…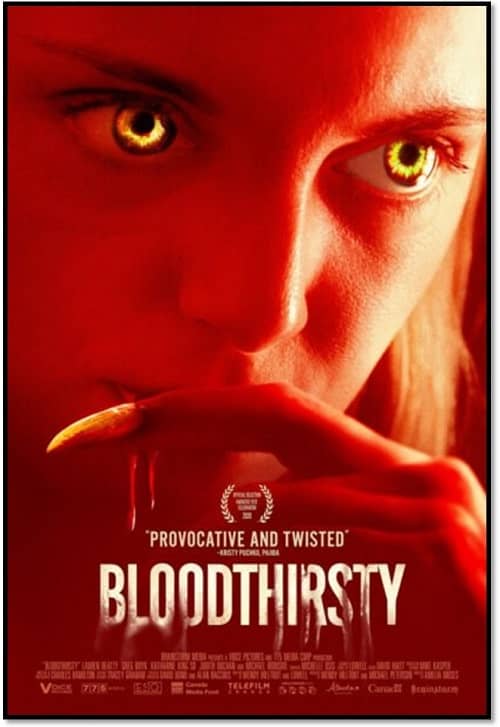 All the wonderful film fests in the US and Canada have been forced to go virtual over the last year, but that hasn't stopped them from showcasing a very creative run of new films; and this one might be my favorite.
Fantastic Fest, which normally takes place in Austin, TX, is the largest genre film festival in the US. Specializing in horror, fantasy, sci-fi and action movies from around the globe, the festival is dedicated to showcasing challenging and though-provoking cinema from new voices in the industry. Like other film fests, the best of the movies which premier here, get picked up for wider distribution.
The virtual version of Fantastic Fest 2020 was home to a new werewolf movie, written by Wendy Hill-Tout along with her daughter, Elizabeth Lowell Boland, known by stage name Lowell, a Canadian singer, songwriter and producer. Admittedly, I had never heard of Lowell until now, though she has released two full-length albums, and her song Palm Trees featured as soundtrack in EA Sports game, FIFA 15. I wish I could say differently about her Mom, Hill-Tout, but alas, I cannot. She has primarily been a producer throughout her career, according to IMDB. But as a writing team, Hill-Tout and Lowell seem to have created cinematic magic in the form of the film Bloodthirsty.
Newbie director Amelia Moses of course gets credit here, as does the acting of star Lauren Beatty (Jigsaw), but to me, all really great monster movies start with a great script. And this one is a doozy.
The synopsis for Bloodthirsty goes like this:
Grey, an indie singer, whose first album was a smash hit, gets an invitation to work with notorious music producer Vaughn Daniels at his remote studio in the woods. Together with her girlfriend/lover Charlie, they arrive at his mansion, and the work begins. But Grey is having visions that she is a wolf, and as her work with the emotionally demanding Vaughn deepens, the vegan singer begins to hunger for meat and the hunt. As Grey starts to transform into a werewolf, she begins to find out who she really is, and begins to discover the family she never knew. What will it take to become a great artist and at what cost to her humanity?
Lowell says the film was inspired by the pressure she felt when trying to write a follow-up album to her first record, We Loved Her Dearly. Along with co-writing the screenplay, Lowell was also dead serious about Bloodthirsty's soundtrack, for which she wrote all original music. The songs the main character Grey unleashes while going through her transformations mirror her inner psyche, and each is better than the next.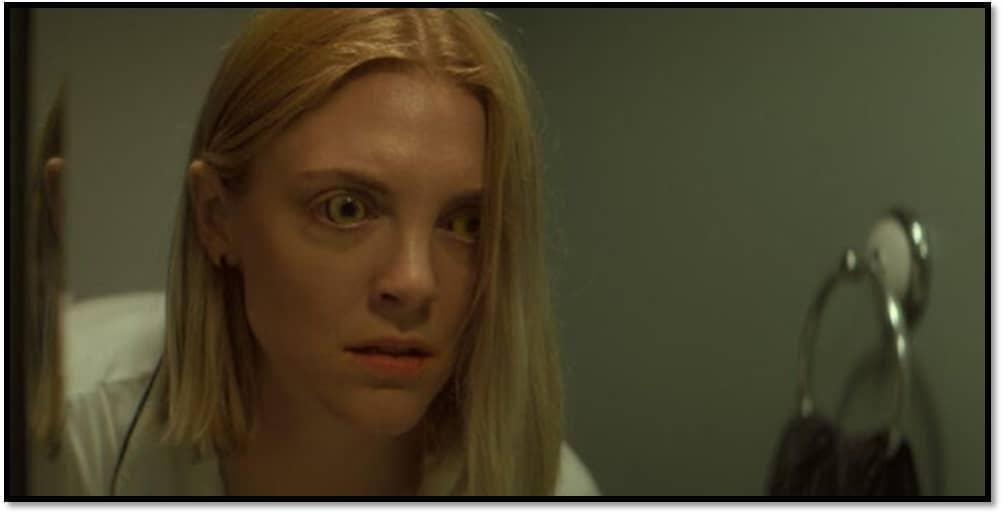 Director Moses brings it hard, with a unique vision to the werewolf aspect of the film.
We have a hybrid, a mix of a human and a wolf. It's a bit more grotesque, a bit weirder, and we still get the emotion of the main character, even when she's a werewolf. I'm looking for something more visceral, that slowly gets under your skin and for me, as a horror fan and an audience member, those are the films that I enjoy more. Hollywood likes a strong female lead. Yes, I'm all for that. But I always want to see women who are vulnerable or a bit fucked up, who are struggling too, because that's humanity.
As I've said previously, the best werewolf transformation I have ever seen on film, was in season one of Hemlock Grove – Bloodthirsty might beat it.
It's no surprise then, that Bloodthirsty has been picked up for distribution by Brainstorm Media who are bringing it to theaters and VOD starting April 23rd. Michelle Shwarzstein, Brainstorm Media's VP of Marketing and Acquisitions states:
We can't wait to share this fantastically twisted werewolf horror film with audiences nationwide. Led by an amazingly talented female filmmaking team, this movie will not fail to surprise and delight.
Mark your calendars. But until April 23rd, here's a tease…