Check out the Latest Issue of Apex Magazine, Available Now
Check out the Latest Issue of Apex Magazine, Available Now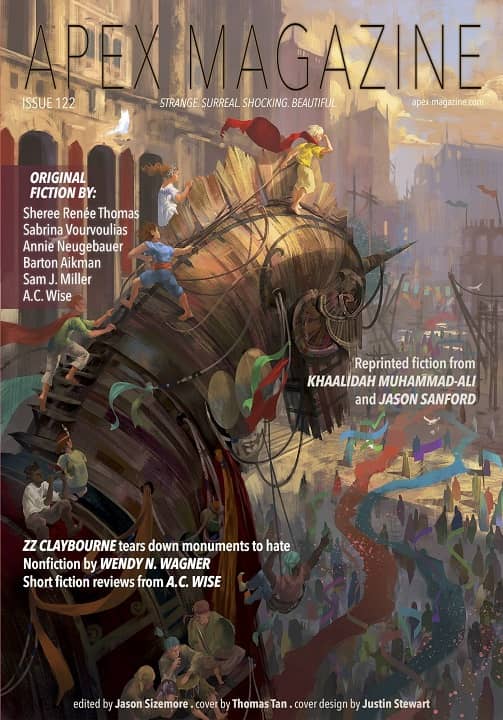 Apex Magazine #122. Cover by Thomas Tan.
I'm excited to see Apex Magazine return to a regular schedule.
Apex published its first print issue on March 16, 2005, and quickly established a reputation as one of the finest new SF magazines of the new century. It focuses on dark science fiction and fantasy, and has won several Hugo and Nebula Awards. Catherynne M. Valente was the editor for issues #15-29, Lynne M. Thomas for #30-55, and Sigrid Ellis for #56-67. Jason Sizemore has been editor issue #68. The mag took an 8-month hiatus in 2019, and returned with a bi-monthly schedule in January with issue 121.
Issue 122 is packed with great fiction by Sam J. Miller, A.C. Wise, Sheree Renée Thomas, Annie Neugebauer, and others. You can sample individual stories for free; the complete issue is for sale for $4.99.
Here's the complete Table of Contents.
EDITORIAL

Words from the Editor-in-Chief by Jason Sizemore

FICTION

The Amazing Exploding Women of the
Early Twentieth Century by A.C. Wise
Las Girlfriends Guide to Subversive Eating
by Sabrina Vourvoulias
Barefoot and Midnight
by Sheree Renée Thomas
Black Box of the Terraworms
by Barton Aikman
A Love That Burns Hot Enough to Last:
Deleted Scenes from a Documentary
by Sam J. Miller (available 3/23)
If Those Ragged Feet Won't Run
by Annie Neugebauer (available 3/30)

CLASSIC FICTION

She Searches for God in the Storm Within
by Khaalidah Muhammad-Ali (available 4/6)
The Eight-Thousanders
by Jason Sanford

NONFICTION

Jimi Hendrix Sang It by ZZ Claybourne (available 4/1)
Telling Stories of Ghosts by Wendy N. Wagner (available 4/15)
Words for Thought: Short Fiction Reviews by A.C. Wise (available 3/25)

INTERVIEWS

Interview with Author Sabrina Vourvoulias
by Andrea Johnson (available 3/18)
Interview with Author Annie Neugebauer by Andrea Johnson (available 4/8)
Interview with Cover Artist Thomas Tan by Russell Dickerson (available 4/22)
We last covered Apex Magazine with the May 2017 issue.
Apex Magazine is published by Apex Publications, and edited by Jason Sizemore. Issue contents is available free online, and complete issues are sold for $4.99 in a variety of digital formats. Subscriptions are just $24 for one year (6 issues) in EPUB, Mobi, and PDF formats.
The complete issue is here, and you can buy back issues or subscribe at their website.
See all of our recent fantasy magazine coverage here.