May 2017 Apex Magazine Now Available
May 2017 Apex Magazine Now Available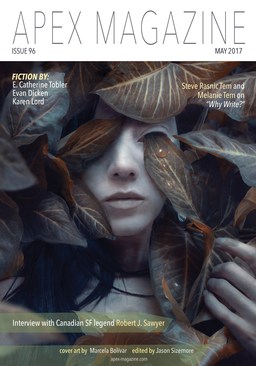 Rocket Stack Rank gives Evan Dicken's "How Lovely Is the Silence of Growing Things" three stars, saying:
The world is ending, but Kate and her daughter Mel survive by hiding in the basement during the day eating peanut-butter-and-spider sandwiches… Plenty of action. Plenty of tension.
Intriguing, although it's not much of a story description. I prefer Jason McGregor's review at Tangent Online, which has a more off-the-wall summary:
I could describe a lot of the surrealistic details about the sun turning green and poets hanging around like bats and centipedes fighting at Ohio Stadium but, basically, this is about a kid and one of her two mothers running around in a sort of nightmare…
Read Jason's complete review here.
The May issue of Apex contains new fiction from Evan Dicken, E. Catherine Tobler, and Karen Lord, as well as a reprint by John Chu, a podcast, an editorial by Jason Sizemore, short fiction reviews by A.C. Wise, an article on writing by Steve Rasnic Tem and Melanie Tem, plus interviews with Evan Dicken, Stephen Korshak, Robert J. Sawyer, and cover artist Marcela Bolívar.
Here's the complete TOC, with links to all the free content.
EDITORIAL
Words from the Editor-in-Chief by Jason Sizemore
FICTION
"How Lovely Is the Silence of Growing Things" by Evan Dicken
"The Three-Tongued Mummy" by E. Catherine Tobler
"Hiraeth: Tragedy in Four Acts" by Karen Lord
From the Story Vaults: "Repairing the World" by John Chu (from Apex #59)
NONFICTION
Why Write? by Steve Rasnic Tem and Melanie Tem
Words for Thought: Short Fiction Review by A.C. Wise
INTERVIEWS
Interview with Author Evan Dicken by Andrea Johnson
Interview with Cover Artist Marcela Bolívar by Russell Dickerson
In the Eye of the Beholder: An Interview with Stephen Korshak by Lesley Conner
Quantum Night: An Interview with Author Robert J. Sawyer by Andrea Johnson
Podcast Fiction

You can subscribe to Apex's monthly podcast at iTunes.
The gorgeous cover is by Marcela Bolívar.
Apex Magazine is a monthly science fiction, fantasy, and horror publication featuring original short stories, poetry and non-fiction. It is edited by Jason Sizemore and Lesley Conner, and released the first Tuesday of every month. The Reprints Editor is Maurice Broaddus, and the Podcast Producer is Mahvesh Murad.
We last covered Apex Magazine with the April 2017 issue.
Apex Magazine is published by Apex Publications. Issues are available free online, and sold for $2.99 in a variety of digital formats. Subscriptions are just $19.95 for one year (12 issues) in EPUB, Mobi, and PDF formats.
The complete issue is here, and you can buy back issues or subscribe at their website.
Our Late May Fantasy Magazine Rack is here. See all of our recent fantasy magazine coverage here.