New Treasures: Pawn: A Chronicle of the Sibyl's War by Timothy Zahn
New Treasures: Pawn: A Chronicle of the Sibyl's War by Timothy Zahn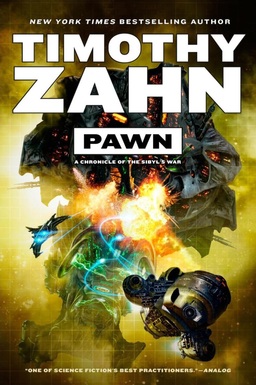 One of the many things I love about Tor.com is their editorial independence. Tor Books just published Timothy's Zahn's new novel Pawn, the opening volume in a brand new space opera series, while over at Tor.com, Liz Bourke's review calls it "a rather bland and textureless experience. While there are hints of a thriller-plot and a deeper mystery within the text, and while Zahn puts together a perfectly acceptable string of adventure-story set-pieces, there's very little depth." You gotta love an editorial team willing to damn the torpedoes and diss their own books.
Anyway, Timothy Zahn is a superstar, and one lukewarm review is not going to dissuade his legion of fans. It certainly didn't dissuade me — I read and enjoyed Zahn's 1983 novel Blackcollar, and that (plus my fondness for his short stories) was enough to convince me to pick up a copy. Zahn, the author of the bestselling Star Wars novel Heir to the Empire and its sequels, knows his way around space opera.
Nicole Lee's life is going nowhere. No family, no money, and stuck in a relationship with a thug named Bungie. But, after one of Bungie's "deals" goes south, he and Nicole are whisked away by a mysterious moth-like humanoid to a strange ship called the Fyrantha.

Once aboard, life on the ship seems too good to be true. All she has to do is work on one of the ship's many maintenance crews. However, she learned long ago that nothing comes without a catch. When she's told to keep quiet and stop asking questions, she knows she is on to something.

Nicole soon discovers that many different factions are vying for control of the Fyrantha, and she and her friends are merely pawns in a game beyond their control. But, she is tired of being used, and now Nicole is going to fight.
Pawn: A Chronicle of the Sibyl's War was published by Tor Books on May 2, 2017. It is 347 pages, priced at $25.99 in hardcover and $12.99 for the digital version. The cover is by Stephen Youll. Read an excerpt at Tor.com.