Ellsworth's Cinema of Swords: Tyrone's Typecast Troubles
Ellsworth's Cinema of Swords: Tyrone's Typecast Troubles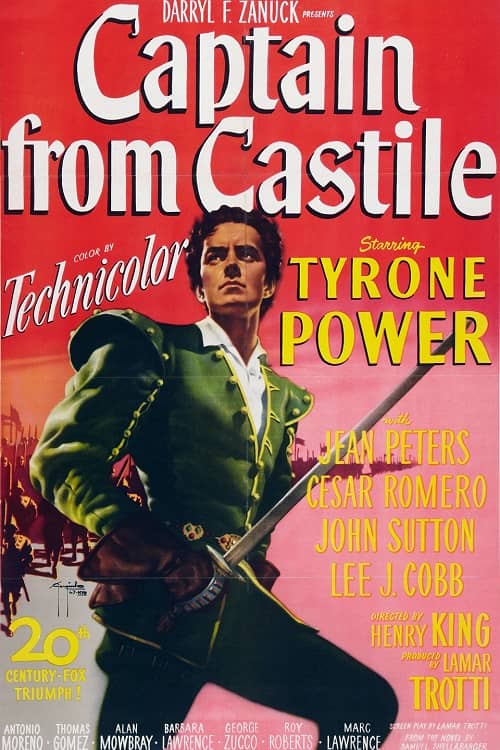 Captain From Castile 
In the Thirties, young Tyrone Power made an impression as a leading man in various cinematic genres, so Twentieth Century Fox gave him a contract. Power really wanted to play serious dramatic roles, but after his runaway success with The Mark of Zorro (1940) and The Black Swan (1942), the latter directed by Henry King, Fox decided Power was their Errol Flynn and slated him for more swashbucklers, which wasn't what Power had in mind.
But then World War II got in the way, like it did for a lot of people; when Power returned from his tour as a decorated pilot for the Marines, he found that Fox hadn't changed their plans for him, and he was cast in Captain from Castile, with Henry King once again directing. Power kept pushing for other roles, getting in a taut film noir and a couple of comedy parts, but Fox continued putting a sword into his hand for a couple more years before Power sheathed that sword for good. Fortunately, we got the classic Prince of Foxes before he did.
Captain from Castile
Rating: ***
Origin: USA, 1947
Director: Henry King
Source: 20th Century Fox Classics DVD
This is a magnificent failure, a classic case of Hollywood buying a novel for its strengths and then lacking the guts to put those strengths on the screen. And it's a damn shame, because it could have been great. Samuel Shellabarger's best-selling 1945 novel tells the story of a naïve young Spanish nobleman who runs afoul of the Inquisition; to escape persecution and certain death, he joins Hernán Cortez's expedition to Mexico, becoming one of the conquistador's trusted officers.
Shellabarger's novel pulls no punches in its depiction of the excesses of the Inquisition and the horrific events of the Conquest of Mexico, but the screenplay for the film chokes on both those points, soft-pedaling the Inquisition (and changing its name), and waffling on whether the slaughter and suppression of the Aztecs is deplorable or glorious.
And that's not even the worst of it. When a historical fiction author involves their protagonist in great historical events, it's essential to make that protagonist a mover and driver of the action rather than a mere spectator. This is where the script for Captain from Castile fails in a big way, as Captain Pedro de Vargas is nearly always swept along by other forces rather than directing or influencing them himself. Poor Tyrone Power, who plays Vargas: much of the time he simply seems clueless or bewildered.
The exceptions are when the story calls for some swashbuckling, briefly giving him some clear purpose, or when he's romancing the fabulous Jean Peters as Catana, dazzling here in her début role. There's genuine chemistry between Powers and Peters, especially in a white-hot scene at a Mexican campfire where they dance a blazing sarabanda. Vaya!
This movie does have other things going for it as well. For one thing, it's bloody gorgeous, shot in full color largely on location in Mexico at or near the actual sites of the Conquest. Historically, part of Cortez's march on the Aztec capital took place against the backdrop of an active volcano, and while shooting this film the peak of Paricutín obligingly erupted, enabling jaw-dropping scenes of the Conquistadores marching across country with a great volcanic ash-cloud smeared across the sky behind them.
Another visual home run: meticulous research went into re-creating the arms and clothing of the Aztecs, and they're worn in the film by descendants of the Aztec people instead of Hollywood extras. Plus Cesar Romero gives an energetic performance as Cortez, alternating between inspiring leader and rapacious plunderer. And it's all backed up by one of composer Alfred Newman's greatest scores. Alas, ultimately the tonal inconsistency and the flaws in the story take the wind out of the sails of what should have been a masterpiece.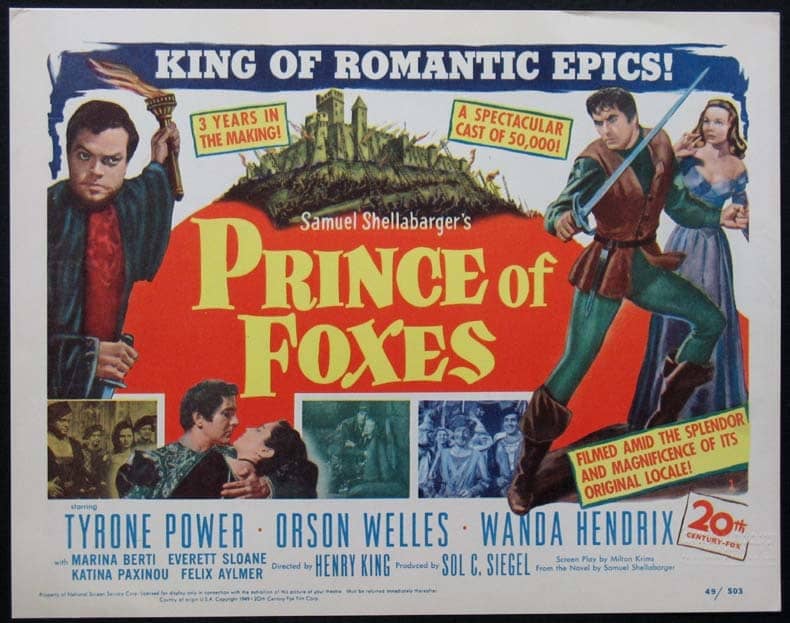 Prince of Foxes
Rating: *****
Origin: USA, 1949
Director: Henry King
Source: Fox Cinema Classics DVD
This, like Captain from Castile, is based on a novel by the popular American historical fiction author Samuel Shellabarger, and once again it's directed by Henry King. It's set in 1500 in northern Italy, where Cesare Borgia (Orson Welles!) has a cunning plan: gain the control, or at least the neutrality, of the principality of Ferrara by marrying his sister Lucrezia to nominal enemy Prince Alfonso D'Este. Borgia needs a sly and capable agent to undertake this diplomatic mission, and from a number of rivals he selects Captain Andrea Orsini (Tyrone Power) for the task. It's clearly a test for Orsini, and if he succeeds, greater honor — and challenges — await. Along the way, Orsini thwarts an attempted murder, and then co-opts the assassin (Everett Sloane) into his own service. Because, according to the Borgias' maxim, "The end justifies the means."
This film succeeds brilliantly everywhere Castile failed, giving us a protagonist who is morally compromised but in command of his own destiny, who navigates the dangerous intrigues of Renaissance Italy and changes as a result of his choices. It's one of Power's most complex roles, a solid performance, plus Welles and Sloane are both great in their supporting parts; of the leads, only Wanda Hendrix, as love interest Madonna Camilla Verano, is a bit out of her depth. Add in the fact that the movie is entirely shot in Italy at the historically-apt locations — Venice, Rome, Ferrara, et al.—and you have one of the finest depictions of Renaissance romance and intrigue ever put on film. Its sole flaw is that, due to a shortfall in its international funding, it was shot in black and white instead of the full color it deserved.
So, how is it as a swashbuckler? The movie's all politics for the first hour, but then the swords come out of their scabbards and they never go back. The siege and storming of the mountaintop fortress of Città del Monte is particularly stunning, as it's staged, not at some phony walls on a Hollywood backlot, but on the actual medieval battlements on Monte Titano in San Marino. Shortly after Orsini's climactic longsword duel on the tower stairs with Borgia's henchman Don Esteban, it all wraps up with a thoroughly satisfying conclusion. Two stilettos up!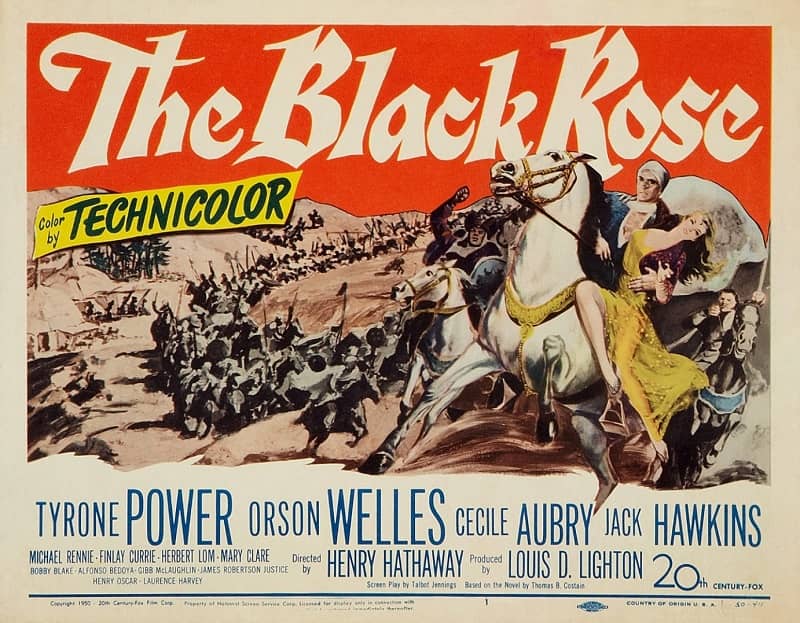 The Black Rose
Rating: **
Origin: USA, 1950
Director: Henry Hathaway
Source: Fox Cinema Classics DVD
This movie works well as a spectacle depicting 13th-century England and parts of Mongolia and China. As an adventure or character-driven story, however, it's not so good. This is one of those films in which the angry and stubborn protagonist is told at the beginning what he needs to do to find peace and purpose, spends the next two hours determinedly rejecting that advice, and then finally embraces it in the last ten minutes of the picture. Weak! Walter of Gurnie (Tyrone Power), an illegitimate son of a Saxon lord, is our angry protagonist, who's suffered injustice at the hands of his Norman relatives. Edward II (Michael Rennie) — the King of England, no less — tells Walter he needs to put aside his hatred of the Normans for his own good and that of the realm and its people, but Walter angrily insists on leaving England to seek his fortune in distant lands — even in far Cathay, if he must, which he's heard about from his Oxford mentor, Roger Bacon.
Cut to central Asia, to which Walter has fast-traveled with his loyal sidekick, English longbowman Tristram Griffen (Jack Hawkins in an early role, his cragginess softened by youth). They join a Mongol caravan headed further east to the court of Kublai Khan, bearing tribute of gifts and women to the great conqueror. One of these women is Maryam, a half-English daughter of a captured Crusader, known as "The Black Rose" for her rare beauty. Maryam escapes the harem, joins the Englishmen disguised as a serving boy, and immediately falls in love with Walter, but he thinks having a girl along is a dangerous nuisance and irritably refuses her affections. (Do you see the pattern?) Maryam is played with conviction by the French actress Cécile Aubry, who though age twenty-one at the time of filming really looks like she's about fourteen (ew!), which makes Walter delaying his inevitable fall for her something of a relief.
The commander of the caravan as it grows into an army is a genuine historical figure, a Mongol general called Bayam of the Hundred Eyes, played by Orson Welles as an engaging rogue. Since Welles was himself an engaging rogue, this isn't much of a stretch, and though he's a pleasure to watch here one can see that he isn't really working very hard. Bayam acts as a counterweight to good King Edward, giving Walter diametrically opposed advice, which actually starts him at last on the road to realizing what a sap he's been.
Along the way there's a deadly archery contest, several offstage battles, a torture gauntlet, and Walter's discovery of the Eastern secrets of gunpowder and the magnetic compass. When the gang finally reaches Cathay there's a long half-hour of clichéd Orientalism before a muddled ending that returns Walter, with Maryam, to England.
Alas, we already know how it's going to end because every single event in the plot has been thoroughly telegraphed. Ah, well, at least it looks good: the movie was shot at scenic locations in England and Morocco (standing in for Asia), plus the desert scenes include camel jokes that are almost funny.
The previous installments in the Cinema of Swords are:
Olivia de Havilland — First Queen of the Swashbucklers
Goofballs in Harem Pants
Disney's Early Swashbucklers
'50s Vikings – Havoc in Horned Helms
Laughing Cavaliers
Charming and Dangerous: Douglas Fairbanks, Jr.
Eleven Samurai: Early Chambara Classics
Beyond Captain Blood: Three by Sabatini
3 Musketeers + 1 Long Nose
Louis Hayward, Everyman with a Sword (Part 1 of 2)
Days of Technicolor Knights
Louis Hayward, Everyman with a Sword (Part 2 of 2)
Laurence Olivier, Swashbuckler?
Tony Curtis Goes Yonda
The 7th Voyage and Its Children
The Good, the Bad, and Mifune
The First British Invasion
Wholesome Buccaneers (Pt. 1)
The Tale of Zatoichi
The Sign of the Z!
Gallic Gallantry
Classic, Mythic and Epic
The Exuberant Excess of Sixties Vikings
---
LAWRENCE ELLSWORTH is deep in his current mega-project, editing and translating new, contemporary English editions of all the works in Alexandre Dumas's Musketeers Cycle, with the fourth volume, Blood Royal, just published by Pegasus Books in the US and UK. His website is Swashbucklingadventure.net.
Ellsworth's secret identity is game designer LAWRENCE SCHICK, who's been designing role-playing games since the 1970s. He now lives in Dublin, Ireland where he works as a consultant for narrative-based video games.