Goth Chick News: Ray Bradbury's "The Wish" Brings New Magic to the Holidays
Goth Chick News: Ray Bradbury's "The Wish" Brings New Magic to the Holidays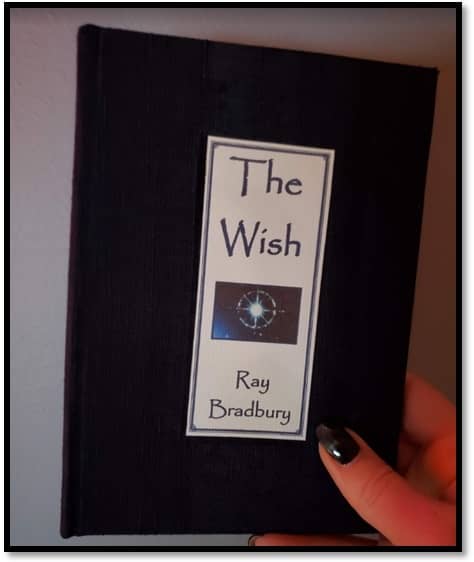 Just about a year ago I finally got around to writing about my first encounter with Ray Bradbury and his story "The Wish." It isn't one of his most famous or well known, but when it appeared in the December issue of Woman's Day magazine in 1973, it touched my 9-year-old self in a deeply personal way. Following its appearance in Woman's Day, "The Wish" only appeared twice more; once in a compilation called Long After Midnight, which I discovered in my subsequent youthful pursuit of all things Bradbury, and once in a format I only just discovered.
Here is where the magic comes in…
Back in October I received an unusual voicemail on my "day job" phone. The gentleman introduced himself and asked if I was the Sue Granquist who writes for Black Gate. If so, he had something for me. If not, he apologized for bothering me and then left his number for me to call. What was exceptionally strange about this is that I don't even know my office phone number, not to mention my very strict policy of separation of church and state – no one at the day job knows about my gig at Black Gate.
So how, exactly, did this gentleman track me down there?
With curiosity killing me I rang the number back and met Peter Schneider, former Vice President at Viking Penguin, William Morrow, Prentice Hall and Grove Press; translate that to mean a titan in the publishing world. Now retired, Mr. Schneider's last gig was as owner of a boutique publishing firm called Hill House Press. He explained that he was the publisher for and personal friend of Ray Bradbury in the ten years before Bradbury's death in 2012. During that time, he convinced Bradbury to let him publish a limited-edition hard cover book of The Wish; limited as in fifty-two copies were made, each containing an actual photo of Bradbury's father and a short note about the origins of the tale from Bradbury himself. Mr. Schneider explained that he had copy number 8 in his possession which he found when cleaning out the attic. That made him wonder when the story had first appeared in public so he Googled "The Wish" and what was the first listing that came up?
The article I had written about it, which appeared in Black Gate last December.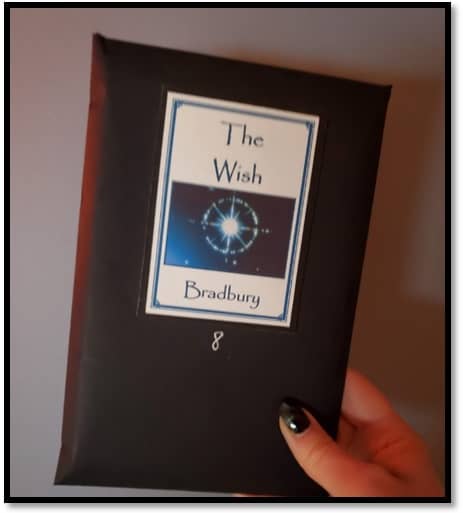 Dust jacket for copy #8 of The Wish
Mr. Schneider was intrigued because he felt very few people remembered that story. He also was touched by how much The Wish had meant to me and decided that if he could track me down, he would give me his numbered copy which was also personally signed by Ray Bradbury. So, calling on his very substantial resources, Mr. Schneider eventually obtained my office phone number and here we were.
Have you ever met someone who instantly felt like someone you had known your entire life?
Peter Schneider and I talked that first time for over two hours, and regularly since. He was not only personally acquainted with Ray Bradbury but seemed to have worked with pretty much every author I can count as my favorites. His literary knowledge is vast, as is his sense of humor and personal writing talent.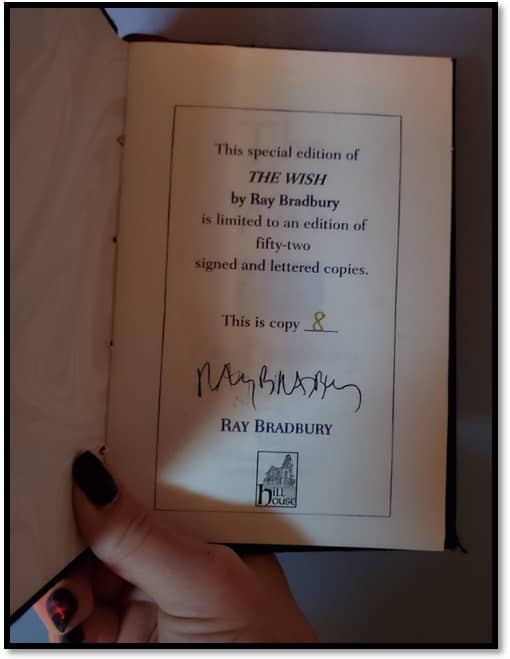 Ray's signature
I cannot wait to introduce him to you and will be doing so presently via my first interview with him which will focus on his friendship with and knowledge of, Bradbury. I feel like The Wish has been a golden thread which I grabbed onto back in 1973 and followed into my current career where I discovered the other end attached to a kindred spirit.
True to his word, a week after our first discussion I received a care package in the mail which contained what are now some of my most prized treasures which I will tell you about in future posts. But that box also included copy number 8 of the very limited-edition printing of The Wish, signed by Ray Bradbury himself.
In honor of this very magical tale, here is the post that started it all.
---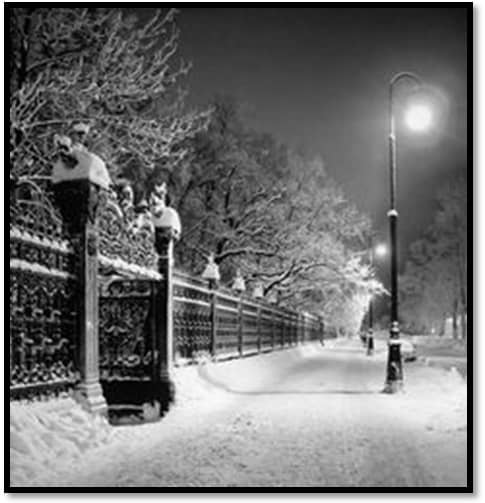 "The Wish," a Haunting (and Forgotten) Winter Tale from Ray Bradbury
Originally posted December 19, 2020
In 1973, Ray Bradbury published a short story in the December issue of Woman's Day magazine. It later appeared in his short story collection Long After Midnight, but it was that Christmas that is forever lodged in my memory, along with Mr. Bradbury.
I was wouldn't turn 9 years old until January but that December I felt much older as I had just experienced real death for the first time. Earlier in the year I had lost my beloved Grandpa and I recall simply not being able to believe I would never see him again. He had loomed exceptionally large in my life and for an 8-years-old me, there had never been a time when he wasn't holding my hand. But he had gone suddenly from a heart attack and I didn't get to say goodbye, and that experience had made me feel older than myself.
But my feelings of loss were nothing to my Dad's. He had been very close with his own Dad his entire life, and when Grandpa died, to me anyway, it seemed like part of Dad went with him. By Christmas, Dad was putting on a brave face and trying to be cheery for me and my very young siblings. But I could see he his grief was winning. Mom tried everything to bring him around from making his favorite dishes to decorating (it looked like Christmas exploded in our house that year), but Dad's smile was watery and he spent more time than usual 'working' out in the garage where I suspected he shed the tears he couldn't do in front of us.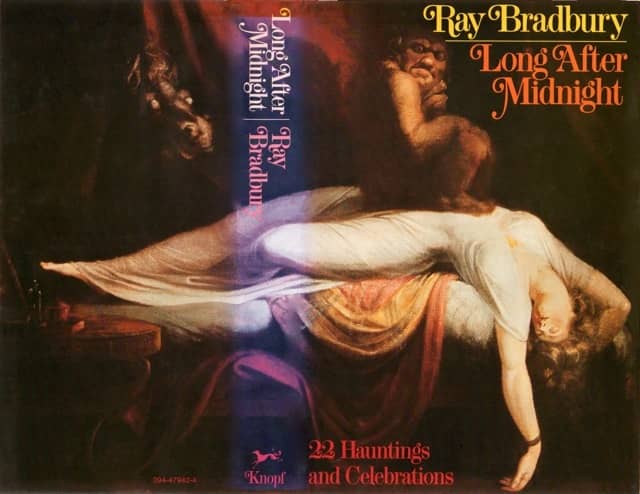 I clearly remember Mom coming into the living room one evening in early December and handing Dad her Woman's Day magazine, with the pages folded open particularly. She said, "I want you to read this," and when he looked up blankly, she shook the magazine under his nose and said, "Read it," then left the room. I remember being curious because though Mom was an avid reader of all things, Dad only read Time and the local paper, he was more of an evening news man, and I doubted there would be anything in Mom's magazine that would interest him. But he slowly began to read, and I went back to whatever I had been doing. Awhile later he closed the magazine and put it in the rack with the others, then went into Mom's sitting room and shut the door. I heard them talking and I thought I heard Dad crying.
I dug that Woman's Day out of the rack and went off to my room to figure out what Dad had read. After thumbing through it a few times I decided it had probably been a story called "The Wish" by a man named Ray Bradbury. Like Mom, I was a voracious reader but did not know who he was. Fueled by curiosity, I read "The Wish" right through.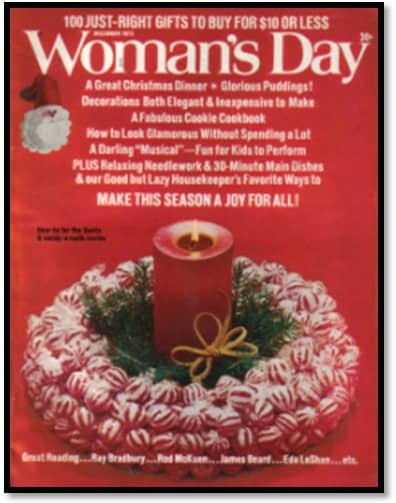 In the days that followed, Dad seemed more himself and by Christmas Eve was almost if not quite as jovial as usual. Life eventually overtook loss and missing Grandpa went from feeling like someone was squeezing my heart, to a dull ache, to the whimsical longing that pops up to this day. It took a few more years for me to fully understand why Mom had made Dad read "The Wish" and why afterwards he seemed a bit better.
From that point on, I started devouring anything written by Ray Bradbury, but it wasn't until many years later that I learned he had written "The Wish" while grieving the loss of his own father; which explained the longing, the love and a bit of horror that permeated the words. Though that Woman's Day magazine is long gone, I never forgot "The Wish" and still have the dog-eared copy of Long After Midnight which I crack open every Christmas to read the story that is etched forever in my memory. It is a story of the loss we all feel at some point in our lives, and about how the magic of one night each year makes it possible to undo some of the sadness.
It's been out of print for some time, but you can still find copies of Long After Midnight on Amazon and probably at your local library. However, I really wanted to share "The Wish" with you now, and after a thorough search, I found a PDF of it online, which you can read here.
Merry Christmas to all and to all a good night.