Strange Plants, Ruined Cities, and the Dangers of Antarctic Exploration: Weirdbook #43
Strange Plants, Ruined Cities, and the Dangers of Antarctic Exploration: Weirdbook #43
Cover by Fotolia
It was a pleasure to get the latest issue of Weirdbook in the mail last month. Sadly, as has become almost routine, editor Doug Draa devotes much of his heartfelt editorial to eulogizing a lost contributor, in this case the talented author Joseph S. Pulver. (Though in the process he did misspell Pulver's name, something also fairly routine for Weirdbook. A spellchecker would have caught the mistake, and the ones in the next few sentences. Amateur editing is part of the magazine's charm, and certainly doesn't bother most readers, but better copyediting wouldn't hurt.)
Here it is, Weirdbook #43. Our 13th regular issue since the relaunch. I really can't decide on whether calling this our "Baker's Dozen" issue of our "Advent of the Apocalypse" issue…

This issue contains one of Joeseph (sic) Pulver, Sr.'s last stories, "Will Home Remember Me?" I say "last" because Joe passed away April 24th. It such (sic) an honor to receive the story last year. Joe was a genuine giant of weird fiction and a great man in his own right. He'll be missed by his legions of fans and friends.

I want to believe that he's giving them hell this very minute in not-so-Lost Carcosa and is enjoying himselv (sic) immensely while doing so!

Godspeed, Joe.
Draa and Wildside committed to an aggressive publication schedule when they relaunched the magazine five years ago, and for the most part they've achieved it, producing nearly three issues per year (plus the occasional Weirdbook Annual). And the magazine looks fantastic, with consistently striking cover art, and top-notch interiors by the great Allen Koszowski. Issue #43 contains stories by Black Gate writers John R. Fultz and Darrell Schweitzer, plus Adrian Cole, Joseph S. Pulver, Sr, Glynn Owen Barrass, L.F. Falconer, and others.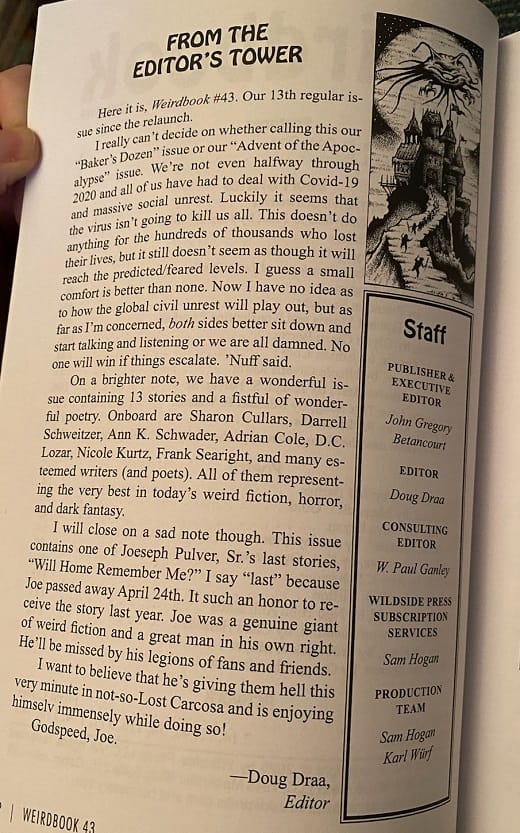 Doug Draa's complete editorial for issue #43
Tangent Online has a fine review of the issue by Victoria Silverwolf. Here's the highlights.
A wide range of fiction, from supernatural horror to dark fantasy to surrealism, appears in this magazine of imaginative fiction. The issue is dedicated to the memory of the recently deceased Joseph S. Pulver, Sr., whose final work appears in its pages.

"An American Story" by Darrell Schweitzer is a tongue-in-cheek yarn related at an English club, in the tradition of tall tales told by the fireside with a glass of whiskey in hand. The narrator relates how his father's British friend grew a strange plant in his conservatory, with bizarre consequences…

Much more serious is "Impervious to Reason, Oblivious to Fate" by John R. Fultz. An indication of the story's violent content appears very quickly, when the hero slaughters three warriors on the first page. He seeks revenge against an evil wizard, whose army killed his family and many of his countrymen. A mysterious visitor offers magical help when it is most needed…

"Arthur Wardrobe and Asia Anastacia: A Love Story" by Andrew Darlington appears to take place in a post-apocalyptic future world, although this is not completely clear. There are war machines battling in the air, devastated areas inhabited by deadly creatures, and many things that are even stranger. The narrator is visited by a woman who appears to him in many different illusory shapes. During one of these encounters, he makes a dangerous journey through the ravaged zones of a city, eventually finding the woman in her true form… the eerie and melancholy mood of this nightmarish tale is appealing, even when it is not comprehensible…

In "The Fury of Angels" by Adrian Cole, miners are killed by extreme heat in the depths of a mine. Similar fatalities follow outside the mine. A police detective investigates the deaths, enlisting the help of an expert in the supernatural. Their search leads to an encounter with a deadly being of great power….

Even shorter is "Frozen Time" by Rivka Jacobs. The only surviving member of an Antarctic exploration team describes the bizarre thing they found under the ice. The discovery is a truly surreal one, unlike anything the reader might expect.
Read the complete review here.
Recent issues of Weirdbook. Covers by João Florencio and Iuliia Kovalova.
Here's the complete list of short fiction.
An American Story, by Darrell Schweitzer
Impervious to Reason, Oblivious to Fate, by John R. Fultz
The River, by Sharon Cullars
Taking Out the Trash, by by D.C. Lozar
Arthur Wardrobe And Asia Anastacia: A Love Story, by Andrew Darlington
Snack Time, by Franklyn Searight
Godlike, by By Edward Morris and Konstantine Paradias
Ronkonkoma, by Glynn Owen Barrass
The Fury of Angels, by Adrian Cole
Keisha's Dinosaur, by Nicole Givens Kurtz
Will Home Remember Me?, by Joseph S. Pulver, Sr.
You're Gonna Love This Song, by Michael S. Walker
Frozen Time, by by Rivka Jacobs
Lucien Greyshire and the Ghost from Applebee's, by L.F. Falconer
The magazine also includes poetry by Jeff Barnes, Maxwell I. Gold, Neva Bryan, Ashley Dioses, K.A. Opperman, Ann K. Schwader, W.D. Clifton, Ngo Binh Anh Khoa, Chad Hensley, Frederick J. Mayer, and Gregg Chamberlain.
Weirdbook is published by Wildside Press, and edited by Douglas Draa. Issues are 180+ pages, and priced at $12 for print editions, and $3.99 for the digital version. You can buy individual issues at Amazon.com and Wildside Press, and 4-issue U.S. subscriptions are available for $39.99 here:
We last covered Weirdbook with issue #41 The magazine's website is here. See all of our Weirdbook coverage here, and all of our recent fantasy magazine coverage here.