Vintage Treasures: The Aliens Among Us by James White
Vintage Treasures: The Aliens Among Us by James White
The Aliens Among Us by James White. Ballantine Books, 1969. Cover by Paul Lehr
I've read very little by James White, and that's a serious oversight.
White was an Irish SF writer who's not very well remembered today, but he was a big deal in SF circles in the 80 and 90s. He began writing professionally in 1953, and published some 20 novels and five collections in a career than spanned nearly five decades. His last novel Double Contact appeared in 1999, the year he died.
White's most popular creation was Sector General, a deep space medical installation that treats all the races of the galaxy. It was the setting for a long-running series — a dozen novels and collections — published between 1957-1999. Most of the stories were fairly light fare, low-stakes galactic hospital drama, but their enduring popularity earned White a solid rep. A total of four omnibus collections were published, one by the Science Fiction Book Club (Tales of Sector General, 1999), and three by Orb, Beginning Operations (2001), Alien Emergencies (2002), and General Practice (2003). Believe it or not, all three of the Orb volumes are still in print, nearly two long decades later. That's an impressive legacy.
If White can keep omnibus editions in print for 20 years, why do I say he's not well remembered? Because while Sector General remains popular among older fans, White's star has otherwise dimmed significantly. How little demand is there for his work? Five years ago when I won a nearly complete set of James White — 24 vintage paperbacks — on eBay, I was the only bidder. The price? $5.
I still think White speaks to modern audiences, and that's why I'm still talking about him. Today I want to point you towards his second collection, The Aliens Among Us, published by Ballantine in 1969.
[Click the images for hospital-sized versions.]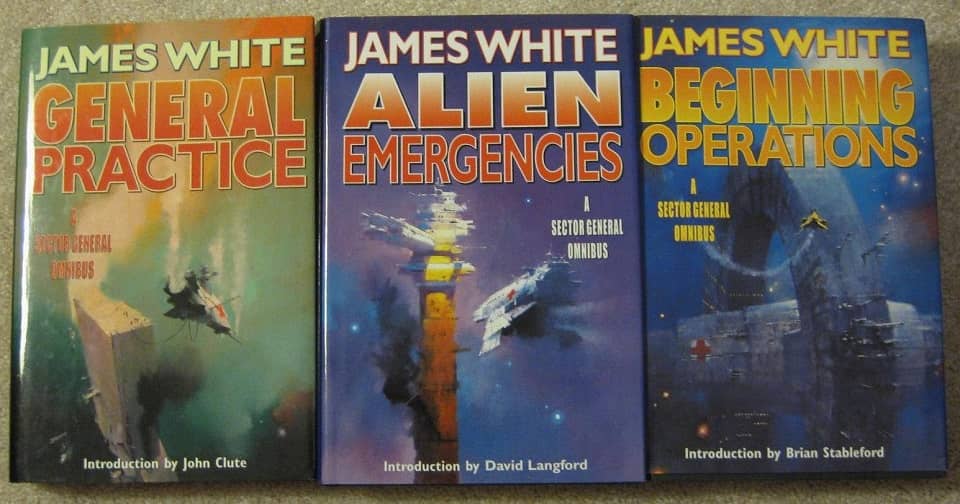 The Orb Omnibus editions of the Sector General novels and stories
The Aliens Among Us features a nice cross section of White's work during his most productive period, containing seven generally longer stories written between 1953-1960. They include three Sector General tales, including the long novella "Occupation: Warrior," originally published in Science Fiction Adventures in 1959.
Here's the complete Table of Contents.
"Countercharm" (New Worlds Science Fiction #100, November 1960)
"To Kill or Cure" (New Worlds Science Fiction #58, April 1957)
"Red Alert"e (New Worlds Science Fiction #43, January 1956)
"Tableau" (New Worlds Science Fiction #71, May 1958)
"The Conspirators" (New Worlds Science Fiction #24 ,June 1954)
"The Scavengers" (Astounding Science Fiction, October 1953)
"Occupation: Warrior" (Science Fiction Adventures No. 7, March 1959)
White's short stories appeared chiefly in New Worlds Science Fiction, though he sometimes popped up in Astounding and Analog. Here's a look at the magazines these stories originally appeared in.
I think this collection is a fine place to start to get to know James White better. I bought my copy as part of a collection of vintage paperbacks I purchased last month.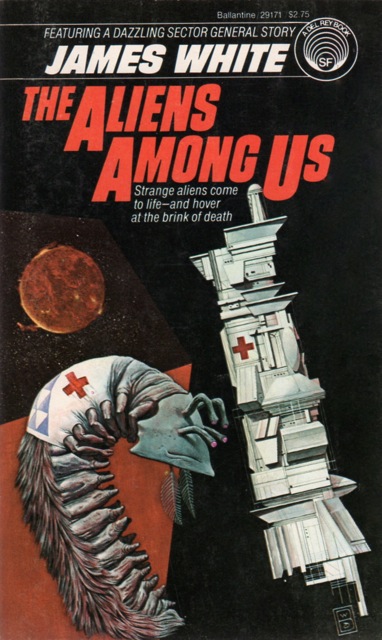 Del Rey edition (1981). Cover by Wayne Barlowe
The Aliens Among Us was published by Ballantine Books in March 1969. It is 217 pages, priced at 75 cents. The cover is by the great Paul Lehr. It was reprinted by Corgi in 1970, Del Rey in 1981, and Orbit in 1988. There is no digital edition.
See all our recent Vintage Treasures here.