Demanding Answers on the Harlot Table in the Dungeon Masters Guide
Demanding Answers on the Harlot Table in the Dungeon Masters Guide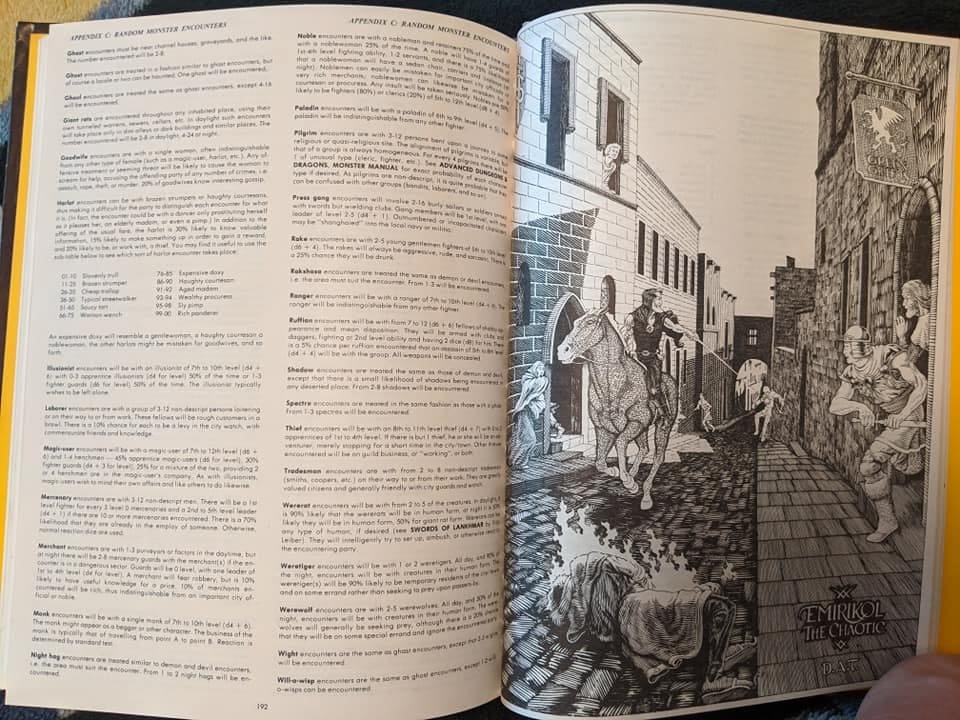 Emirikol the Chaotic, by Dave Trampier. From the Dungeon Masters Guide (TSR, 1979)
So. Some of my older gentlemen friends are feeling upset and disenfranchised by Wizards of the Coast's disclaiming of the values and mindsets of early D&D. It feels like a betrayal to them, for what I'm sure is a variety of reasons.
But I have, on more than one occasion, wanted to share this iconic illustration from the 1st edition Dungeon Masters Guide with kids in my middle school club and stopped. Because I remember the steel in my daughter's eyes as a preteen, squinting at the facing page and saying, "Hey, what's that?"
Pointing, of course, to the obligatory harlot table. "How come there are 10 extra ugly terms for women in the harlot table, but nothing for mercenaries, thieves, nobles, or tradesmen?" Cocked eyebrows that demanded to know why I would accept this rubbish at all.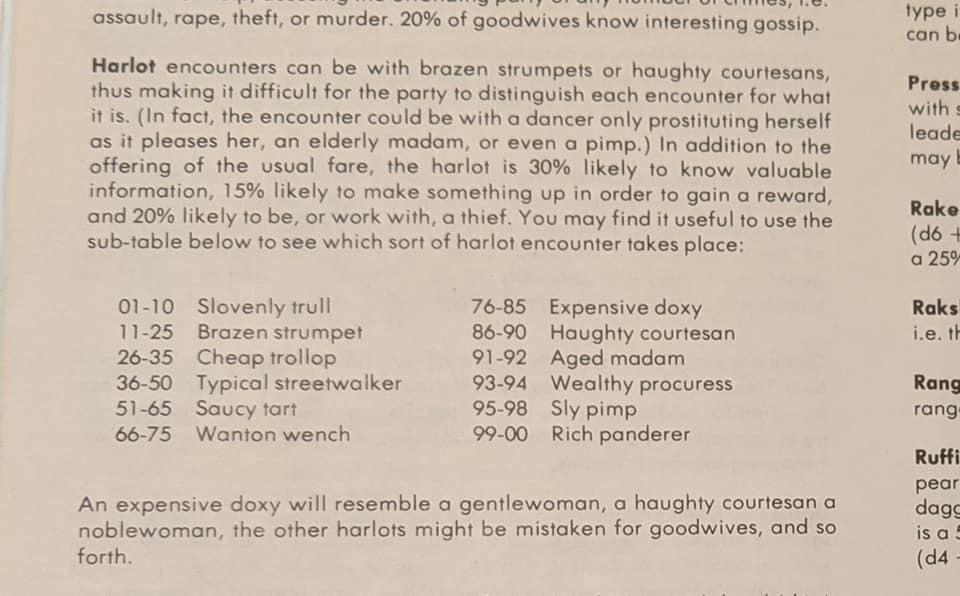 And along with my chagrin, pride. I taught her to ask those questions and I am delighted that she and this next generation of girls are demanding the answers. I'm glad all the marginalized kids are demanding an equal place at the table. Most of all, I am thrilled that kids still want to play these games at all.
These games are wonderful, but there are a lot more inclusive alternatives available. Wizards of the Coast's response to the old material is perfectly balanced and appropriate. It is absolutely necessary if they want to keep their games alive for future generations. They won't stand for the inescapable undercurrents of racism and sexism that were taken for granted in the old material. They don't have to.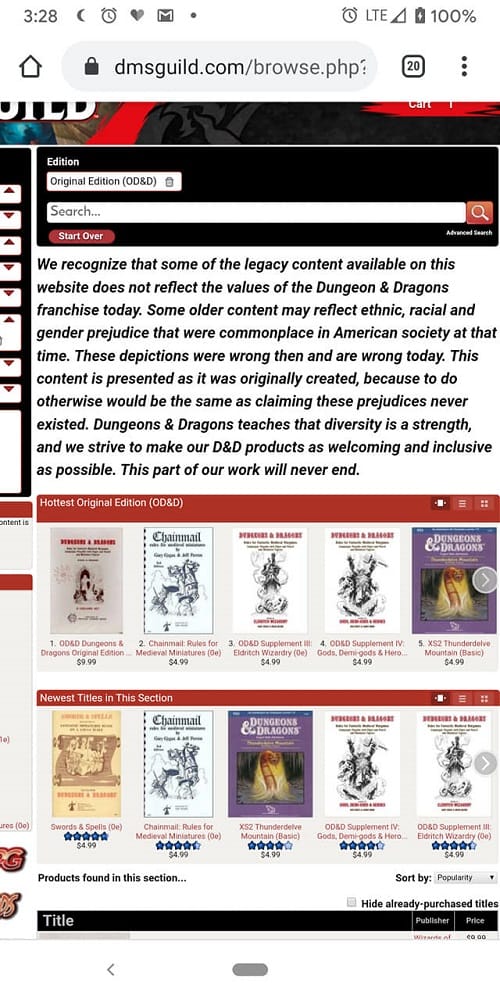 When I first posted these thoughts, I struck a nerve among fans of the original D&D who were working out their own relationships with that material. Some with viewpoints far removed from mine seemed to feel attacked or defensive. For clarity in conversation I added the following elaboration.
I guess what I really wanted to share was that until I had my own daughter, and now this legion of kick-ass middle-school girls in my club, I had rolled my eyes so much at that puckish nerd humor of the old days that I went blind in the same spots.
Gamer kids showed me where I needed to sharpen my feminist game. And yet they still love me and love the games and know this corner of our world is a safe and fun space.
That ten years of my gaming experience has been the best of my life because it's worth sharing with all these awesome kids. I just want the old guard who feels attacked by the changing values to recognize they don't have to shelter in place with the bitter edgelords.
So I will let go of the shame I felt, called out on my complicity in my own dehumanization, and I will represent what I think is best in the old guard. The joy of play, the celebration of whimsy, and the fellowship at the table. I hope the older gentlemen will come with me.
---
Suzanne Anderson is a long-time gamer and schoolteacher who has run an adventure gaming club at the middle school where she's taught for the last ten years.