New Treasures: The Unwilling by Kelly Braffet
New Treasures: The Unwilling by Kelly Braffet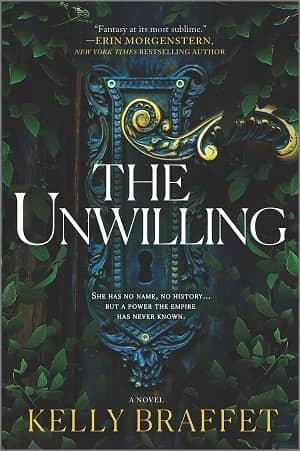 It's tough publishing a debut fantasy. You're such a blank slate to genre readers that every little notice and review carries enormous weight, and can tilt the trajectory of your entire career.
Take the case of Kelly Braffet, who began her career with thrillers like Last Seen Leaving and Save Yourself, before turning to fantasy with The Unwilling, which arrives in hardcover from MIRA on Tuesday. It's had enviable early notices; Ellen Datlow called it "Something wonderful. I love it," and Erin Morgenstern (The Night Circus) said it's "Extraordinary… Fantasy at its most sublime." Something like that will usually guarantee a fantastic launch.
Unfortunately a handful of readers have expressed their displeasure with the ending, and their one-star reviews are currently the highest-ranked at Amazon. Kitten Kisser wrote "Oh my. The end. For that the book gets 1 star. I'm sorry I spent 10 days reading this #*!@#% book for that total crock," and QueenKatieMae said "After 572 pages… I threw this book down and simply said, "No"."
That's an unlucky and painful turn of events for any writer, though it's especially hard on someone trying a new genre. I remain quite intrigued by The Unwilling; the complaints haven't done much to dampen my enthusiasm, and I doubt I'm alone. The major review sites haven't been silent either; I found this starred review at Bookist this morning.
Judah is foster sister to Gavin, next in line to be Lord of the City. Judah, who was adopted as an infant by Gavin's late mother, is hated by Gavin's father, Lord Elban. He and others call her "foundling," "witchbred," and worse. It does not help that in a land of pale-skinned, lithe blondes, Judah is short and has dark, almost purple hair. Luckily, Gavin; his brother Theron; and Gavin's betrothed, Elly, love her. She and Gavin share an even more special bond. Any hurt she experiences, Gavin does as well, and she experiences all of Gavin's pain. No matter how Elban and his Seneschal try to break this bond, they fail. This mysterious magic that binds them is no accident… Suspenseful, magical, wonderfully written, and never predictable… an essential addition to all epic-fantasy collections.
The Unwilling will be published by HarperCollins/MIRA on February 11. It is 571 pages, priced at $27.99 in hardcover, $12.99 in digital, and $42 in audio formats. The cover was designed by Micaela Alcaino. See all of our recent New Treasures here.