Galaxy Science Fiction, September 1954: A Retro-Review
Galaxy Science Fiction, September 1954: A Retro-Review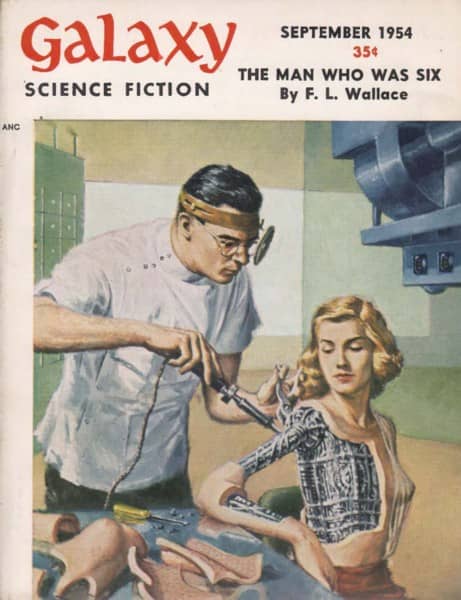 Art by Ed Emshwiller
I find the cover of the September, 1954 issue of Galaxy Science Fiction a bit risque for Ed Emshwiller (a piece titled "Robots Repaired While U Wait"). Editor H. L. Gold produced a magazine that you wouldn't have to hide from people, unlike other fiction offerings that had much more salacious artwork (please don't attach any to this article, John). But you may have to keep this issue face-down around coworkers and family.
"The Man Who Was Six" by F. L. Wallace — Dan Merrol doesn't know who he is anymore. Ostensibly, he's Dan Merrol, but his body is unrecognizable, even to himself. After a horrific accident, doctors used an amalgamation of human donors to heal Dan's broken body. With legs of different lengths, arms of varying bulk, and multi-colored hair, Dan's become a laughable caricature of humanity. But it's not just his body; his damaged brain was also rebuilt using slivers of other brains, giving him memories of lives he never lived. He wants to return to a normal life as a pilot and try to resume his marriage, if his wife could possibly still love the creature he's become.
I like how Wallace examines Dan's predicament. The initial confusion, the stages of grief in dealing with who and what he's become. It maintains a somber tone but allows for lighter moments.
"A Start in Life" by Arthur Sellings — Em and Jay are robots raising two unrelated six-year-old children (a boy and a girl). Their world is confined, and there are no other humans to interact with. The children begin asking more questions about their world, and Em is hesitant to share anything new. The truth will come out eventually, but is this the right time, she wonders?
Sellings does an excellent job of bringing humanity to robots. And the twist-ending is of a heart-wrenching kind that restores my faith in having twist endings, at least sometimes.
"Dusty Zebra" by Clifford D. Simak — Joe discovers an ivory dot on his desk. If he leaves an item on it, such as a fountain pen, it will eventually be swapped for an alien item. He has no idea what each unique, swapped item does, but he doesn't think they're junk. He teams up with his scientific neighbor to see if they can make a profit from anything they trade — assuming they can figure out how to use any of the items that come from the swap.
This is a light tale that, while a tad predictable, provides good entertainment.
"Shell Game" by Philip K. Dick — Five years after their damaged ship was forced to land in the bogs of Betelgeuse II, the surviving crew diligently guard themselves against continuous attacks. Though they never see their attackers, they're convinced Terrans are at work, sabotaging them or attacking them with gas. While it's true they don't have solid evidence of all of this, it's the only plausible explanation for their continual paranoia. Or is it?
There are a few liberties taken with this story that I don't think are entirely accurate, but the premise is an interesting take in that the reader learns that none of the characters can be trusted. I think this is a winning formula for stories where all of the characters are either inaccurate or lying, something I hadn't considered before. I think I'm going to write that idea down…
"Milk Run" by Robert Sheckley — Richard and his partner, Arnold, are struggling to make ends meet. Their business, AAA Ace Interplanetary Decontamination Service, is faltering. So when Arnold finds an opportunity for huge profit in shipping alien livestock, he tells Richard they can't pass it up.
Unfortunately for Richard, he's the one who has to make the trip with Smags, Queels, and Firgels — animals he has no idea how to care for beyond the tips Arnold gives him after he's in transit.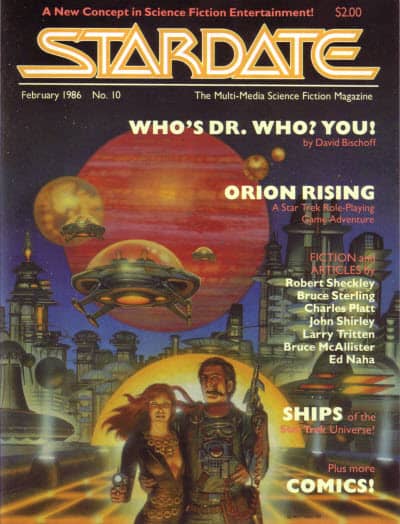 Stardate, February 1986
I loved the humor in Richard's painful voyage. This was Sheckley's first "AAA Ace Interplanetary Decontamination Service" story in a series that spanned multiple magazines (most appear within Galaxy). The final story, "Sarkanger," was published in the February, 1986 issue of Stardate.
"Satan's Shrine" by Daniel F. Galouye — A immortal man lives within an impenetrable fortress, holding nations at ransom by threat (and implementation) of destruction. Yet every few years, small groups try to make their way through the labyrinth of tunnels and traps to reach him and end his reign over the world. The latest group, comprised of men from various nationalities, hopes to finally succeed where others have failed.
While a little predictable, I think the story works for what it is — science fiction with some aspects of military fiction and action mixed in. This was Galouye's first publication with Galaxy, but he had already found quite a bit of success in other magazines, particularly Imagination. Galouye wrote numerous short stories and novels, primarily during the 1950s and 1960s.
| | |
| --- | --- |
| | |
Besides the fiction, there were two articles — "For Your Information" by Willy Ley and "Galaxy's Five Star Shelf" by Groff Conklin. Ley's article primarily covered the use of the constellation called the Southern Cross in literature. Conklin reviewed the following: Brain Wave by Poul Anderson, Human? by Judith Merril, Lost Continents by L. Sprague de Camp, Of All Possible Worlds by William Tenn, The Second Conquest by Louis de Wohl, Science and Sorcery (an anthology edited by Garret Ford), A Handbook of Science Fiction and Fantasy by Donald H. Tuck, and an Ace Double — Gateway to Elsewhere by Murray Leinster and The Weapon Shops by A. E. van Vogt.
---
Matthew Wuertz's project to review every issue of Galaxy magazine in order of publication began with the January 1950 issue. See all his reviews here.