Future Treasures: Novice Dragoneer by E.E. Knight
Future Treasures: Novice Dragoneer by E.E. Knight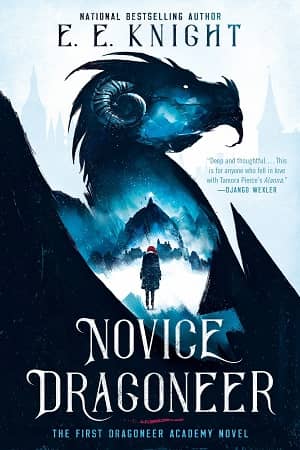 I'm a huge fan of E.E. Knight. For one thing, he hosts the best board game nights I've ever seen. His Heroscape sessions, held annually in Chicago after the Windy City Pulp and Paper show for many years, were the stuff of legend. As he noted in one of his epic post-game Action Reports, they featured "Mohicans and British infantry and lizard men battling dinosaurs, giant spiders, dragons, and Atlantean robots in a jungle-choked ruin." Don't ask me to describe them, but they were life-changing.
He's also a damn fine writer. You're probably familiar with his 11-volume Vampire Earth series, which opened with Way of the Wolf, or his six-volume Age of Fire series. He's also an occasional blogger here at Black Gate. And I was very proud to publish his Blue Pilgrim tale "The Terror in the Vale," one of the very best stories in our Black Gate Online Fiction library (and reprint the first, "That of the Pit," which first appeared in the underrated anthology Lords of Swords).
So naturally I was very excited to hear that he has a new novel arriving next month, the tale of an impoverished girl who enters into a military order of dragonriders. And if the buzz already building around Novice Dragoneer is any indication, it's the beginning of a major new fantasy series. I asked Eric if he could tell us a little about it, and he graciously shared the following.
I'm very much looking forward to readers, both long-time and new, meeting our novice Ileth. She's a little bit of each of my three kids spun around my own experiences at that age. I've even worked my first job, which I took on at twelve, into the story (although I was dealing with dog poop rather than dragon waste). I've been on a bit of a break from writing raising those three, so I'm excited to find out if I have any game left.
Here's the publisher's description.
Fourteen-year-old Ileth grew up in an orphanage, and thanks to her stutter was never thought to be destined for much beyond kitchen work and cleaning. But she's dreamed of serving with the dragons ever since a childhood meeting with a glittering silver dragon and its female dragoneer. For years she waits, and as soon as she is old enough to join, Ileth runs away to become a novice dragoneer at the ancient human-dragon fortress of the Serpentine.

While most of her fellow apprentices are from rich and influential families, Ileth must fight for her place in the world, even if it includes a duel with her boss at the fish-gutting table. She's then sent off to the dragon-dancers after a foolish kiss with a famously named boy and given charge of a sickly old dragon with a mysterious past. But she finds those trials were nothing when she has to take the place of a dead dragoneer and care for his imprisoned dragon in enemy lands…
Novice Dragoneer will be published by Ace Books on November 5, 2019. It is 493 pages, priced at $16 in trade paperback and $11.99 in digital formats. The altogether splendid cover is by Dan Burgess.
Interested in what your favorite Black Gate writers and bloggers are up to? Keep up with the latest with our BG Staff reports.