Future Treasures: Quillifer the Knight by Walter Jon Williams
Future Treasures: Quillifer the Knight by Walter Jon Williams
Covers by Gregory Manchess and Alejandro Colucci
Walter Jon Williams is one of the most versatile writers we have. Space opera, military science fiction, cyberpunk, alternative history, SF police procedural — you name it, he's done it. He's written historical adventures, disaster novels (The Rift) and even a Star Wars novel (The New Jedi Order: Destiny's Way). In his Locus review of the opening novel in William's ambitious new fantasy series, Quillifer, Gary K. Wolfe says "Williams has been cheerfully genre-hopping for most of his career, sometimes even in the same novel."
Quillifer is worth a second look — and not just because it's one of Williams rare attempts at historical fantasy. Booklist calls it a "swashbuckling tale reminiscent of George MacDonald Fraser's Flashman." The second novel in the series, Quillifer the Knight, arrives in three weeks. Here's Gary on the first volume.
Quillifer belongs to the ranks of what we might call displaced historical fantasies, stories which make meticulous use of actual historical detail (Williams's character quote Elizabethan poets, and his weapons and ships are all historically real), but which are set in imaginary nations or kingdoms, often with restrained use of fantasy elements – such as we see from writers like Ellen Kushner, K.J. Parker, or Guy Gavriel Kay (although Kay is far more specific in his historical analogues).

In classic adventure-novel tradition, Quillifer comes from modest beginnings: the son of a butcher, he studies law in the port city of Eth­lebight, but is also something of a classic 18th-century rake, and the novel opens with his comical escape out the window of the young woman with whom he's currently in love… things quickly begin to change when Ethlebight is invaded, plundered, and destroyed by pirates from the rival empire of the Aekoi. Quillifer survives, but is later captured by a notorious bandit calling himself Sir Basil…

With the aid of a nymph-goddess who finds him appealing, he manages to escape again, but rejects her advances as he realizes that joining her in her kingdom might result in his returning to his world as much as a century later (one of the few classic fantasy motifs that Williams employs). Spurning her sets up a threat that will hang over Quillifer for the rest of the novel, which consists largely of fully realized independent episodes: Quillifer finds his way into the court of Duisland, where he assumes the title "Groom of the Pudding" and almost accidentally proves himself to be a champion stag-killer (drawing on his background as a butcher), later a brilliant naval strategist, and eventually an effective field-marshal in a crucial land battle to save the kingdom from usurpers…  a thoroughly enjoyable series of historical adventures in a faux-Europe that is as meticulous in its details as it is vague in time and place.
Here's a look at the back cover.
[Click the images to embiggen.]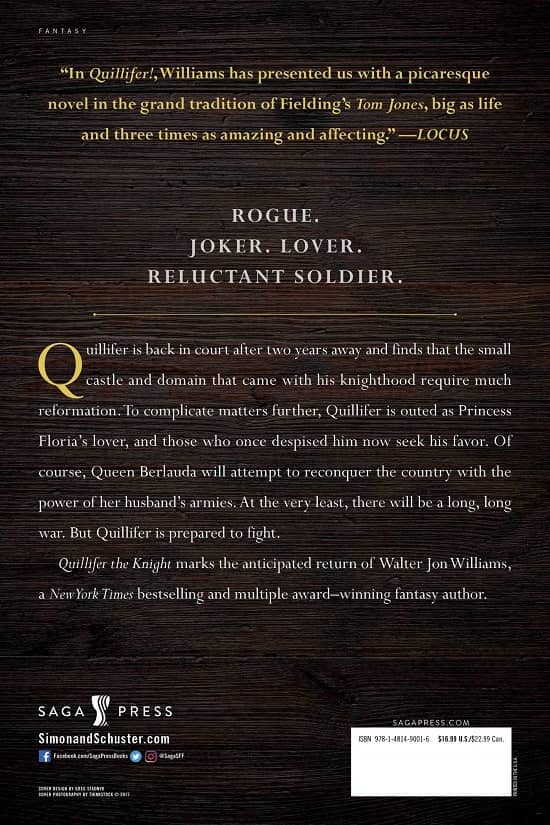 Our previous coverage of Walter Jon Williams includes:
The Accidental War
Walter Jon Williams Explains Why UFOs Are Actually Made of Bread, and Other Little Known Facts by Emily Mah
Future Treasures: Quillifer
John DeNardo on SF and Fantasy for October 2016: Impersonations by Walter Jon Williams
Birthday Reviews: Walter Jon Williams's "The Fate Line" by Steven H Silver
Quillifer the Knight will be published by Gallery / Saga Press on November 5, 2019. It is 544 pages, priced at $16.99 in trade paperback and $7.99 in digital formats. The cover is by Alejandro Colucci. We looked at the first volume in the series here.
See all our recent coverage of the best Series Fantasy here.