Future Treasures: Quillifer by Walter Jon Williams
Future Treasures: Quillifer by Walter Jon Williams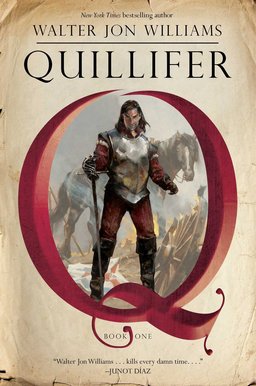 It's been a good week for review copies here at Black Gate (see some of the recent arrivals here). But the moment Quillifer arrived, I knew it was the most significant release of the current crop, by a pretty good margin.
Walter Jon Williams has had an extraordinary career, displaying an easy mastery of cyberpunk (Hardwired, Angel Station), military SF (Dread Empire's Fall), SF police procedural (Days of Atonement), light-hearted fantasy (the Majistral series), space opera (Aristoi), contemporary disaster (The Rift), and even the Star Wars universe (The New Jedi Order: Destiny's Way).
Quillifer, the tale of a young man forced to flee his beloved home and find his fortune among goddesses, pirates, war, and dragons, is his long-awaited foray into epic fantasy. It's the first in an ambitious new series from one of the most respected authors in the genre.
Quillifer is young, serially in love, studying law, and living each day keenly aware that his beloved homeport of Ethlebight risks closure due to silting of the harbor. His concerns for the future become much more immediate when he returns from a summery assignation to find his city attacked by Aekoi pirates, leading to brigands in the streets and his family and friends in chains.

First, he has to survive the night. Then, he has to leave his home behind and venture forth into the wider world of Duisland, where he can find friends and allies to help avenge his losses and restore Ethlebight to glory. His determination will rock kingdoms, shatter the political structure of Duisland, and change the country forever.
Quillifer will be published by Saga Press on October 3, 2017. It is 530 pages, priced at $27.99 in hardcover and $7.99 for the digital edition. The cover is by Gregory Manchess. Learn more at Williams' website, and read Emily Mah's interview with the author ("Why UFOs Are Actually Made of Bread, and Other Little Known Facts") here.