New Treasures: The Wolf's Call by Anthony Ryan
New Treasures: The Wolf's Call by Anthony Ryan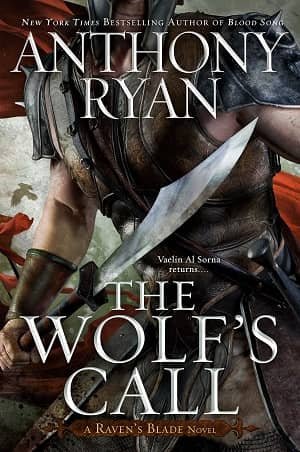 Anthony Ryan arrived with a splash in 2012 with his debut Blood Song, the opening novel in the Raven's Shadow trilogy. A little slow on the uptake, I didn't discover the series until the second volume, Tower Lord — and even then mostly because of the title. For a week after I spotted it in the bookstore, I wanted to add a turret to our house and have all my children address me as Tower Lord. The books in the series were:
1 Blood Song (2012)
2 Tower Lord (2014)
3 Queen of Fire (2015)
I see now that Ace has released The Wolf's Call, the first novel in a brand new series featuring Vaelin Al Sorna, the legendary blademan of Raven's Shadow. In a comment on my Tower Lord article, Rogue Blades mastermind Jason M. Waltz said, "I read Blood Song last summer, enjoyed it, want to read Tower Lord. Not revolutionary but definitely fills the heroic-Gemmell-like niche."
That's enough of an endorsement for me. Here's the description for The Wolf's Call.
Peace never lasts.

Vaelin Al Sorna is a living legend, his name known across the Realm. It was his leadership that overthrew empires, his blade that won hard-fought battles – and his sacrifice that defeated an evil more terrifying than anything the world had ever seen. He won titles aplenty, only to cast aside his earned glory for a quiet life in the Realm's northern reaches.

Yet whispers have come from across the sea – rumours of an army called the Steel Horde, led by a man who believes himself a god. Vaelin has no wish to fight another war, but when he learns that Sherin, the woman he lost long ago, has fallen into the Horde's grasp, he resolves to confront this powerful new threat.

To this end, Vaelin travels to the realms of the Merchant Kings, a land ruled by honor and intrigue. There, as the drums of war thunder across kingdoms riven by conflict, Vaelin learns a terrible truth: that there are some battles that even he may not be strong enough to win.
The Wolf's Call was published by Ace on July 23, 2019. It is 414 pages, priced at $28 in hardcover, and $14.99 in digital formats. The cover is by Cliff Nielsen.
See all our recent New Treasures here.