New Treasures: Straight Outta Deadwood, edited by David Boop
New Treasures: Straight Outta Deadwood, edited by David Boop
Cover art by Dominic Harman
I was impressed with David Boop's 2017 anthology Straight Outta Tombstone, one of the better Weird Western volumes of the last few years. So I was excited to see the sequel, Straight Outta Deadwood, arrive this week from Bean. Boop gives us a taste of what to expect in his Foreword, "Histories Mysteries."
My directive to all the authors in these anthologies [was] to give me the Old West the way it really was, where applicable. I wanted the history within to be accurate, the voices authentic… But I also asked them to give me, and you the readers, the world we wished to see: dragons flying overhead, or the ability to drink with dwarves, or hear how grandpappy fought off zombies in Deadwood…

For those of you who read read Straight Outta Tombstone, this second anthology is my Empire Strikes Back. It's darker, and include a couple pieces that left me shaken afterward… Don't worry if you get scared easily, though. I have broken the narrative up with humor, victories over evil, and gunfights.

Lots of gunfights.
There's been a distinct lack of decent Weird Western recently, and Straight Outta Deadwood addresses that nicely. It contains brand new short fiction by Steve Rasnic Tem, Charlaine Harris, Stephen Graham Jones, Lacy Hensley, Jane Lindskold, Cliff Winnig, D.J. Butler, and many others. Here's the complete table of contents.
[Click the images for Western-sized versions.]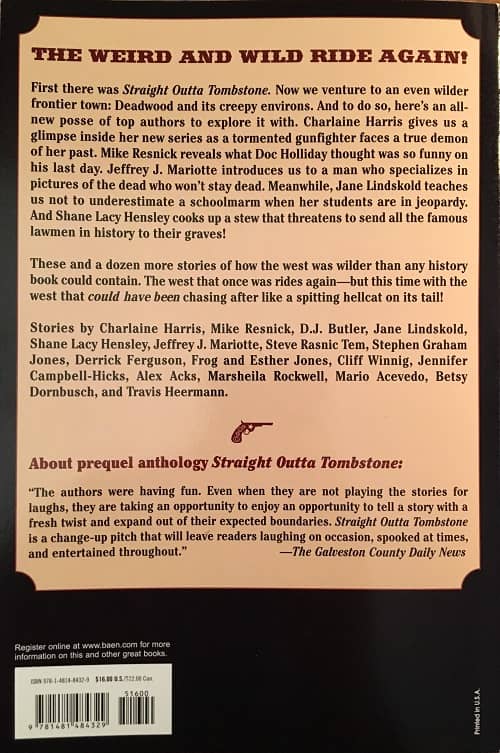 Foreword by David Boop
"Cookie" by Shane Lacy Hensley
"A Talk With My Mother" by Charlaine Harris
"The Greatest Horse Thief in History" by D.J. Butler
"The Doctor and the Spectre" by Mike Resnick
"Doth Make Thee Mad" by Jane Lindskold
"Sunlight and Silver" by Jeffrey J. Mariotte
"Pinkerton's Prey" by Frog and Esther Jones
"The Relay Station at Wrigley's Pass" by Derrick Ferguson
"Not Fade Away" by Cliff Winnig
"The Spinners" by Jennifer Campbell-Hicks
"The Stoker and the Plague Doctor" by Alex Acks
"Bigger than Life" by Steve Rasnic Tem
"Dreamcatcher" by Marsheila Rockwell
"El Jefe de la Comancheria" by Mario Acevedo
"The Petrified Man" by Betsy Dornbusch
"Stands Twice and the Magpie Man" by Stephen Graham Jones
"Blood Lust and Gold Dust" by Travis Heermann
About the Contributors
Straight Outta Deadwood was published by Baen on October 1, 2019. It is 265 pages, priced at $16 in trade paperback and $8.99 in digital formats. The cover is by Dominic Harman. Read the Foreword and first two stories at the Baen website.
Baen lists a third book in the series, Straight Outta Dodge City, as Forthcoming, probably next year.
See all our recent Weird Western coverage here.