New Treasures: Gamechanger by L.X. Beckett
New Treasures: Gamechanger by L.X. Beckett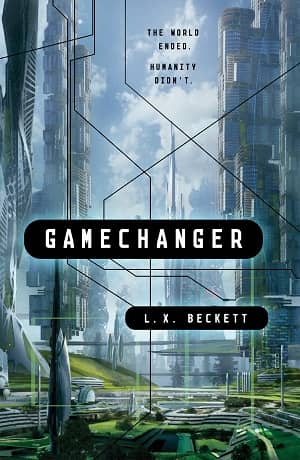 Canadian writer A. M. Dellamonica has published a pair of fantasy series with Tor, Indigo Springs and the The Hidden Sea Tales trilogy. Her sixth novel Gamechanger is a significant departure, a near-future SF thriller that Publishers Weekly says "recalls the whiz-bang joy and gleeful innovation of Neal Stephenson's Snow Crash," and it's being released under the pseudonym L.X. Beckett. Early notices have been terrific; here's the enthusiastic coverage from Kirkus Reviews.
A cerebral fusion of science fiction, mystery, and apocalyptic thriller — masterfully seasoned throughout with provocative social commentary…

Set in the year 2101, in a world devastated by economic and ecological collapse (thanks in part to an American president known as He Who Could Not Be Named), the story largely revolves around Cherub "Rubi" Whiting, an internationally famous virtual reality gamer and fledgling lawyer. Her current client is Luciano Pox, an accused online terrorist who could be a mastermind hacker, a malware-infested AI, an elderly human who has somehow uploaded their consciousness, or an alien scout trying to destabilize humankind before the coming of a massive invasion fleet. Meeting with the elusive Pox proves dangerous… but the story's real fuel comes from the author's placement of backstory breadcrumbs throughout the novel. There is a lot to digest here, from humankind's obsession with social media and their almost full immersion in cyber-reality to the brutal consequences of global warming to life extension advances to the mass consumption of printed protein as one of the only viable food sources left. A thought-provoking cautionary tale that will, hopefully, compel readers to see the condition of our civilization and our planet with more clarity and understanding.

A visionary glimpse into the future — the narrative equivalent of a baseball bat to the skull.
Read the complete review here. Our previous coverage of A. M. Dellamonica includes:
Birthday Reviews: A.M. Dellamonica's "A Key to the Illuminated Heretic"
Read A.M. Dellamonica's "The Glass Galago" at Tor.com
A Daughter of No Nation
Gamechanger was published by Tor Books on September 17, 2019. It is 572 pages, priced at $26.99 in hardcover and $14.99 in digital formats. The cover is by Stephan Martiniere.
Read the complete (8-page) first chapter here, and see all our recent New Treasures here.