Vintage Treasures: Minds Unleashed, edited by Groff Conklin
Vintage Treasures: Minds Unleashed, edited by Groff Conklin
Minds Unleashed, Tempo Books, 1970. Cover by, well, no one really knows.
You know what I try hard to do every day? Not sit around and talk about the good 'ole days. It takes effort, let me tell you.
Not that everything was better in the good 'ole days, Lord knows. But you could get terrific original anthologies in spinner racks at the supermarket for under a buck, and let's face it, that's what really matters.
Anthologies like Groff Conklin's Minds Unleashed (Tempo, 1970). Just look at that gorgeous cover. A big red brain with a glowing blue ball representing… I dunno? The super brainpower we'd all have fifty years in the future, probably? I love it. I don't love that Tempo Books was such a low-budget operation that they couldn't afford to tell you who painted the damn cover, but these are the burdens we live with. Mind you, if you do the math, that far-off future fifty years after 1970 is… the year 2020. Which means my blue floaty brainball should show up any day now. Come on, future brainpower.
While we're waiting, we can all can help prepare our superbrains by reading great science fiction stories about "the potential of human imagination and the range of strength of human intelligence" by Arthur C. Clarke, Theodore Sturgeon, Murray Leinster, Robert A. Heinlein, Poul Anderson, Eric Frank Russell, Isaac Asimov, William Tenn, and many others. Let's have a look at the table of contents.
First thing you should know about Minds Unleashed is that it was originally released in 1965 by Grosset & Dunlap under the title Giants Unleashed. Why repackage a 5-year old anthology under a different title? Because the paperback cover for Giants Unleashed featured zero red brains or floaty brainballs. Plus it was ugly.
Yuck.
Whew. That cover has too many equations, and waaaay too much green anatomy. Kudos to the marketing intern who turned Giants Unleashed, a book I would not have touched with a ten foot pole, into the far superior and more interesting Minds Unleashed. I hope you got promoted, kid.
While Minds Unleashed contains the full TOC for Giants Unleashed, Tempo Books did cut Conklin's original introduction, "The Non-Limitation of Intelligence," probably for reasons of space. So if you're the kind of reader who likes introductions, you may want to track down the original edition. Just be sure to pay the extra fee to get a copy without a dust jacket.
Groff Conklin edited some 44 anthologies between 1946 and 1968; this was the 35th. Like a lot of anthologists of the era, he seemed to have a fondness for Astounding; over half of the stories in Minds Unleashed originally appeared in John W. Campbell's magazine. The stories in the book first appeared between 1939 – 1958.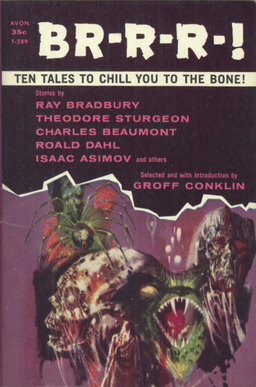 Here's that Table of Contents I promised you.
"Microcosmic God" by Theodore Sturgeon (Astounding Science-Fiction, April 1941)
"Commencement Night" by Richard Ashby (Astounding Science Fiction, August 1953)
"The Deep Range" by Arthur C. Clarke (Argosy (UK), April 1954)
"Machine Made" by J. T. McIntosh (New Worlds #10 Summer 1951)
"Trip One" by Edward Grendon (Astounding Science Fiction, July 1949)
"Venus Is a Man's World" by William Tenn (Galaxy Science Fiction, July 1951)
"Good-Bye, Ilha!" by Laurence Manning (Beyond Human Ken, 1952)
"Misbegotten Missionary" by Isaac Asimov (Galaxy Science Fiction, November 1950)
"The Ethical Equations" by Murray Leinster (Astounding Science Fiction, June 1945)
"Misfit" by Robert A. Heinlein (Astounding Science-Fiction, November 1939)
"Genius" by Poul Anderson (Astounding Science Fiction, December 1948)
"Basic Right" by Eric Frank Russell (Astounding Science Fiction, April 1958)
Considering how many anthologies Conklin produced over his long career, I'm a little embarrassed that we've only covered one other in all these years. But it's a good one.
I found a copy of Minds Unleashed in one of the many vintage paperback collections I purchased recently. It was published by Tempo Books, a division of Grosset & Dunlap, in October 1970. It is 248 pages, priced at 95 cents. The cover artist is unknown.
See all our recent Vintage Treasures here.