Goth Chick News: Receiving Transmissions in London
Goth Chick News: Receiving Transmissions in London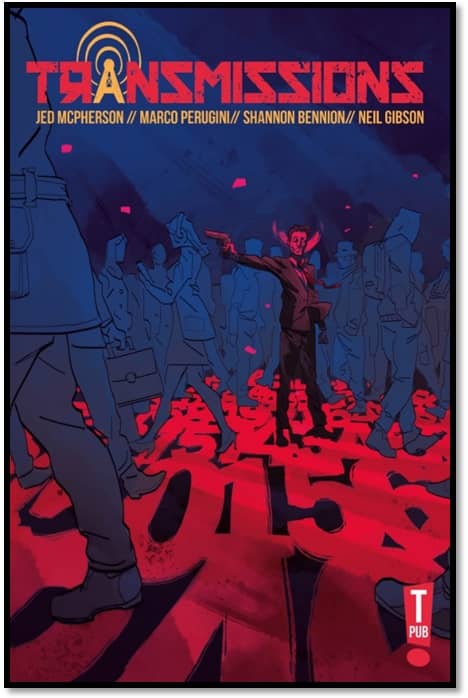 I know I've said it before, but one of the greatest things about working for Black Gate is the talented artists, actors and other creatives I get a chance to meet. They all share a passion for what they do which is contagious, and whether its an indie filmmaker, a special-effects creator, an author or illustrator, it is impossible to spend time with them learning about their particular crafts without admiring their amazing imaginations. Sometimes, if I'm lucky, I have the opportunity to remain in touch beyond that initial interview, and follow their creative evolutions over a series of years.
Such is the case with comic book author and editor at TPub Comics, Neil Gibson.
I first became acquainted with Gibson during his appearance at the Chicago Comic and Entertainment Expo (C2E2) in 2014 where he was promoting book one of his Twisted Dark comic series. Seven volumes later, I'm not only completely hooked on this particular story line, but have also become a fan of Gibson's other tales as well, most recently The Traveller, which was released in August. Full disclosure, I couldn't help fan-girling just a bit when I found my praise of the Sneak Preview on the back cover.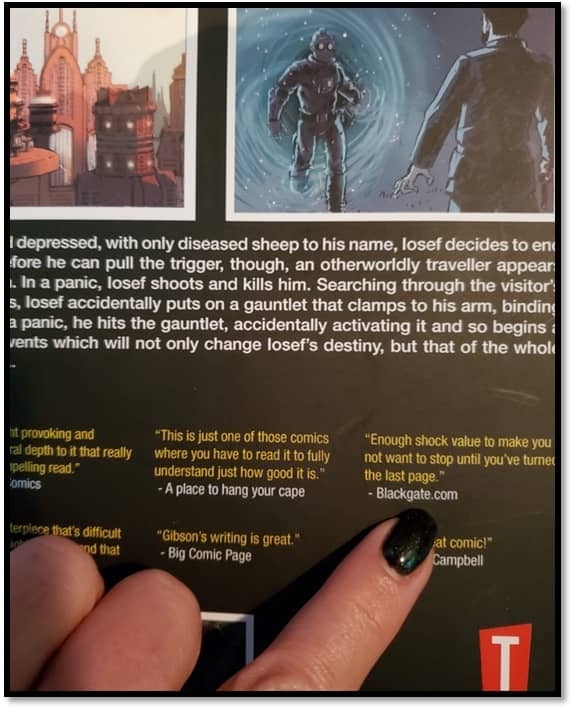 When I smile too much in public it makes Black Gate big cheese John O more than a little nervous, so you can imagine his horror when I came bouncing into his office fresh off vacation, to tell him I had a meeting with Gibson in his hometown of London to get an exclusive on his next project, Transmissions. Here's the official teaser from the TPub website:
It started with numbers – a bizarre radio transmission broadcasting endless repeating numbers. British SIS forces thought it was just a simple cryptology op, they even came up with a cute name for it – The Numbers Station.

That was, until people started dying.

Follow Charlie, an SIS agent, and Sasha, a codebreaker as they try to figure out what exactly The Numbers Station is, and more importantly – how to shut it down.
Yes, this isn't strictly speaking, my normal genre. But with authors like Stephen King and J.K. Rowling venturing into spy / crime novels, I must say I've picked up more than a few lately.
In this case, the team at TPub's leap from Twisted Dark to espionage was not a long one. First, this comic is rated "M" for "Mature" for a reason; it puts the word "graphic" firmly back into "graphic novel." This is definitely a story for adults, leaving writer Jed McPherson free to approach the plot with fairly hardcore realism. Add to this the illustrations comprised of artwork and color pallets that would be well worth perusing in their own right, even if they weren't already adding atmosphere to a compelling story. Film fans will particularly appreciate the change in "lighting" which goes along with the mood of the panels.
Last, I personally appreciate that the first installment of Transmissions takes place in factual U.K. locations such as Vauxhall Cross, the real home of MI6 in London, and Ilford, an actual suburb. As area locals, the feel of these locations is expertly captured by the artists.
The story arc moves fast and is sometimes shocking, sometimes humorous, but is always pulling you forward to the next page – and 22 of them in this first issue wasn't nearly enough.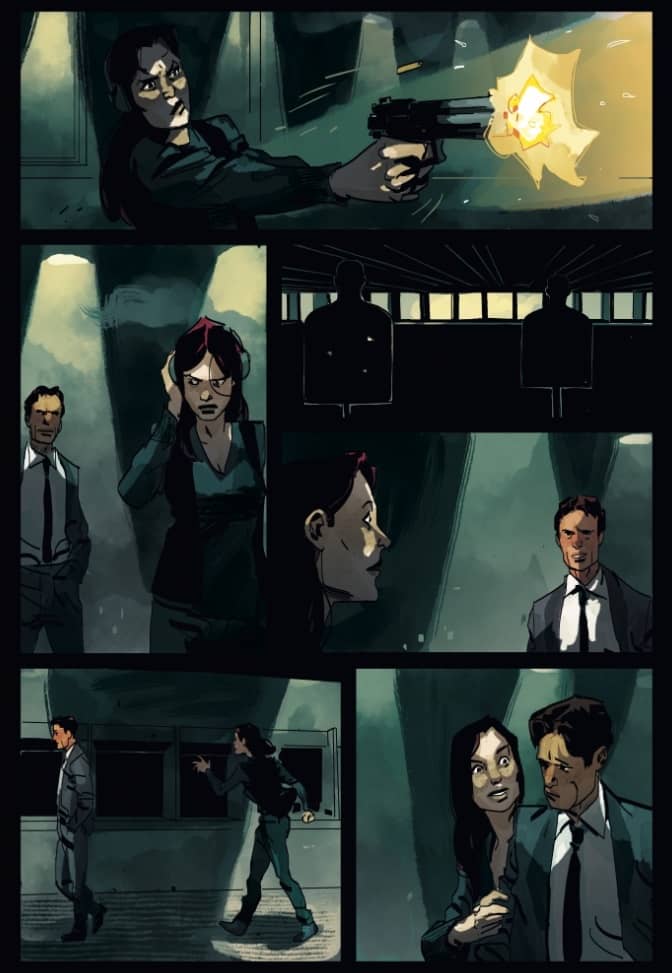 Transmissions is scheduled to be a four-issue miniseries with the trade available on Kickstarter in September 2019. The full volume will be available in stores 2020.
A plane ticket from Chicago to London? Expensive. A pint in a London pub with one of your favorite writers? Priceless.
Have a question or comment? Post it here or drop a line to sue@blackgate.com.