Reading the Classic Comics: Lazarus by Greg Rucka and Michael Lark
Reading the Classic Comics: Lazarus by Greg Rucka and Michael Lark
It's wonder to be living not only in a golden age of prose science fiction, but in a golden age of comics. The only downside is that it becomes nearly impossible to keep up with every title that ought to be read.
Case in point, I just watched the Hugo awards in Dublin. It was a great set of winners, voted from an impressive ballot. Pretty much any nominee could have won without shocking anyone. I left Dublin resolved to do my best to read the works I'd missed. But first, I had to make more progress in my comic book backlog.
[Click the images for golden age-sized versions.]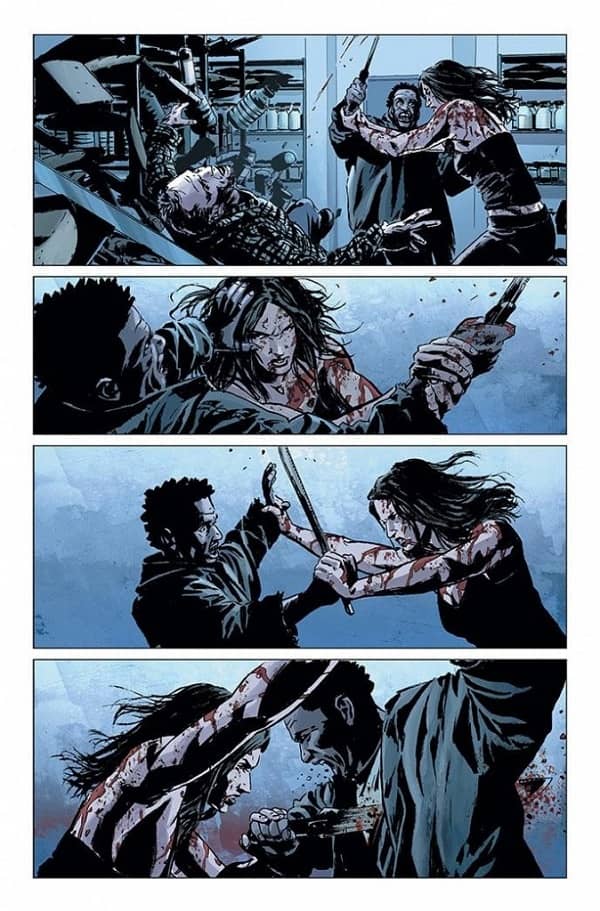 Image had a sale for San Diego Comic Con where their entire catalogue was 50% off. I owned the first Lazarus trade by Greg Rucka, Michael Lark and Santi Arcas, and bought the next four and read them while camping.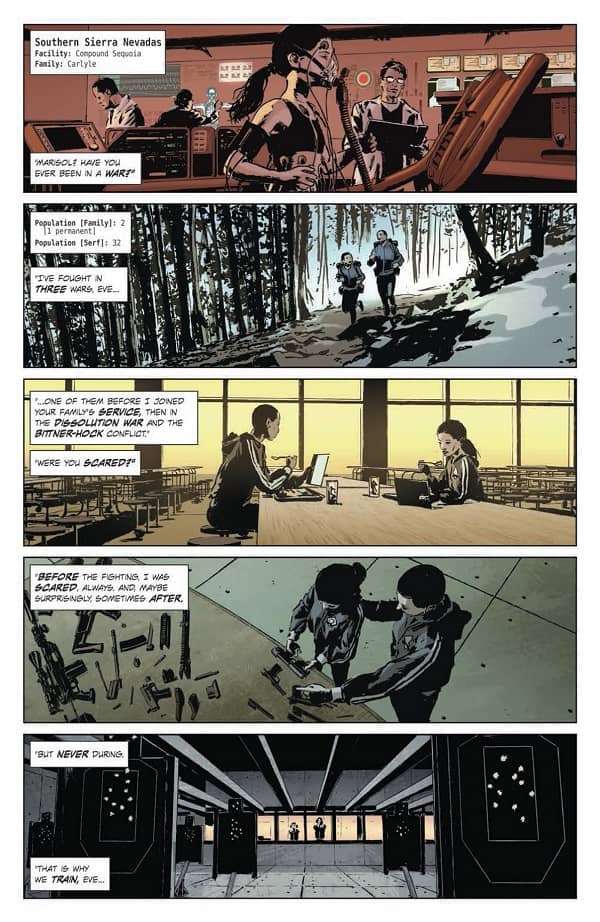 Lazarus is a near-future, post-apocalyptic story of the Carlisle family, set in a world where family-owned corporations have divided up the world. They trade, pursue science research, and stand in uneasy truces with each other. Imagine high-tech gangster families owning the world.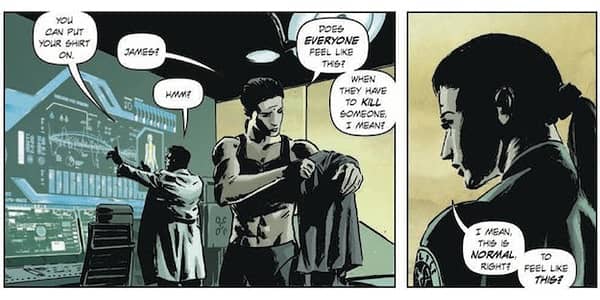 The hero of the story is Forever, the Carlisle family's Lazarus, a genetically-engineered warrior, tough to kill and nearly immortal because her body can keep rebooting and healing itself. She believes she is the actual daughter of the head of the Carlisle family, and the sister of the four Carlisle siblings.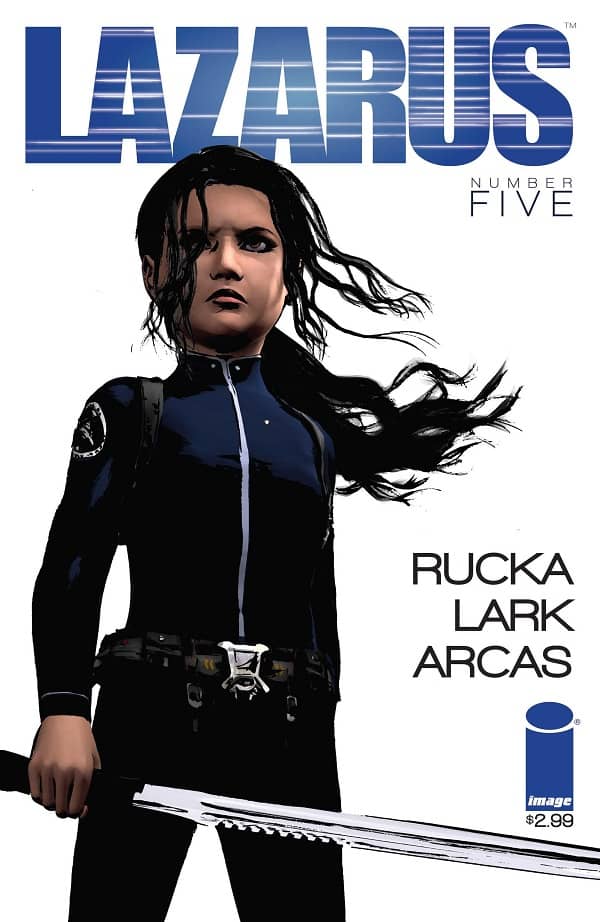 But she is outside of their social group. She is the military leader while they are the business and political leaders. She's not free. No one is free. But she's under the control of her family because the drugs she has to take make her love and be loyal to them.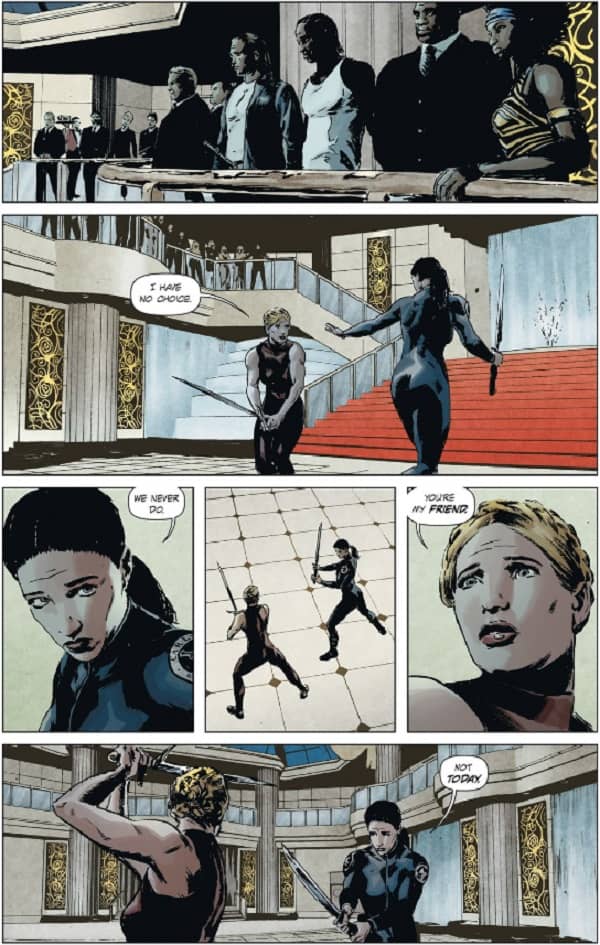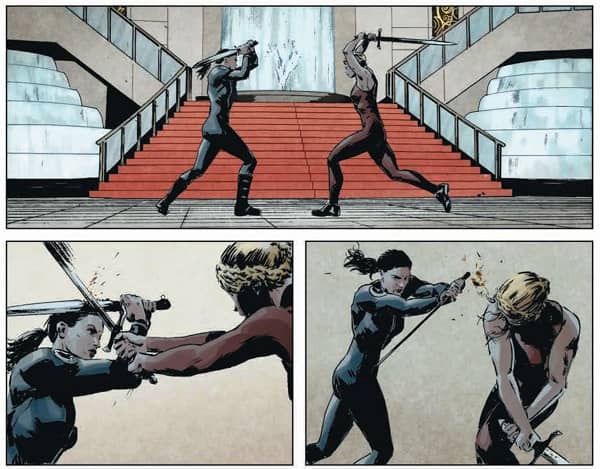 The story is gangsterism, political intrigue, genetic engineering, and thriller while Forever slowly learns about the nature of her life, her relationship to her family and what she should do about it. She meets other Lazari as the families come into conflict and even finds the possibility of love and friendship.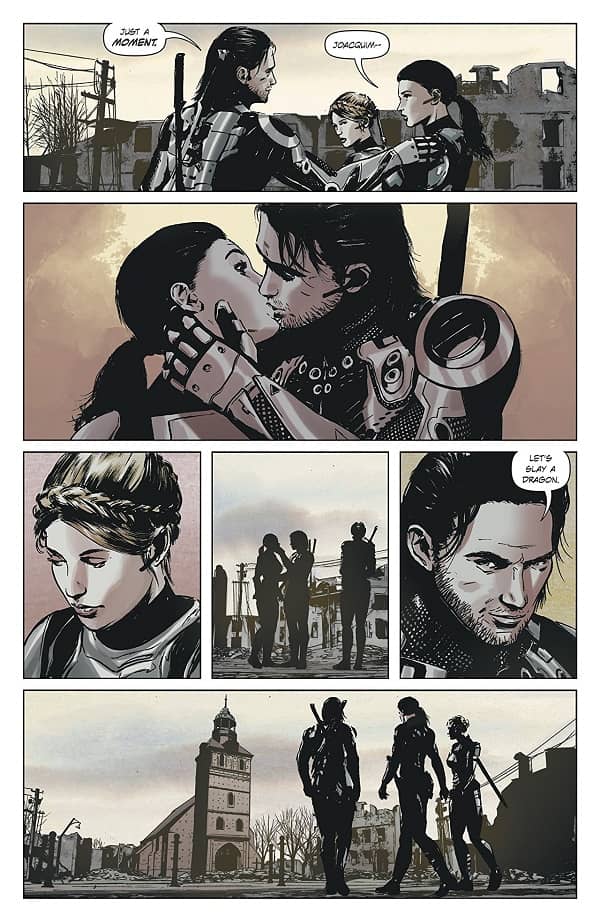 The writing by Rucka is lean and pretty much perfectly complemented by Lark's evocative, kinetic, moody art, heavy on expressions, silences and tension. As a student of the craft of writing comics, it's a wonderful exemplar for me, except that it's so good that my brain very quickly switches from analytical to pure entertainment. I have to learn on rereads.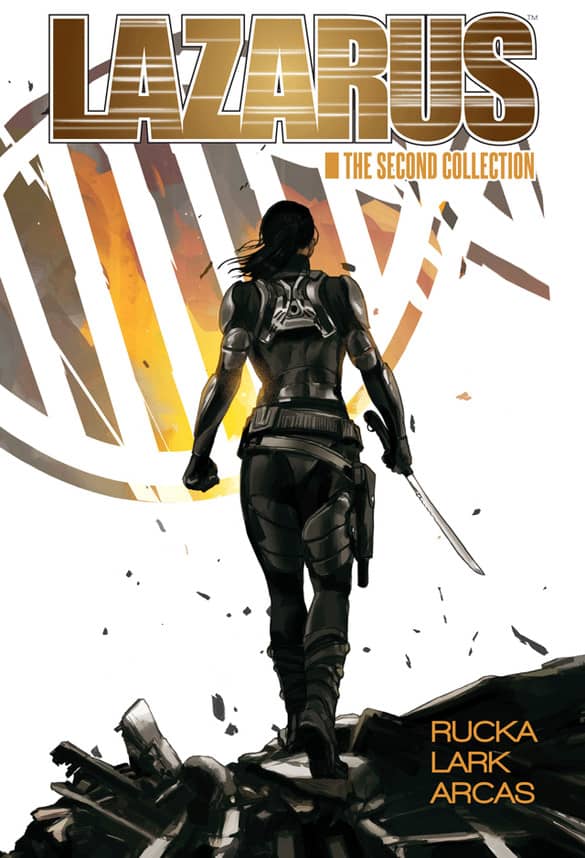 Even at full price, the Lazarus stories are classics belonging on every shelf. I like digital comics, so the massive pile of trades I got fit nicely on my hard drive. I'll talk about some of the other titles I bought as I make my way through classics I missed.
---
Derek Kunsken writes science fiction in Gatineau, Quebec. His first novel, The Quantum Magician, was nominated for the Locus, Aurora and Chinese Nebula Awards. He just signed a bunch of copies of his newest novel, The Quantum Garden for The Forbidden Planet in London, even though it's not otherwise available for release until October.