Goth Chick News: At the Midwest Haunters Convention
Goth Chick News: At the Midwest Haunters Convention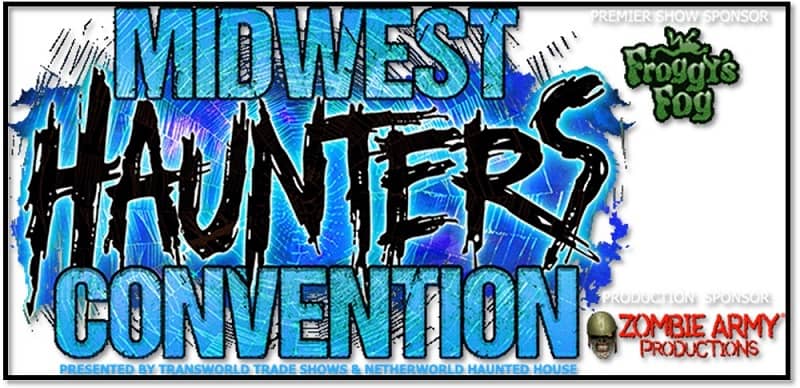 For the past 30 years, TransWorld Tradeshows LLC has hosted the Haunted Attractions Association show (HAA) where professional haunt content providers come together to show off their new offerings. Though 2019 actuals aren't yet available, an estimated 9,000 guests from around the world piled into the St. Louis America's Center, which has hosted the HAA for the past 10 years.  The tradeshow floor space itself has tripled since the show moved to St. Louis from Chicago in 2009, which is understandable when you think about Halloween now being a $9 billion industry, with most of that money being made in the month of October.
And though the HAA is the largest event of its kind, it requires professional credentials to attend; credentials Black Gate's 'big cheese' John O. is more than happy to give us, ensuring that for two days every February, BG photog Chris Z. and I will be out of the office, enabling the 'upstairs staff' to smoke cigars indoors and hold their annual strip D&D game.
Don't ask.
However, this has left Chicago bereft of a significant haunt-industry trade show. TransWorld's other big event, the Midwest Haunters Convention (MHC) which unlike the HAA is open to the public, is a show we've talked about covering for years, but it was held in Columbus, OH. That meant signing up to a 12-hour round trip car journey, which in and of itself isn't horrible, until we considered the sort of overnight accommodations our Black Gate expense account would allow us… in Columbus, OH. While we were considering the viability of sleeping in the car, Transworld made the incredibly convenient decision to move the MHC to a Chicago suburb.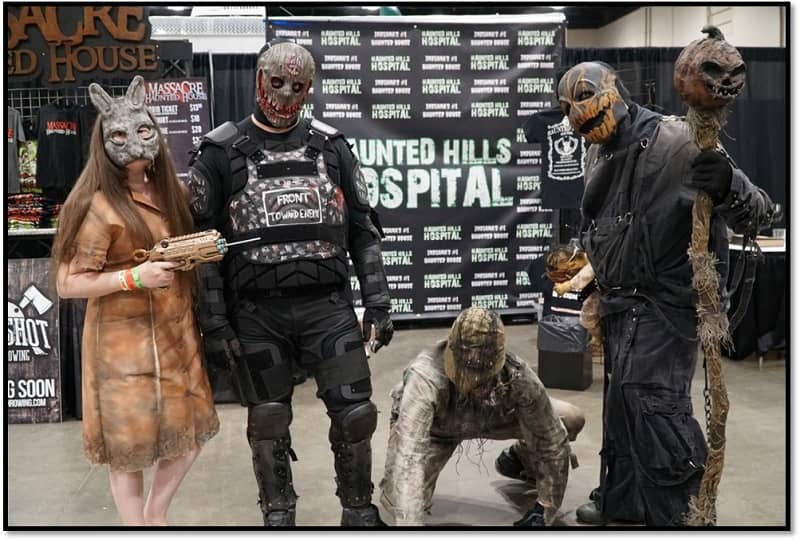 The Midwest Haunters Convention is the largest Halloween show of its kind in the US, being accessible to all haunters, actors, enthusiasts, home/pro haunters and Halloween enthusiasts (no tax ID number or press creds necessary). The 2019 MHC, which was held June 7-9, 2019 and was hosted by the Schaumburg Convention Center in the northwest suburbs, featured over 150 horror and Halloween vendors, as well as educational seminars and workshops. It is the event for which the legendary Haunted House Bus Tour was the precursor.
Oh, and yes, reader R.K. Robinson, I know it's only June, aka 'summer' and whatever…
The point is, we have a significant haunters event right here in our own back yard again, catering to thousands of devotees from the Midwest and beyond (yes, in summer, blah, blah, blah).
So, cue Ministry's song "Every Day is Halloween" and let's wade in, shall we?
The convention hall was huge so it was easy to eyeball 150 exhibitors and wonder if that ultimate number wasn't a bit light of that. Like the HAA, every manner of haunt industry goodies were represented from the expected costumes and masks, to special effects and props in a much more home-haunter-friendly price range. Though we did run into a few of our favorite artists from the HAA, we also met some incredible new friends like;
Spider Hill Prop Works
Spider Hill Prop Works: Chris Z. and I agreed Ryan Carlisle's company had one of the most ingenious offerings we had ever seen. He specializes in making animatronic kits in which he provides the motor and the connectors. You simply pop off the Home Depot and pick up the PVC to connect it all, dress it with some thrift store duds, slap on a latex mask and voila! For around $150 you can create a repetitive animatronic for less than half the cost of buying one. Plus, you can redress it at will, creating different creatures using the same motorized 'skeleton'. Several kits are available on Carlisle's website, ranging in price from $25 – $200.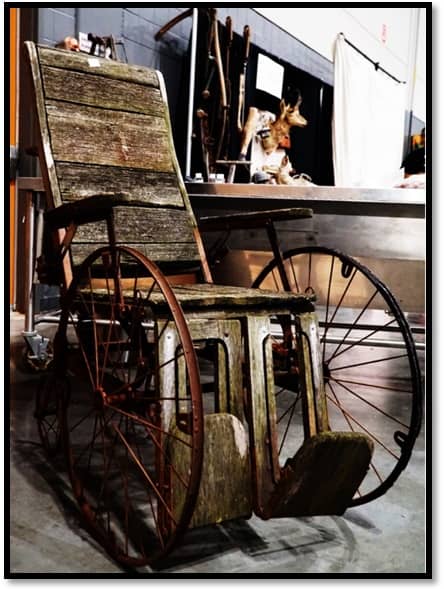 Scared City Hauntiques
Scared City Hauntiques completely embodied the spirit of the MHC, which is focused on the haunt enthusiast who doesn't have a corporate-sponsor budget. Owners Scott Baney and Adam Durham from Arkansas, comb flea markets and resale shops finding perfect pieces which their artist crew turns into perfect 'set dressing' for any haunt or any house for that matter.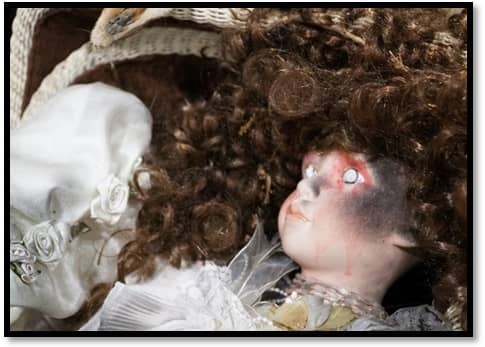 Forget that Chris Z elbowed me in the ribs and whispered "decorating ideas" in my ear, I honestly loved some of the truly unique items for sale. I mean, who doesn't need an antique wheelchair (corpse not included) and what must surely be the creepiest baby doll I've ever seen?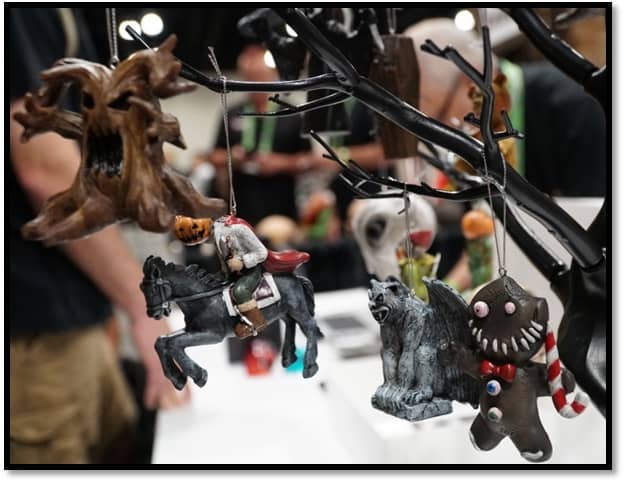 HorrorNaments
Horrornaments: We've told you about Mr. JM Burns previously, but as he keeps upping his game, we had to mention him again.
HorrorNaments are incredibly detailed, precisely sculpted resin castings, each being hand-designed by Burns.  The idea originated in 2011 at an ornament exchange party after Burns' family struggled to find a Halloween-themed ornament to reflect his success in the haunted house business (he is the owner of The Haunt in west Michigan).
Burns then branched out into celebrity-commissioned pieces such as a haunted house co-designed by Michael Berryman (The Hills Have Eyes, The X-Files) and a spider co-designed by Bill Mosley (Devil's Rejects, Army of Darkness). The workmanship truly is something to behold, so check out the entire series at Burns' web site.
Blood Brood FX
Blood Brood FX is a Goth Chick News perennial favorite. Mr. Mike Krohn is the proprietor and designer for this Chicago-based custom horror prop shop. Several Mike Krohn originals don the shelves of our subterranean BG offices including conjoined twin skull, pigmy skull and vampire bat skull. Mike is always coming up with something new and this year it's this magnificent haunted toy carousel along with an impressively realistic line of headhunter / voodoo priest staffs. Mike's pieces range from around $30 and up, and you can see the creative pieces he has for sale and for rent, at his website.
The MHC returns to Schaumburg in 2020 for another 3-day event on June 5-7 so mark your calendar now R.K. You can pick up my Christmas present early.