Vintage Treasures: Pilgrims through Space and Time: A History and Analysis of Scientific Fiction by J. O. Bailey
Vintage Treasures: Pilgrims through Space and Time: A History and Analysis of Scientific Fiction by J. O. Bailey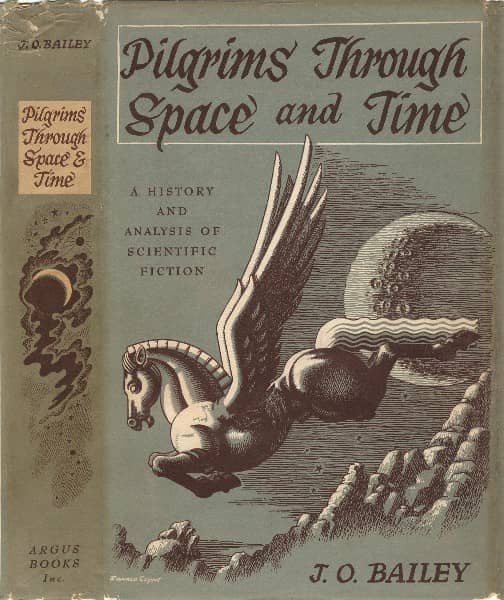 Cover by Ronald Clyne
You never know what strange wonders you'll find at the Windy City Pulp and Paper Show. This year, among many other treasures on the $1 table, I found a coverless copy of J. O. Bailey's 1947 nonfiction tome Pilgrims through Space and Time, which grew out of his 1934 Ph.D. thesis at the University of North Carolina.
You'd think a dissertation would be too dry to become a classic of genre (and in most cases you'd be right), but this was one popular enough to inspire the Pilgrim Award, given annually by the Science Fiction Research Association for contributions to the study of SF. It was first given to Bailey in 1970, and is still awarded today. Recipients have included Jack Williamson, Damon Knight, James E. Gunn, Brian W. Aldiss, Sam Moskowitz, Gary K. Wolfe, Joanna Russ, John Clute, L. Sprague de Camp, Brian Stableford, Mike Ashley, Gary Westfahl, Gérard Klein, Algis Budrys, and Pamela Sargent.
Pilgrims is a little dry for light reading, but I did find Bailey's discussions of Lovecraft ("splendid"), and the pulp stories of Stanton Coblentz, Ray Cummings, A. Hyatt Verrill, John Taine, and others, to be entertaining enough to make me want to pick up some of my favorite pulp anthologies again — and maybe look at them in a new light.
Thomas Clareson, in his 1972 foreword to the Greenwood Press reprint edition, did a fine job summarizing the importance of this book to early SF scholarship. Here's what he said.
Pilgrims Through Space and Time… has been a collector's item, too long out of print. It is an indispensable book to the student and teacher of science fiction, for no other study has provided so comprehensive an account of the emergence of the genre. It is, in short, at this time the intellectual and literary history of the development of science fiction from its origins in seventeenth and eighteenth century literature — amid the utopias and imaginary voyages — to the Second World War. Although Professor Bailey examines individual titles, such as those of Olaf Stapledon, published as late as 1945, he quite correctly gives his chief emphasis to the crucial period between 1870 and 1915, essentially the generation of Verne, Wells and their contemporaries… Pilgrims grew out of a study of Wells and his contemporaries, for which he limited himself to fiction published in book form…. the book gained its final form only after the war when [Ben] Abramson asked him to add a chapter sampling the later fiction, including the magazines.
This is a worthwhile book to track down, if you can find it at a decent price.
Pilgrims through Space and Time: A History and Analysis of Scientific Fiction was published by Argus Books in 1947. It is 341 pages, including the index. It was priced at $5 in hardcover; the cover was by Ronald Clyne. I bought a coverless copy for a buck; not a bad deal, but I wish I had a copy with that sweet cover.
See all our recent Vintage Treasures here.