The Golden Age of Science Fiction: Michael Whelan
The Golden Age of Science Fiction: Michael Whelan
The Best Artist category was not one of the original Hugo categories in 1953, but was introduced at the second awards in 1955, when it was won by Frank Kelly Freas. Since then, some version of the award has been a constant, with the exception of 1957, when the award was not presented. Originally called the Hugo for Best Artist, it eventually became the award for best Professional Artist when the Best Fan Artist award was introduced in 1967. Michael Whelan won his first award in 1980, beginning a seven year run of winning the award. He eventually won the award thirteen times, most recently in 2002, along with two other Hugo Award for Best Nonfiction Book (in 1988) and the first award for Best Original Artwork (in 1992). He has been nominated for the Hugo a total of 31 times.
The Locus Awards were established in 1972 and presented by Locus Magazine based on a poll of its readers. In more recent years, the poll has been opened up to on-line readers, although subscribers' votes have been given extra weight. At various times the award has been presented at Westercon and, more recently, at a weekend sponsored by Locus at the Science Fiction Museum (now MoPop) in Seattle. The Best Artist award dates back to 1974, although in the three previous years, a Best Paperback Cover Artist award was presented and in the previous two years a Best Magazine Artist awards was presented. The first Professional Artist award was won by Frank Kelly Freas. Michael Whelan won his first award in 1980, beginning a twenty-one year run of winning the award. He eventually won the award thirty times, with one additional win for Best Art Book in 1994. In 1980. The Locus Poll received 854 responses.
The Balrog Award, often referred to as the coveted Balrog Award, was created by Jonathan Bacon and first conceived in issue 10/11 of his Fantasy Crossroads fanzine in 1977 and actually announced in the final issue, where he also proposed the Smitty Awards for fantasy poetry. The awards were presented for the first time at Fool-Con II at the Johnson County Community College in Overland Park, Kansas on April 1, 1979. The awards were never taken particularly seriously, even by those who won the award. The final awards were presented in 1985. One of the original Balrog Awards, it was given out each year until the Balrog's ceased in 1985.
Whelan's father worked in the aerospace industry and as a result, Whelan spent much of his early life around rocket and missile bases, often watching launches, both successful and unsuccessful.  Coupled with a love for science fiction films, Whelan began drawing UFOs, bug-eyed monsters, and other staples of science fiction art. He attended San Jose State University and then studied at the Art Center College of Design. His work impressed Donald A. Wollheim, who gave him his first cover commission in 1975 for Lin Carter's The Enchantress of World's End.
By 1979, Michael Whelan had already created several iconic book covers. His illustrations for Michael Moorcock's Elric introduced to Melnibonéan albino to multiple generations of readers and his paintings for Anne McCaffrey's Pern novels are intimately entwined with that series. 1979 saw Whelan publish another set of book covers what world become iconic when he produced a variety of covers In all 11 vo1umes of Edgar Rice Burroughs's Barsoom novels, provided a continuity of style for the series.
In her book Science Fiction and Fantasy Artists of the Twentieth Century: A Biographical Dictionary, Jane Frank credits Whelan with being "one of the major artists who turned paperback and book illustration in the genre away from the surrealism of the 1960s and early 1970s and toward a new, cleaner and more perfectionistic 'imaginative realism' that was essentially an updated version of pulp-style illustrations."
Whelan also publish the first collection of his own work in 1979, collecting various cover illustrations. In Wonderworks, Whelan reproduced several of his works up to that time, along with his own commentary on the paintings.  The book was nominated for a Hugo Award for Best Related Work, although it lost to The Encyclopedia of Science Fiction.
Whelan faced Vincent Di Fate, Steve Fabian, Paul Lehr, and Boris Vallejo for the Hugo Award. Di Fate had won his first (and only) Hugo Award the previous year. It was Vallejo's second and Lehr's first nomination, and Fabian had several nominations.
Whelan would beat out a large collection of authors for his Balrog win, including Joseph Zucker, Judy King Rieniets, Charles Vess, Boris Vallejo, John Tibbetts, Darrell K. Sweet, Barry Smith, J. K. Potter, Don Maitz, Tim Kirk, The Brothers Hildebrandt, Jane Frank, Fernando Fernandez, Stephen E. Fabian, Richard Corben, and Gene Day.
The other top five professional artists for the Locus Award included (in order of finishing) Stephen Fabian, Boris Vallejo, Kelly Freas, and Don Maitz.
---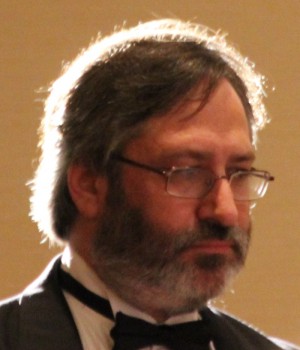 Steven H Silver is a sixteen-time Hugo Award nominee and was the publisher of the Hugo-nominated fanzine Argentus as well as the editor and publisher of ISFiC Press for 8 years. He has also edited books for DAW and NESFA Press. He began publishing short fiction in 2008 and his most recently published story is "Webinar: Web Sites" in The Tangled Web. Steven has chaired the first Midwest Construction, Windycon three times, and the SFWA Nebula Conference 6 times, as well as serving as the Event Coordinator for SFWA. He was programming chair for Chicon 2000 and Vice Chair of Chicon 7.