Spectacular Church Frescoes in Valencia, Spain
Spectacular Church Frescoes in Valencia, Spain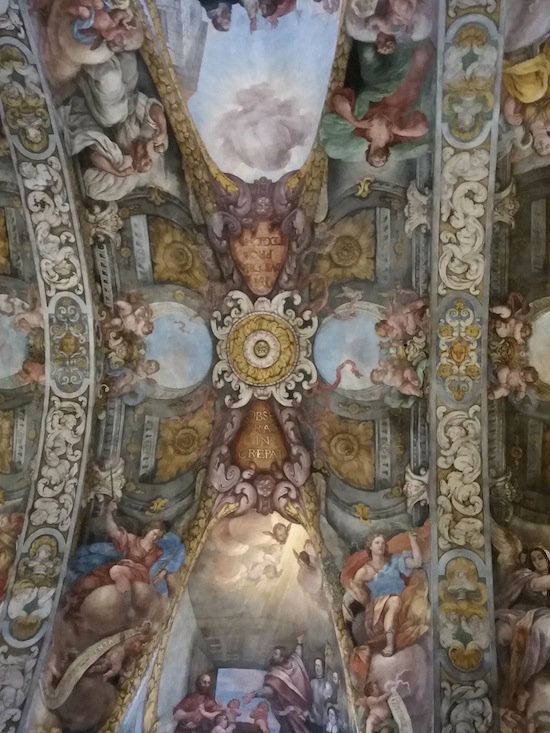 In my last post, we looked at some of Valencia's ancient ruins, but of course this historic Spanish port has more to offer. Perhaps the city's most impressive sight is the Church of San Nicolás.
Like so many other European churches, it's built on the remains of an old pagan temple from the Roman times. The first Christian building on the site was founded by James I of Aragon (ruled 1213-1276) and donated to the Dominicans.
In the 15th century, the church was greatly refurbished, taking on a Gothic style and the addition of a rose window.
When I visited a couple of weeks ago, I barely noticed those medieval elements. They're almost invisible next to the flamboyant Baroque frescoes covering the entire vault. Painted between 1690 and 1693 by Juan Pérez Castiel, these frescoes have been brilliantly restored in recent years.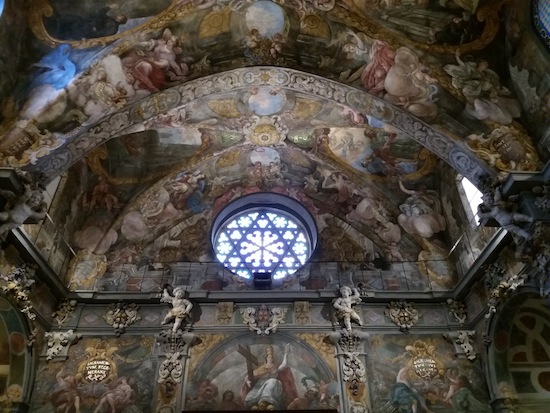 The church barely survived the Spanish Civil War of 1936-39. The region was in Republican hands, and many of the leftist parties that made up the government were violently anti-clericial. The Republic confiscated church lands and properties, and ended Church domination of education. The chapels at San Nicolás were plundered, and the church turned into a warehouse. Luckily the ceiling survived intact, although neglected.
It's divided into a dozen lunettes, six on each side of the central spine, and depict scenes from the lives of Saint Nicolas and Saint Peter Martyr. The whole ceiling takes up almost 2,000 square meters.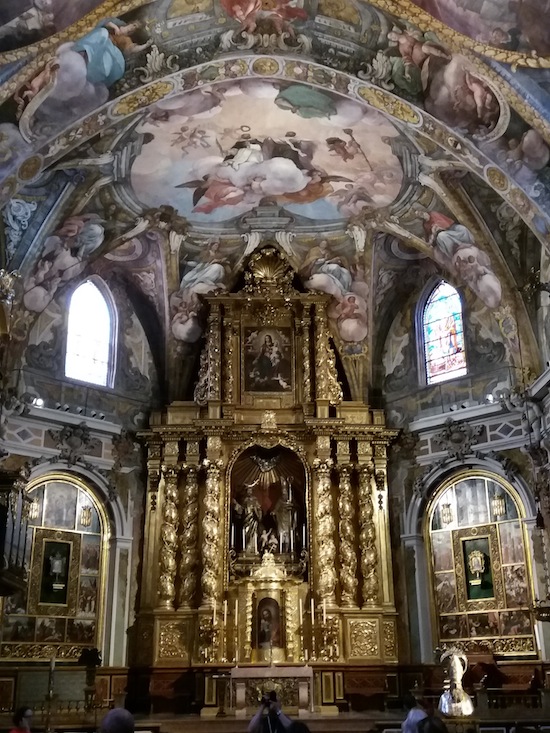 Saint Peter Martyr ascending to Heaven above the altar. Although the church
is popularly known as San Nicolás, it's actually dedicated to both saints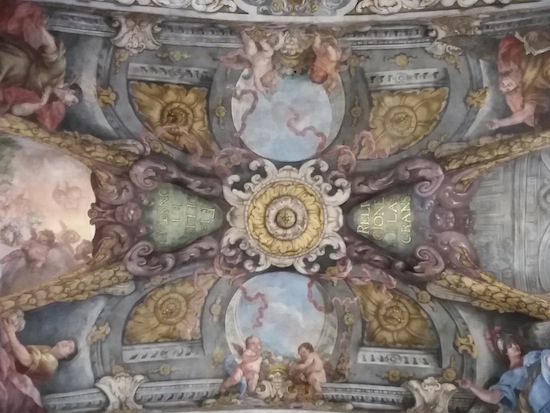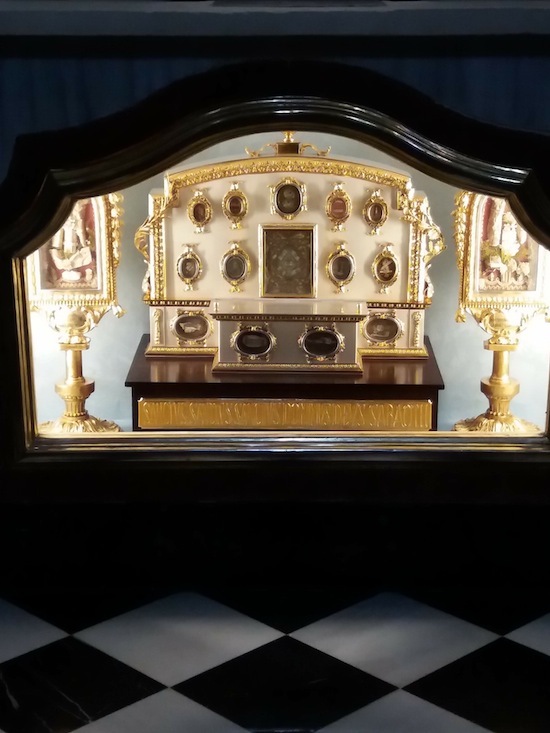 The Chapel of the Archangel Raphael contains some artifacts. Tiny slips of paper
identify them, but visitors are not allowed to get close enough to read them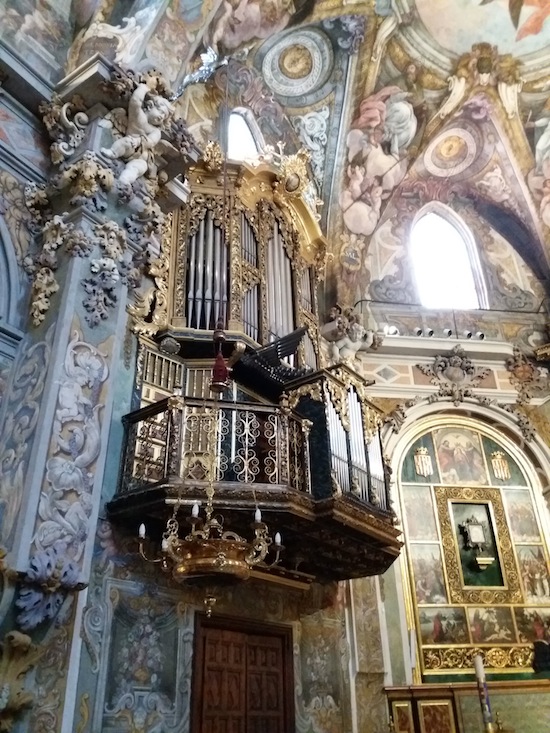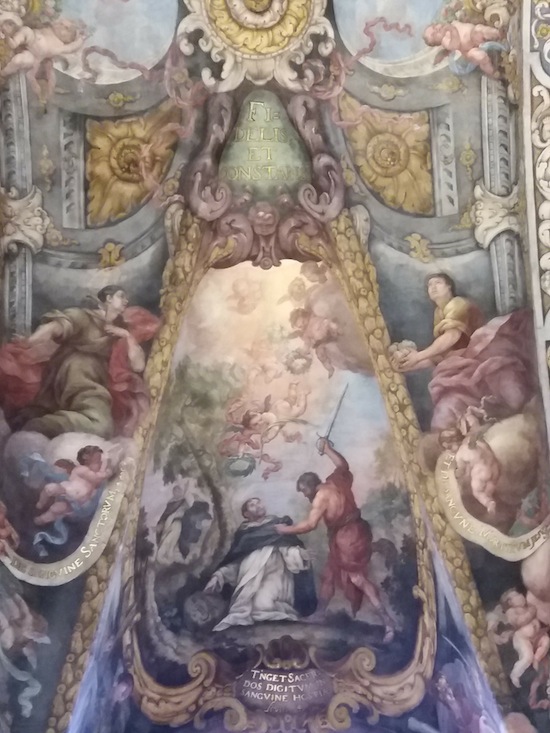 The martyrdom of Saint Peter of Verona
Photos copyright Sean McLachlan.

---
Sean McLachlan is the author of the historical fantasy novel A Fine Likeness, set in Civil War Missouri, and several other titles. Find out more about him on his blog and Amazon author's page. His latest book, The Case of the Purloined Pyramid, is a neo-pulp detective novel set in Cairo in 1919.