Inquisition Dungeons, Decapitated Heads, and Fighting Gentrification: A Creepy Tour Through Lavapiés, Madrid
Inquisition Dungeons, Decapitated Heads, and Fighting Gentrification: A Creepy Tour Through Lavapiés, Madrid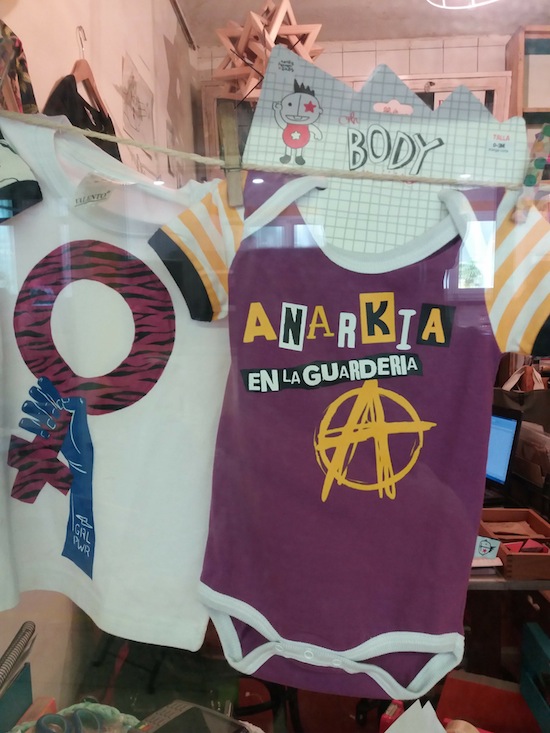 "Anarchy in the nursery!"
Madrid is a walkable town. Most of the city's interesting barrios are clustered close together, and even if you have to take a quick trip on the bus or Metro, you'll find that each barrio has all you need within an easy stroll. That makes Madrid feel a lot smaller than it is, because you can shop, dine, drink, work, and go to school all in the same barrio.
Several tour companies offer interesting walking tours of the city, focusing on Madrid's history, nightlife, or culture. The latest addition is The Making of Madrid, which specializes in history. I recently took a tour of the working class barrio of Lavapiés, known for its left-leaning politics and large immigrant community.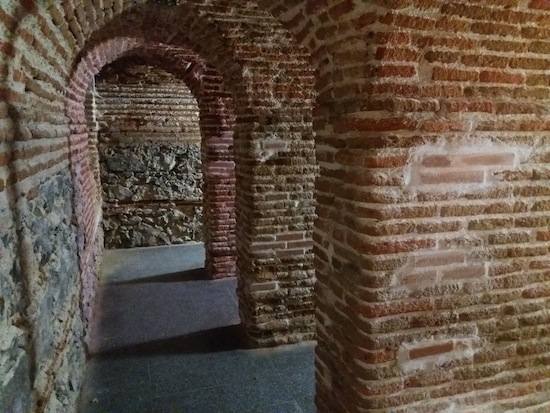 The Inquisition dungeon, much cleaner and better lit than back in the day
Full disclosure: I'm friends with the owner. That doesn't stop the tour and its stories from being cool, though.
No one is sure how Lavapiés got its name. It literally translates as "foot wash." One story is that before the expulsion of the Jews in 1492, there had been a synagogue in the neighborhood and observant Christians would wash their feet as they left the area in order to purify themselves. There is no archaeological evidence for a synagogue in Lavapiés and in any case the neighborhood didn't even exist until a hundred years after the Jews were expelled.
Another explanation is that the neighborhood is on rough ground with many low points that would fill up with raw sewage that would fester in the hot Madrid sun. The rare rainfall would make matters worse, flooding the area with stinking water. You got a foot wash all right, just not the kind you wanted!
This disadvantageous terrain meant that Lavapiés was populated by, as our tour guide put it, "the poor that the poor looked down on." But even they lived a life of luxury and security compared to those condemned by the Inquisition. Beneath an unassuming senior citizens' center are the vaulted cells of an Inquisition prison. The rough stone walls are said to have been built with material from Madrid's medieval city wall. From the outside, the only hint you have of the place where despairing prisoners lay their tortured bodies in cold, filthy cells are a few air holes at the level of the sidewalk.
The dungeon is on Calle de la Cabeza, or "the Street of the Head." Supposedly the street got its name from a gruesome murder many years ago. A servant was working for a priest and was envious of the man's wealth. He decided to off the priest by cutting off his head, and then fled to Portugal with all his gold and jewels.
Many years later he decided he missed Madrid and returned, posing as a wealthy Portuguese merchant. He had changed so much that no one recognized him. One evening he went to the meat market to buy a pig's head to put in his stew. As he returned home, he put the pig's head under his cloak. A night watchman noticed the man leaving a trail of blood and stopped him, demanding to see what was hidden under his cloak.
The murderer lifted up his cloak to reveal… the priest's head!!!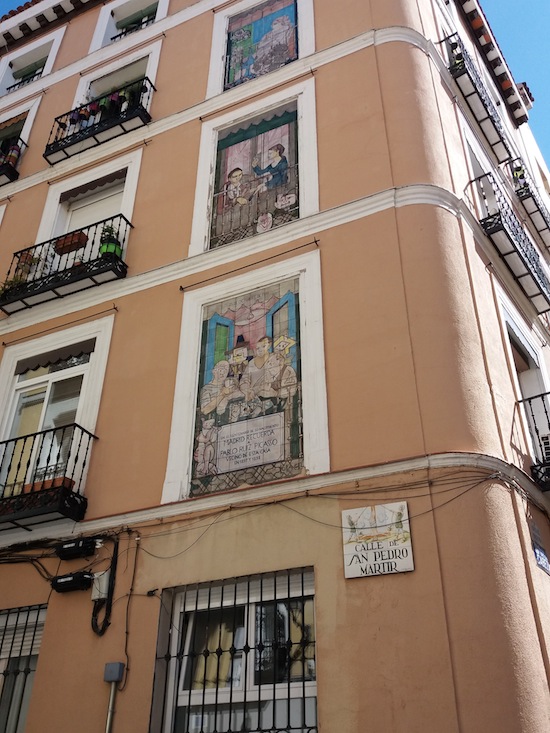 A young Pablo Picasso lived here in 1897 and 1898. He was supposed
to be attending the Academy, but spent most of his time sketching
in the Prado and drinking. He left without paying his last month's
rent, leaving behind some paintings instead. The landlady,
thinking his art was rubbish, burned the lot!
Not far away there's a popular, old-school Spanish bar founded in 1787 and bearing the name of a much later owner, the bullfighter Antonio Sánchez, who retired after being gored a record 20 times. Unlucky, you say? If you got gored by 20 different bulls and could still manage to run a business, you'd count yourself very lucky indeed.
They serve a special type of wine. It is said that during the occupation by Napoleon's troops, some resistance fighters saw a lone French soldier passing through the Plaza Tirso de Molina at night. They set upon him and killed him. Fearing discovery, they carried him to a local wine cellar and dumped him in a barrel.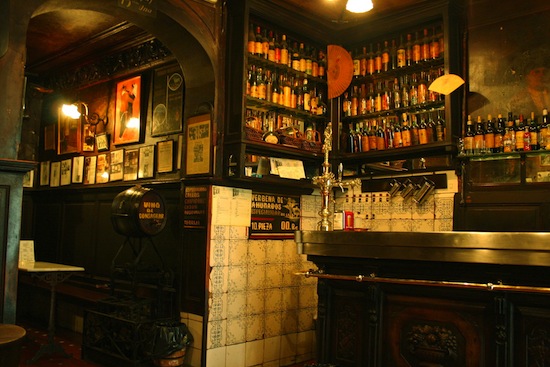 The interior of La Taberna Antonio Sánchez. Photo courtesy
Wikimedia Commons because I don't get out enough
Many years later, the bar owners discovered an old barrel and poured out some of the wine. It had a delicate bouquet, almost French in nature rather than the earthier Spanish wines. That was, of course, due to the secret ingredient. To this day if you go up to the bar and whisper, "Dame de la cuba del francés" ("Serve me from the Frenchman's barrel"), they'll give you a glass of that special "French" wine.
As you wander around Lavapiés, you'll spot a lot of left-leaning banners and graffiti. The barrio is home to at least one squat, the country's largest anarchist organization, and every Sunday by Tirso de Molina Metro station there's a collection of stalls for various leftist parties and collectives. Lavapiés has always been working class and leftist. Franco stomped down on the area pretty hard, and now the locals are fighting a new class enemy–gentrification. Hipster cafes often get targeted by graffiti, and a new ordinance will severely limit the operations of Airbnb, which locals in all barrios complain is driving up housing prices and changing the face of the city.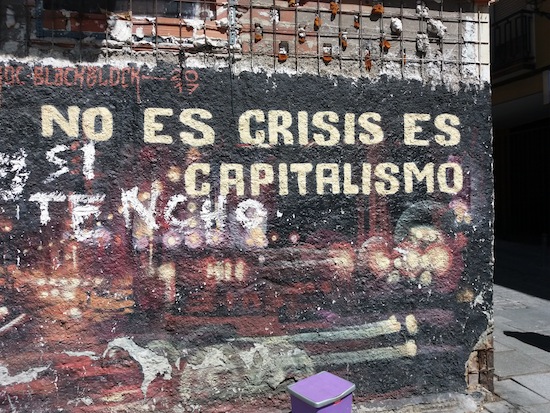 "It's not an economic crisis, it's capitalism."
These are only a few of the stories we heard on the tour, which lasts about two hours. This being Spain, the tours end with a drink and a snack somewhere. For the Lavapiés tour it's at the Mercado de San Fernando, one of the city's best covered markets and packed with great places to eat and drink.
To learn more about Madrid's history, check out the Making of Madrid blog. To sign up for a tour, check out their Meetup site.
Photos copyright Sean McLachlan. More below!

---
Sean McLachlan is the author of the historical fantasy novel A Fine Likeness, set in Civil War Missouri, and several other titles. Find out more about him on his blog and Amazon author's page. His latest book, The Case of the Purloined Pyramid, is a neo-pulp detective novel set in Cairo in 1919.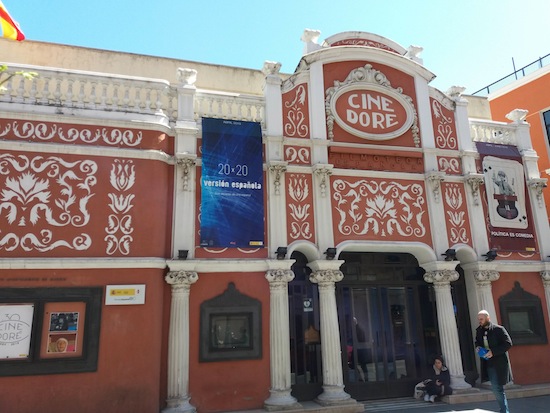 This fine movie house ran from 1923 to 1963. It languished
during the Franco years and finally closed. It reopened in
1982 in a new democratic era. Cine Dore shows arthouse films,
classics, and even silent films with live piano accompaniment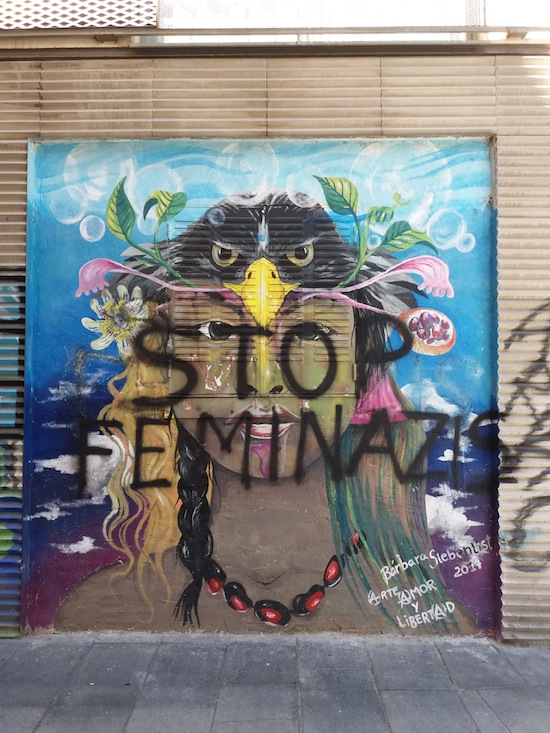 The walls of Lavapiés often become an ideological battleground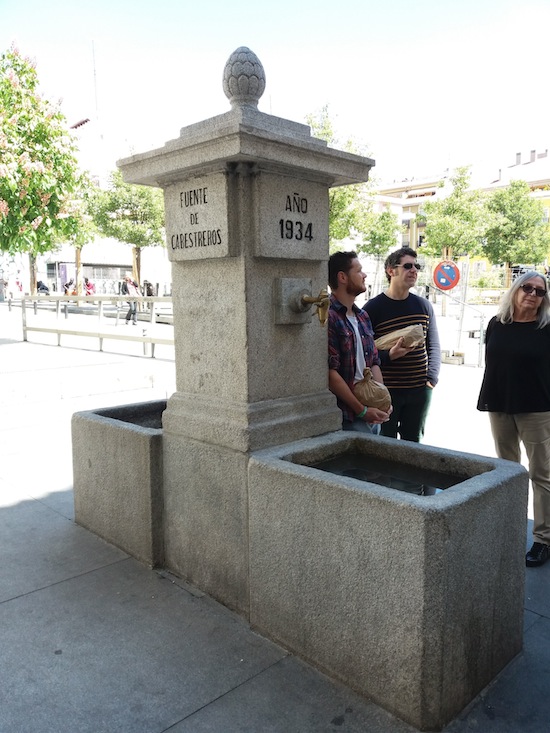 This public fountain was built during the Second Republic.
Once Franco took over he had them all removed. No one
knows how this sole survivor managed to make it to 2019.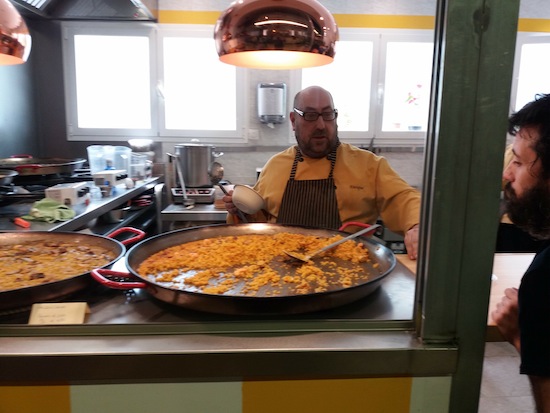 Time for paella, a Spanish delicacy from one of
the many food stall in the Mercado de San Fernando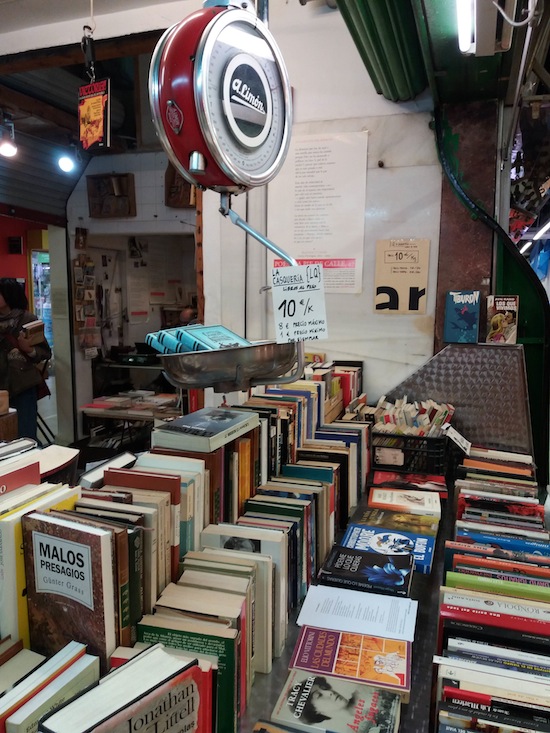 You can also buy books by weight