Future Treasures: Decades: Marvel in the 70s – Legion of Monsters
Future Treasures: Decades: Marvel in the 70s – Legion of Monsters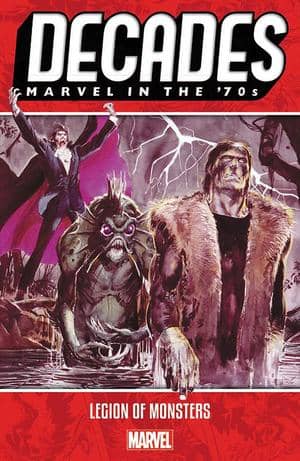 If there's a company out there that knows how to use nostalgia to shake dollars out of me, it's Marvel. I've already shelled out for their deluxe hardcover Omnibus volumes, the black & white Essentials line, and more recently I've spent a fortune on their Epic Collections, which assemble 18 issues apiece of early core titles like Thor, Spider-Man, Avengers and Fantastic Four. Recently they've launched a Decades series that looks at some of the more offbeat comics from Marvel's long history and, heaven help me, I'm reaching for my wallet again. In this case it's for a nearly forgotten team book from the 70s which has never let go of my imagination.
Celebrate 80 years of Marvel Comics, decade by decade — together with the groovy ghoulies of the Supernatural Seventies! It was an era of black-and-white magazines filled with macabre monsters, and unsettling new titles starring horror-themed "heroes"! Now, thrill to Marvel's greatest horror icons: The melancholy muck-monster known as the Man-Thing — whosoever knows fear burns at his touch! Morbius, the Living Vampire! Jack Russell, cursed to be a Werewolf-by-Night! And the flame-skulled spirit of vengeance, the Ghost Rider! But what happens when they are forced together to become… the Legion of Monsters? Plus stories starring Dracula, Frankenstein's Monster, Manphibian, the vampire-hunter Blade… and never-before-reprinted tales of terror!

COLLECTING: LEGION OF MONSTERS (1975) 1; MARVEL PREVIEW 8; MARVEL PREMIERE 28; MARVEL SPOTLIGHT (1971) 2, 5; FRANKENSTEIN (1973) 1; TOMB OF DRACULA (1972) 10; MATERIAL FROM SAVAGE TALES (1971) 1
Previous titles in the Decades series include Marvel in the 60s – Spider-Man Meets the Marvel Universe, collecting 60s Spider-Man stories from Amazing, Avengers, Daredevil, Fantastic Four, and other places; Marvel in the 50s – Captain America Strikes! which gathers material from Young Men, Captain America (1954), Men's Adventures, and other mags; Marvel in the 80s – Awesome Evolutions, which collects some of the bizarre makeovers of the 80s, including Spider-Man's black costume, Storm's mohawk, Thor's battle armor and the Hulk's return to gray.
Decades: Marvel in the 70s – Legion of Monsters will be published by Marvel on April 23, 2019. It is 248 pages, priced at $24.99 in print and $16.99 in digital formats.