That Horrid Question
That Horrid Question
INT. SMALL CONVENTION ROOM – EARLY EVENING
A young AUTHOR, new to pitching, steps cautiously into the room clutching a binder full of papers to their chest. An EDITOR for a well-regarded publisher sits at a table with an empty chair opposite. The EDITOR smiles at the AUTHOR and beckons them to the chair. So nervous they're shaking, the AUTHOR sits down.
AUTHOR
Thanks so much for seeing me. I really appreciate it.
EDITOR
My pleasure.  So what have you got for me today.
AUTHOR
Well, it's a [insert genre of choice].  The audience is quite adult.  I think.  I'm not sure.  The young adult/adult distinction is not something I'm all that familiar with.
EDITOR
All right.  So, what's it about?
AUTHOR
Well, uh, it follows [character] and their team of [insert any kind of unit you like, knights? Rangers? Robot Space Marines?] and they —
EDITOR
(interrupting)
No, that's what happens.  That's the plot.  I want to know what the book is about.  What is the theme?
AUTHOR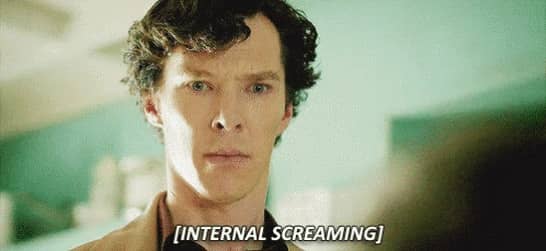 [Click the images for pitch-sized versions.]
Any writer who has done some pitching has probably come across this scenario. Goodness knows, I have. I despise pitching, personally. I find it difficult to sell myself and my work. I'm not especially outgoing and can be downright shy and awkward around people I don't know. The pitching process is hard for me (for many, I'd wager). I hate the whole thing, and there is nothing I hate more than that question:
But what is the book about, really?
Listen, I'm not saying that it's a terrible question that should not be asked. It's a perfectly valid question.
Still, I find it a difficult one to answer. Sometimes the author doesn't really have anything all that important to say. Perhaps they just wanted to tell a ripping good tale. Sometimes, the curtains are just blue.
What is bothersome about that question, too, is that it presupposes that theme should be central to a person's writing over, even, plot or character development. I disagree with this, personally. I feel that writing suffers when characters or scenes are forced by the invisible hand of theme just as much as if they are boxed in by the invisible hand of plot necessity. If the only reason behind an action or character behavior is because the theme or plot required it, then the reason is not sound enough. Nine times out of ten, readers can tell. It's quite the turn-off.
Also, I believe that authorial intent should only extend so far. I firmly believe that it's up to the observer to draw meaning from any piece of art, writing included. It's not all that unusual for two people reading the same piece of fiction getting different things out of it. Let's scrutinize two works. One, extremely famous and gloriously complex, the other, written by some schmuck (*cough* me).
What is the theme of this work? Ask a hundred different people and you might fine just as many different answers. Perhaps it's that even the smallest, most humble folk could become heroes. Perhaps the theme is that the true hero isn't always the one tasked with the greatest chore (looking at you, Samwise Gamgee, you beautiful, pure cinnamon bun, you). Perhaps the theme is actually that in order to defeat evil, we must all, united across peoples, religions and regions, stand against it. Or perhaps it's that hope is our greatest strength. Or perhaps it's that even foul, evil-seeming creatures have their purpose and deserve compassion. Or perhaps it's that good will triumph in the end. Or power is corrupting. Or… or… or. Pick one. They're all correct.
Not one of these interpretations could be said to be well off the mark, and all of them could be well-argued.
Out of genuine curiosity, I am interested in what you feel is the theme. Do leave that in the comments.
Then there's this book. It's a science fiction about a unit commander who has to turn rogue to ally himself and his team with one group of aliens to save everyone, human or otherwise, from yet another group of aliens. But what is this book really about? I don't have a flipping clue. I didn't have a theme in mind when I wrote the thing. I just wrote it.
It might be that the theme is actually that doing the right thing is really, stupidly hard (which is why so few people seem to choose to do so). You'll lose friends. People will turn on you. You could die. There will be pain. Or, perhaps the theme is that friendship is precious. Or that no one person is an island; even a hero relies heavily on, and could not do what was needed, without aid. Perhaps the theme that our enemies are of our own making, or that love is what carries us, or that xenophobia is not just stupid, but dangerous, or, or, or.
Which of these is the theme?

Pick one. They're all correct. Or maybe they're all wrong.
It's really not up to me, either, what readers may glean from my work. Or any work. Simply because the theme someone else latched on to differs from the one I found most glaring, it doesn't make either of us correct or incorrect.
Again, asking what it is that lies behind the plot points of a book is not a terrible question to ask, and it would behoove the author to consider what might be beneath the text (even if only for the purposes of pitching). It's a great mental exercise. I do, however, feel that asking the author this question might be missing the point of art just a teensy little bit.
This is a question for the readers.
Thanks for letting me rant.
---
When S.M. Carrière isn't brutally killing your favorite characters, she spends her time teaching martial arts, live streaming video games, and cuddling her cats. In other words, she spends her time teaching others to kill, streaming her digital kills, and cuddling furry murderers. Her most recent titles include 'Daughters of Britain' and 'Skylark.'
https://www.smcarriere.com/