The Golden Age of Science Fiction: Fantasy Tales
The Golden Age of Science Fiction: Fantasy Tales
In 1972, the British Fantasy Society began giving out the August Derleth Fantasy Awards for best novel as voted on by their members. In 1976. The name of the awards was changed to the British Fantasy Award, although the August Derleth Award was still the name for the Best Novel Award. A category for Best Small Press was created in 1977 and has continue to be awarded, although it is now given for Independent Press. The award's first winner was John Martin for Andurile and it was won from 1978-1987 by Stephen Jones and David Sutton for Fantasy Tales with the exceptions of 1981, 1984, and 1985. A re-alignment of the awards in 2012 means the awards are now selected by a jury rather than the full membership of the British Fantasy Society. In 1980, the awards were presented at Fantasycon VI in Birmingham.
Fantasy Tales was a small press magazine published by Stephen Jones and David A. Sutton. The first issue was published in Summer 1977 and the magazine ran for a decade, until Summer 1987, at which time it was relaunched as a professional magazine. Jones and Sutton published 17 issues as, essentially a fanzine, before publication was taken over by Robinson Publishing Ltd, which published an additional 7 issues between 1988 and 1991.
The magazine had the vibe of a tribute to Weird Tales and its logo seems to have mirrored that magazine's logo. Originally perfect bound, after issue 4 was published in the Spring of 1979, the magazine went to staple binding. The cover also became less colorful with that issue.
The magazine's contents were a mixture of fiction and poetry. In 1979, two issues were published. The Spring issue included stories by Adrian Cole, Karl Edward Wagner, Ken Dickson, Joe R. Schifino, and A.J. Silvonius and poems by H. Warner Munn, Gordon Larkin, and Steven Eng. The Winter issue, which was ten pages shorter, included stories by Cyril Simsa, Brian Mooney, Frances Garfield, Randall Garrett, and a collaboration between H.P. Lovecraft and Brian Lumley. The poetry was supplied by the same poets who appeared in the previous issue with the addition of Simon Ounsley.
The names that stand out among the contributors are Cole, Munn, Wagner, Lumley, and Garrett. Interestingly, only the Lumley/Lovecraft collaboration is a reprint, having previously appeared in The Arkham Collector ten years earlier, the story was a fragment left by Lovecraft and completed by Lumley.
The other name authors, Munn, Cole, Wagner, and Garrett, were quite supportive of Jones and Sutton, contributing stories to the magazine to help friends. Garrett's story, "Just Another Vampire Story" was reprinted in Marion Zimmer Bradley's anthology Greyhaven in 1984, but the remaining stories and poems by these names are only available in these issues of Fantasy Tales. The only other original stories from Fantasy Tales in 1979 that were reprinted were Simsa's "Extension 201" and Garfield's "Don't Open That Door," both of which appeared in The Best Horror from Fantasy Tales, edited by Jones and Sutton in 1988.
In addition to the magazine's cover, which featured art on both front and back, although none wrap-around, Fantasy Tales included interior art which was illustrative of the fiction and poetry it was published with. Featured artists included Jim Pitts, Russell Nicholson, Simon Horsfall, Steve Fabian, Alan Hunter, Hannes Bok, David Carson, John Grandfield, and John Stewart. The Hannes Bok pieces were both reprinted from the collection of Jeffrey Myers.
Unlike a fanzine, Fantasy Tales did run advertisements in these issues, promoting London booksellers G. Ken Chapman and Dark They Were and Golden Eyed, magazines Fandom Unlimited and Fantasy Crossroads, Spectre Press, and Birmingham's Andromeda Bookshop.
One of the interesting features of the Winter 1979 issue is that the letter column includes a letter from Brian Mooney, whose story "For the Life Everlasting" appears in the issue. Mooney explains that Jones and Sutton showed him Fabian's artwork and asked him to write a story around it. Mooney outlines the story's development process.
To win their third consecutive award, Fantasy Tales beat out Fantasy Media Volume 1, produced by Jon Harvey, Stephen Jones, Gordon Larkin, and David Sutton, as well as Whispers #13/14, edited by Stuart David Schiff.
---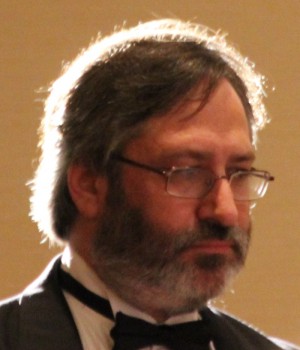 Steven H Silver is a sixteen-time Hugo Award nominee and was the publisher of the Hugo-nominated fanzine Argentus as well as the editor and publisher of ISFiC Press for 8 years. He has also edited books for DAW and NESFA Press. He began publishing short fiction in 2008 and his most recently published story is "Webinar: Web Sites" in The Tangled Web. Steven has chaired the first Midwest Construction, Windycon three times, and the SFWA Nebula Conference 6 times, as well as serving as the Event Coordinator for SFWA. He was programming chair for Chicon 2000 and Vice Chair of Chicon 7.