Frazetta and Family: Ace Books House Ads, circa 1975
Frazetta and Family: Ace Books House Ads, circa 1975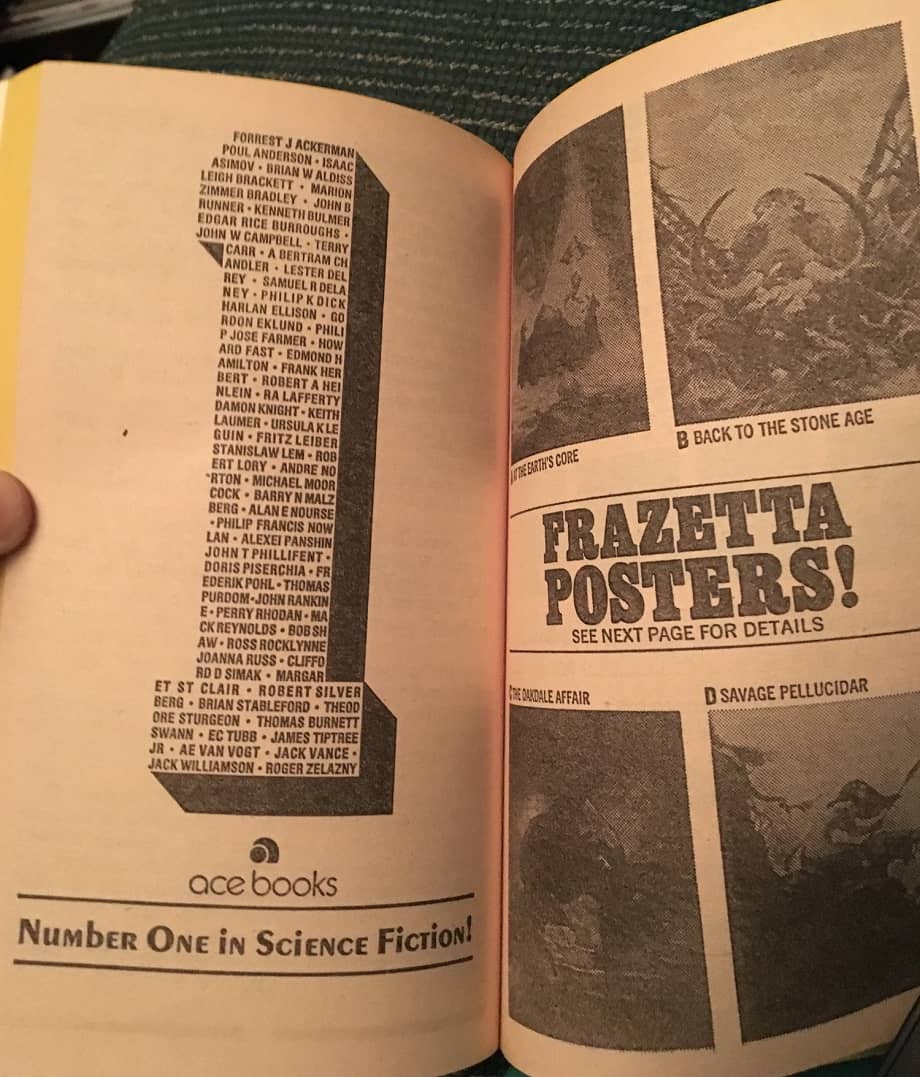 I bought a small collection of Mack Reynolds paperbacks on eBay last week, and they arrived yesterday. I settled in with them last night, and was surprised to find one of them, the 1975 title The Five Way Secret Agent and Mercenary From Tomorrow, which looked like a collection of two novellas from Analog, was actually an Ace Double. It didn't have two covers in back-to-back dos-à-dos format, and the second book wasn't printed upside down, but otherwise it was an Ace Double, with separate pagination for each novel and everything. It had the usual Ace house ads in the middle, which I normally flip past, but the double-page spread above brought me to a complete stop.
I mean, just look at this thing. Never mind the questionable tactic of trying to sell gloriously color Frazetta posters (for 3 bucks each) using muddy black & white images. Check out that house ad on the left: The number 1, formed from the names of the  most prominent authors in the Ace Books publishing family. And what a staggering list!
Poul Anderson, Isaac Asimov, Brian Aldiss, Leigh Brackett, John Brunner, Edgar Rice Burroughs, John W. Campbell, Terry Carr, A. Bertram Chandler, Lester del Rey, Samuel R. Delany, Philip K. Dick, Harlan Ellison, Philip Jose Farmer, Edmond Hamilton, Frank Herbert, Robert A. Heinlein, R.A. Lafferty, Damon Knight, Ursula K. Le Guin, Fritz Leiber, Stanislaw Lem, Andre Norton, Michael Moorcock, Barry Malzberg, Alexei Panshin, Frederik Pohl, Mack Reynolds, Joanna Russ, Bob Shaw, Clifford D. Simak, Robert Silverberg, Brian Stableford, Theodore Sturgeon, James Tiptree, Jr., EC Tubb, A.E. Van Vogt, Jack Vance, Jack Williamson, Roger Zelazny
It's not just the amazing list of authors — which is, let's face it, a nearly unprecedented line up of talent for a single SF publisher. It's that fact that most of those authors are still revered today, and in fact more than a few — Philip Dick, Ursula K. Le Guin, James Tiptree, and others — have achieved even greater fame in the intervening four decades.
[Click the images for Ace-sized versions.] 
Not everyone on the list is a household name today, of course. There are a few folks who have vanished or fallen out of favor, such as Robert Lory, John R. Phillifent, Thomas Purdom, John Rankin, and especially Marion Zimmer Bradley, whose name is about as toxic as you can get in modern fantasy. And they managed to misspell "Samuel R. Delany," an embarrassing slight to one of the finest authors in the field.
But nonetheless, I find myself enormously impressed by the scale of the accomplishment of the editors at Ace Books, including:
Terry Carr (1964–1971, 1983–1987)
Frederik Pohl (1971 – 1972)
Pat LoBrutto (1974–1977)
Tom Doherty (1975–1980)
Jim Baen (c. 1977–1980)
Terri Windling(1979–1987)
Harriet McDougal
Susan Allison (1980– July 2015)
Beth Meacham (1981–1983)
Ginjer Buchanan (1984–2014)
Peter Heck (c. 1991–1992)
Laura Anne Gilman (c. 1991)
Lou Stathis( c. 1994)
Anne Sowards (1996– 2010)
and especially founding editor Donald A. Wollheim. There's a more complete timeline of Ace Book editors at this Wikipedia page.
Here's the book I found these ads in.
Ace is still publishing today. It was acquired by Berkley Books in 1982, and when Putnam Berkley was acquired in 1996, Ace became an imprint of Penguin Group USA. Ace doesn't have a separate website, but you can see its current and upcoming titles on the Penguin Books website here.
As impressive as Ace Books was in the 70s, I'm going to resist the temptation to draw cranky comparisons to modern publishers. The fact is that science fiction as an industry was much smaller in the 60s and 70s, and the entire field was concentrated in the hands of a tiny number of publishers, including Ace, DAW, Berkley, Signet, Avon, Pocket, and Del Rey. Today science fiction is more popular and vital than ever, with thousands of SF and fantasy titles appearing every year from more publishers than I can count. Many of them, including Tor, Saga, Orbit, Houghton Mifflin, Angry Robot, St. Martin's, Scholastic, and yes, Ace, support a family of authors that has every chance of being just as impressive 40 years from now.
So yeah, I could be an old man and tell you how much better we had it in the good ol' days. But I know that's just nostalgia talking. And the bitter truth that I don't get to read modern SF in the same quantity, or with the same wide-eyed wonder, that I did when I was fourteen.
Instead of all that, here's the flip side of that Frazetta ad (in case you want to mail away for those posters), and the inside flap/teaser page for the second novel, Mercenary from Tomorrow.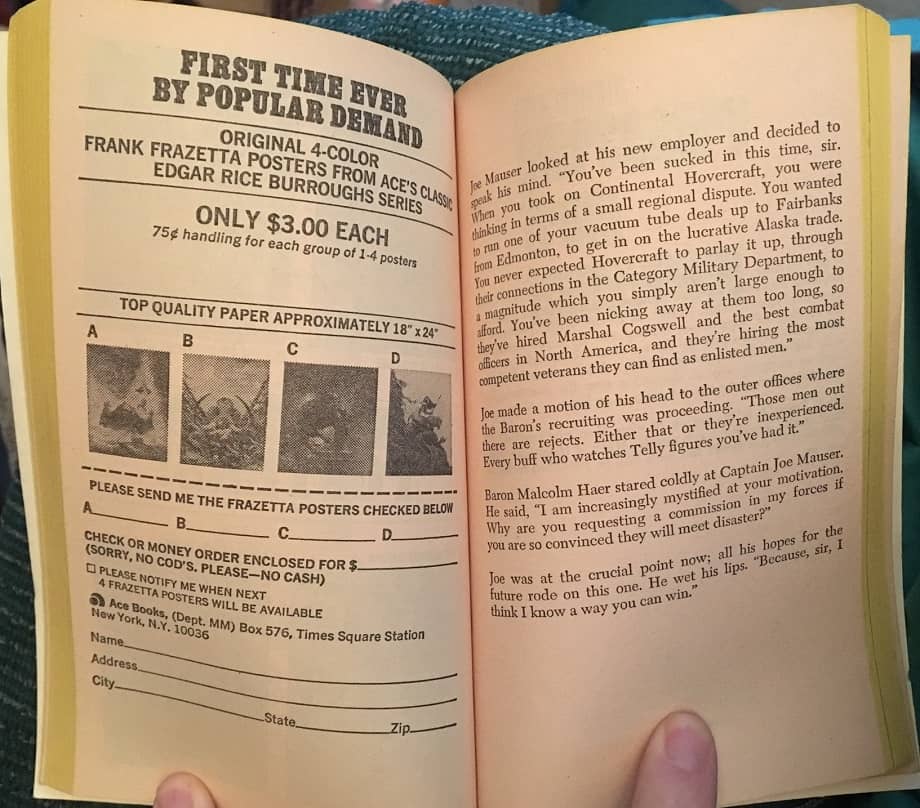 Anyone who read Ace paperbacks in the 1970s will know that books always closed with a list of titles from the same author. Here's the last page of The Five Way Secret Agent and Mercenary from Tomorrow, with the impressive 1975 Ace catalog for Mack Reynolds.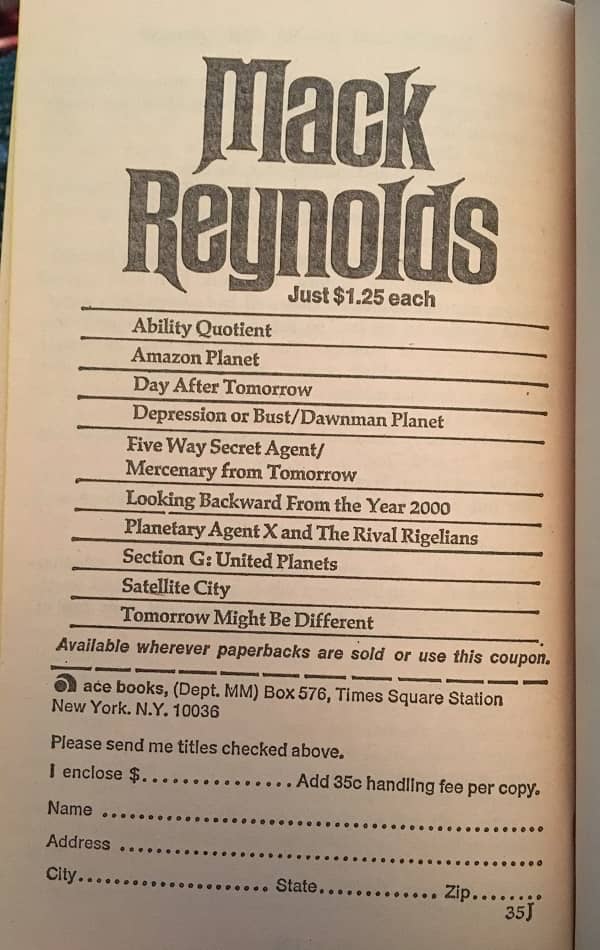 As enticing as that was, what really made my eyes pop out was the list of upcoming novels by Mack Reynolds, this one in the front of the book.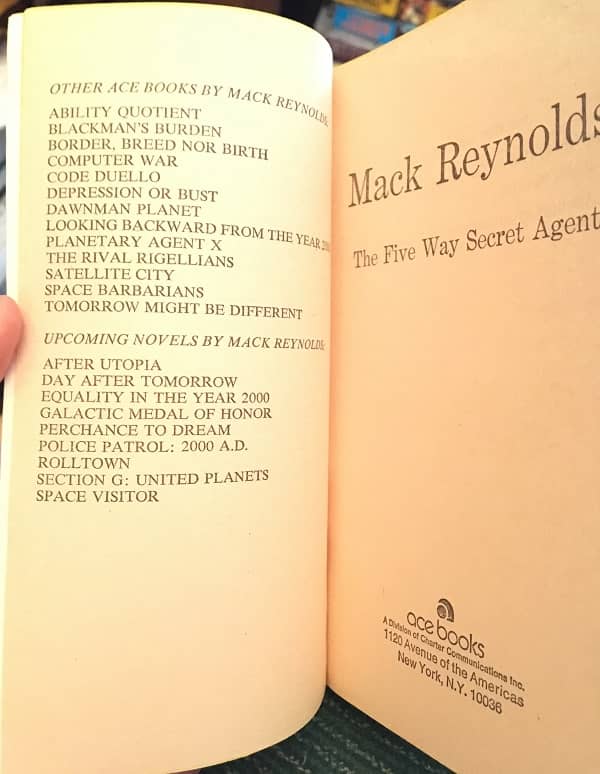 Nine books in the pipeline! That's pretty damned incredible. Reynolds, who lived from 1917-1983, published 35 novels in the 1970s, an amazing 3.5 per year.
The cover of The Five Way Secret Agent and Mercenary from Tomorrow notes that he was was voted the most popular science fiction author by the readers of Galaxy and If magazines. In 1975, Reynolds was at the peek of his career. He died in 1983 and, unlike many of his brothers and sisters in the Ace family, his name did not live into the 21st Century. Virtually none of his work is in print today.
Mercenary from Tomorrow was originally published as half of an Ace Double in 1968, paired with The Key to Venudine by Kenneth Bulmer.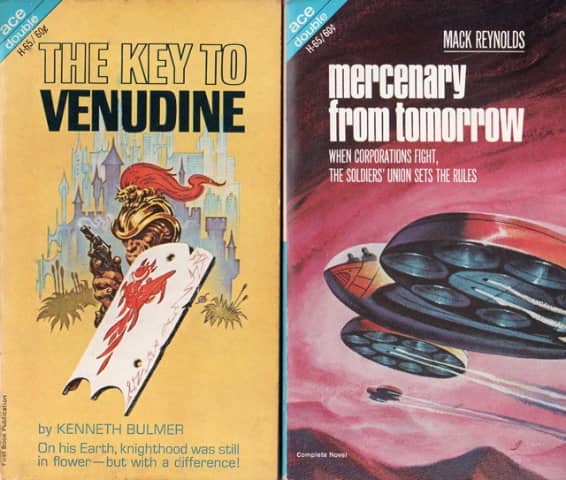 The Five Way Secret Agent was originally published in the April 1969 issue of Analog.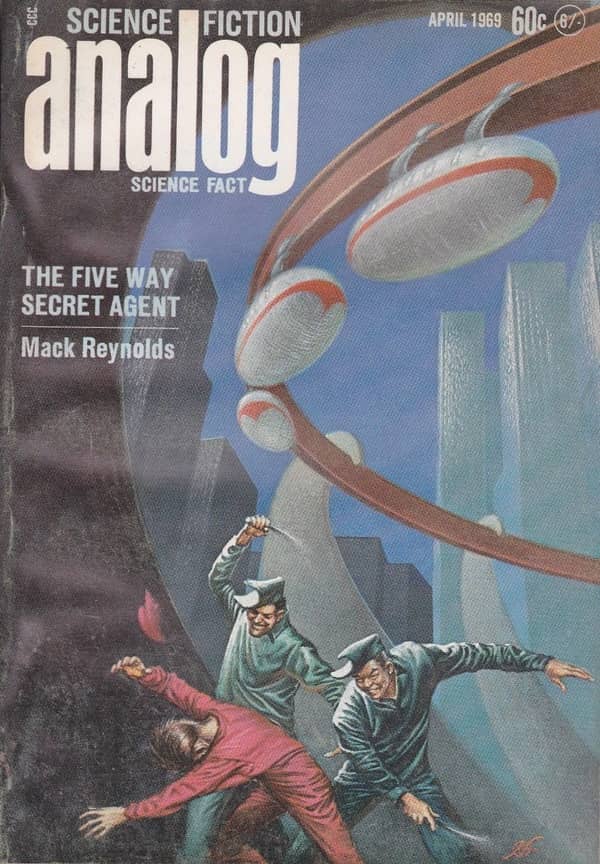 Analog, April 1969. Cover by Kelly Freas
I bought The Five Way Secret Agent and Mercenary from Tomorrow last week on eBay, part of a four-book lot that sold for $10. All four were virtually brand new, pretty amazing for 40-year old paperbacks.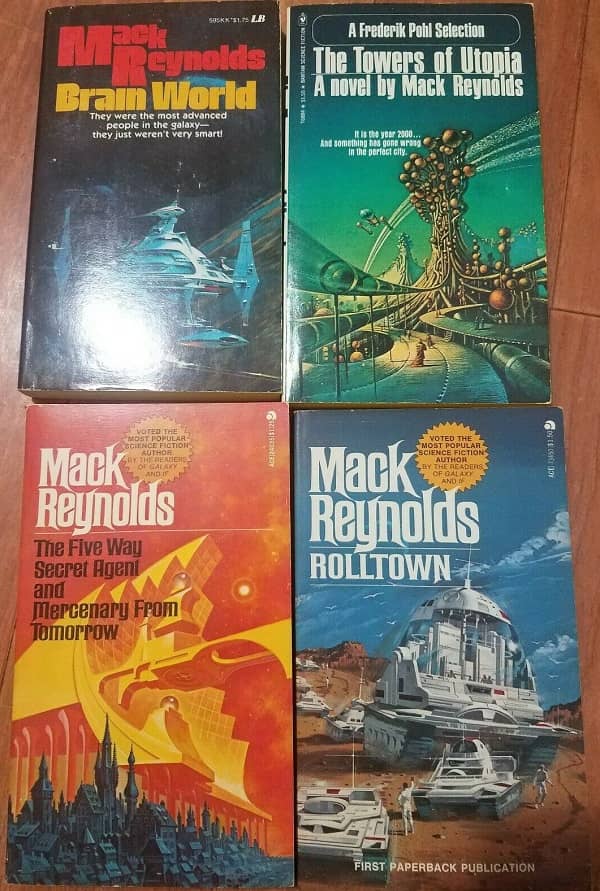 I especially love that Vincent di Fate cover for Rolltown; it's the one that enticed me to bid for this lot. The only reason I picked up The Five Way Secret Agent and Mercenary from Tomorrow first was I figured I would try one of the novellas.
Here's the back covers for the lot, courtesy of the eBay seller.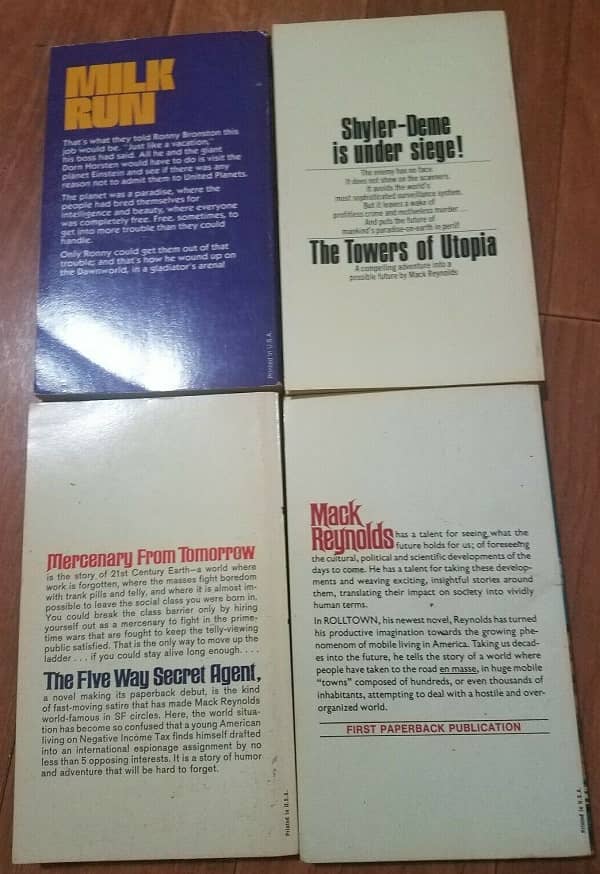 You can see why I was surprised to discover The Five Way Secret Agent and Mercenary from Tomorrow was an Ace Double. Sure doesn't look like one from the outside.
Our previous coverage of Mack Reynolds includes:
Birthday Reviews: Mack Reynolds's "Doctor's Orders" by Steven H Silver
Mack Reynolds: Science Fiction Author and… African Explorer? by Sean McLachlan
Vintage Treasures: Science Fiction Carnival, edited by Fredric Brown and Mack Reynolds
The Five Way Secret Agent and Mercenary from Tomorrow was published by Ace Books in November 1975. It is 255 pages, priced at $1.25. The cover is by Jack Gaughan. It has never been reprinted, though both novels were offered in separate digital editions from Gateway/Orion in 2011.
See all our recent Vintage Treasures here.