Birthday Reviews: Mack Reynolds's "Doctor's Orders"
Birthday Reviews: Mack Reynolds's "Doctor's Orders"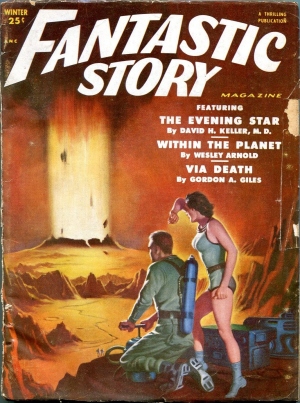 Mack Reynolds was born on November 11, 1917 and died on January 30, 1983.
He was nominated for the Hugo Award in 1962 for his short story "Status Quo" and in 1966 was nominated for the Nebula Award for Best Short Story for "A Leader for Yesteryear" and for Best Novelette for "The Adventure of the Extraterrestrial." Reynolds, whose birth name was Dallas McCord Reynolds, published under the pseudonyms Bob Belmont, Clark Collins, Mark Mallory, Guy McCord, Maxine Reynolds, and Dallas Ross. He collaborated with Fredric Brown on the anthology Science-Fiction Carnival. He collaborated on fiction with August Derleth, Brown, Theodore Cogswell, and Gary Jennings. Following his death Dean Ing completed several of his novels and Michael Banks completed one.
Originally published as "Four-Legged Hotfoot" in the Winter 1952 issue of Fantastic Story Magazine, edited by Samuel Mines, the story was reprinted in the NESFA Press collection Compounded Interest using the title "Doctor's Orders." It was included by Wildside Press in The 12th Science Fiction Megapack e-book collection in 2016.
Reynolds offers a starship story in "Doctor's Orders," setting up an interstellar journey with a crew that is filled with redundancy. As the navigator, Dick Roland, complains to Doc Thorndon, nobody really has anything to do. They are all back-ups for the computers, which fail so rarely that each person might have something to do once every several trips. If that weren't enough, the crew was sent out with insufficient leave between missions, so they were already starting to suffer from cafard, a debilitating mental illness caused by spending too much time on board ship.
The story does an excellent job demonstrating the boredom inherent in any long journey and the ship's crew try, and fail, to stave off boredom by playing a variety of games. What finally pulls them from their ennui is the discovery of an animal on board, which Doc Thorndon identifies as a rat, long extinct on Earth, but thriving on the Venusian colonies, where the ship may have picked up its stowaway. Catching the rat, named Arthur, goes from being a game to something more important when Doc Thorndon notes that the rat may be carrying the Bubonic Plague and could prevent them from docking when they return to Earth.
While capturing Arthur may be the major issue the crew appears to be facing, their boredom and the potential appearance of cafard is always in the background. Reynolds eventually offers his solution, which addresses both problems in a clever manner, allowing the crew to return home with the elusive rodent taken care of and fears of plague obviated.
Reprint reviewed in the collection Compounded Interest, by Mack Reynolds, NESFA Press, 1983.
---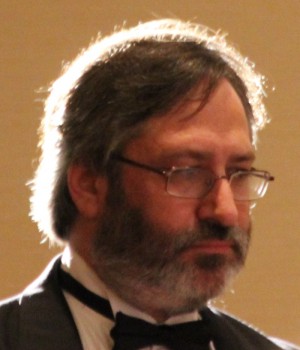 Steven H Silver is a sixteen-time Hugo Award nominee and was the publisher of the Hugo-nominated fanzine Argentus as well as the editor and publisher of ISFiC Press for 8 years. He has also edited books for DAW and NESFA Press. He began publishing short fiction in 2008 and his most recently published story is "Webinar: Web Sites" in The Tangled Web. Steven has chaired the first Midwest Construction, Windycon three times, and the SFWA Nebula Conference 6 times, as well as serving as the Event Coordinator for SFWA. He was programming chair for Chicon 2000 and Vice Chair of Chicon 7.