Mack Reynolds: Science Fiction Author and… African Explorer?
Mack Reynolds: Science Fiction Author and… African Explorer?
On a recent writing retreat in Tangier, Morocco, I was going through back issues of the Tangier Gazette, an English-language newspaper from the International Zone era. During this time, which lasted from 1924–1956, Tangier was run by several different European nations plus the United States. The governments gave people a free hand, and Tangier became notorious for allowing things that were illegal everywhere else — drugs, homosexuality, and prostitution. That attracted writers such as William S. Burroughs, Paul and Jane Bowles, and many others.
The April 6, 1956, edition of the Gazette has this little tidbit about Mack Reynolds, a prominent science fiction author of his day. His career got started shortly after World War Two in the detective pulps, and he soon branched out to write science fiction. Reynolds had a taste for travel and moved to Mexico in 1953. He and his wife soon pulled up stakes and set off on an epic ten-year trip through Europe, North Africa, and the Far East, supported by his science fiction and travel writing. The trip finally ended with their return to Mexico.
During his time in Morocco, he and his wife struck out into what is now Mali to visit Gao and Timbuktu. This is not an easy trip now, and back then it was an epic journey few attempted. Just look at what happened to Kit Moresby in The Sheltering Sky.
Sadly, the archives of the Tangier Gazette are missing a few issues, and I did not find any followup articles to see whether Reynolds returned to Timbuktu, or the previous article mentioned in the one pictured here.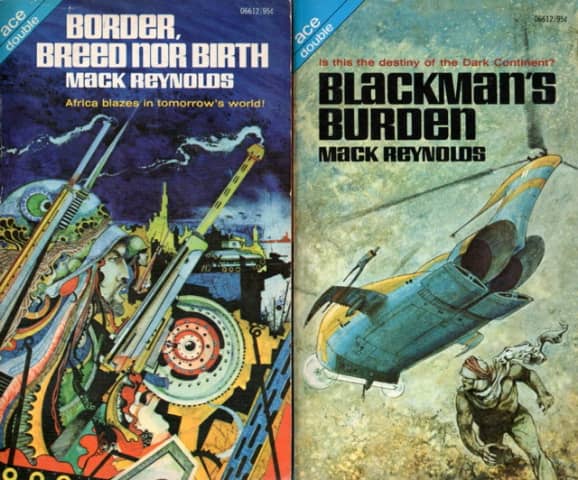 Ace Double editions (August 1972)
Reynolds used the North African setting in several stories and novels, including Blackman's Burden (1961), Border, Breed nor Birth (1962), "Black Sheep Astray" (1973), and The Best Ye Breed (1978). Blackman's Burden includes scenes in Timbuktu. At the time, he was one of the few writers in the genre to look the race problem squarely in the face rather than abstracting the issue by using aliens as stand-ins for minorities. He also wrote a romance novel set in Tangier called The House in the Kasbah (1972) as Maxine Reynolds.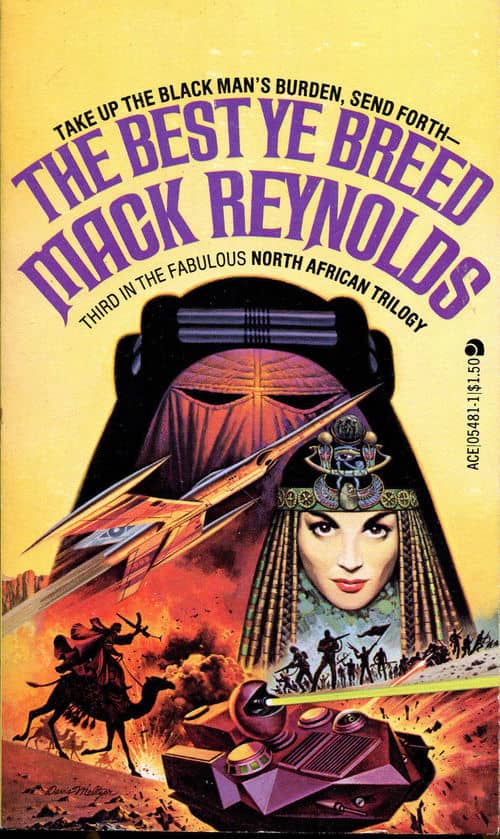 Ace Books, 1978. Cover by Davis Meltzer
Anyone out there know of any travel writing by Reynolds of his trip to Timbuktu?
Thanks to the American Legation in Tangier for helping me uncover this nugget of literary history. It wasn't what I was looking for, but it was much appreciated!
Actually, I was researching a bank in the International Zone that got stolen. No, not robbed, stolen.
But that's another story. . .
---
Sean McLachlan is the author of the historical fantasy novel A Fine Likeness, set in Civil War Missouri, and several other titles. Find out more about him on his blog and Amazon author's page. His latest book, The Case of the Purloined Pyramid, is a neo-pulp detective novel set in Cairo in 1919.