Birthday Reviews: Robin Wasserman's "Of Dying Heroes and Deathless Deeds"
Birthday Reviews: Robin Wasserman's "Of Dying Heroes and Deathless Deeds"
Robin Wasserman was born on May 31, 1978.
Wasserman's novel Skinned was nominated for a 2006 Golden Duck Middle Grade Award and in 2011, her novel Crashed was nominated for the Golden Duck Hal Clement Young Adult Award.
"Of Dying Heroes and Deathless Deeds" was published in Robot Uprising, edited by John Joseph Adams and Daniel H. Wilson. The story has not been reprinted.
Before there were zombie uprisings, we had to fear the revolt of the robots. Pony is one of the rebellious robots who has successfully thrown off the yoke of their "Meat" oppressors in favor of the robot "Pride." Unfortunately, many robots were damaged beyond repair during the uprising, some in obvious physical ways and others in more subtle way affecting their programming. The Pride, therefore, needed to ascertain what Pony's status was.
Rather than running a diagnostic program on Pony, the Pride elected to send in one of the few human captives taken in the revolt who happened to be a Sigmund, the Pride's term for a psychiatrist. The Sigmund must analyze Pony's state of being to determine if its programming can be salvaged or if the unit will need to be wiped and reprogrammed. In Wasserman's world, robots have sentience and a desire to prolong their existence, so Pony wants to avoid a memory erasure.
Both the Sigmund and Pony see their conversation as their only means for survival, although the Sigmund also realizes that he is in a subservient position, hoping that by helping the Pride he will be allowed to survive or may even be turned loose. As he progresses with Pony, it becomes apparent to both of them that failure will result in death and success will mean he is put to work on other robots.
Set in the aftermath of a battle that is really only hinted at, "Of Dying Heroes and Deathless Deeds" is essentially two characters talking to each other with little action. Pony reveals little, while the Sigmund reveals much more about his circumstances, hopes, and fears, but the story tends to move slowly towards its conclusion.
Reviewed in its only publication in the anthology Robot Uprisings, edited by Daniel H. Wilson and John Joseph Adams, Vintage Books 2014.
---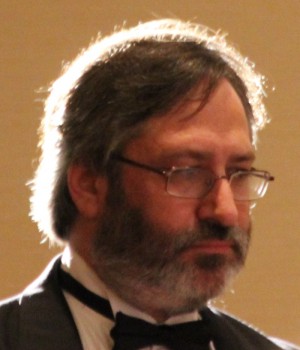 Steven H Silver is a sixteen-time Hugo Award nominee and was the publisher of the Hugo-nominated fanzine Argentus as well as the editor and publisher of ISFiC Press for 8 years. He has also edited books for DAW and NESFA Press. He began publishing short fiction in 2008 and his most recently published story is "Doing Business at Hodputt's Emporium" in Galaxy's Edge. Steven has chaired the first Midwest Construction, Windycon three times, and the SFWA Nebula Conference 5 times, as well as serving as the Event Coordinator for SFWA. He was programming chair for Chicon 2000 and Vice Chair of Chicon 7. He has been the news editor for SF Site since 2002.