Slugs, Slime Trails, and the Muse: Can You Separate the Art from the Artist?
Slugs, Slime Trails, and the Muse: Can You Separate the Art from the Artist?
Most of our participation in the Great Conversation these days is taking place, not in the halls of academia or in fireside clubrooms, but on social media virtual spaces like Facebook. One conversation that many people have been engaging in lately is prompted by the question "Can you separate the art from the artist?"
Another fact of our present moment is that the most sordid and intimate details of public figures are dragged into the light, subjected to intense scrutiny and immediate judgment. Some of our most beloved actors, our most cherished writers, our most celebrated musicians are suddenly being exposed as pariahs, shameful corrupted beings who must be exiled from the spotlight – and, possibly, from our bookshelves and our stereos and our movie streams.
It is not just entertainers currently in the spotlight who are subjected to this new scrutiny. We hear about how certain renowned science fiction writers of the past might have behaved like some of the characters on the TV show Mad Men. Do we jettison the touchstones they left us in disgusted protest? Reaching further back, can we still curl up for some chills with H.P. Lovecraft when we know he was a racist? Can we unabashedly thrill to the adventures of John Carter and Tarzan when we know Edgar Rice Burroughs reinforced some colonialist "great White savior" views?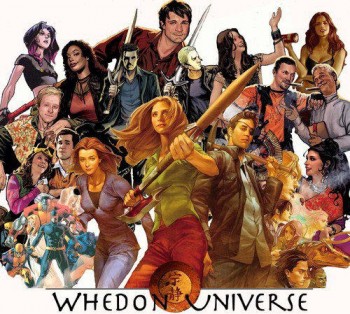 Even more pertinently – with artists who are still alive and producing at the peak of their careers — we suddenly learn, for example, a distasteful insight about a writer and filmmaker like Joss Whedon, whose TV series, comic books, and films we've absorbed and loved for decades. Turns out he was a jerk to his wife: lying to her for years about his numerous affairs. Then, in his apology letter, he floats the timid excuse that, hey, all these hot young starlets were throwing themselves at him to further their careers; he was just too weak to resist. Joss! You're a brilliant writer, what were you thinking? If you were writing that as dialogue for a character, you'd be using it to automatically dial down audience sympathy for him.
On Facebook, science fiction and horror writer Adam-Troy Castro has devoted many posts to this question over the last couple of years, and the ensuing debates are what got me wrestling with the question as well. His biggest go-to example is Bill Cosby. He's loved the stand-up of Cosby since he was a kid; knows some of the routines by heart. He saw Cosby live, he notes, at the last moment you could have seen him before the cloud of ignominy had completely settled and defaced the man's career for good. And he contends that that performance was perhaps the greatest live performance he's ever seen: Some of the routines were near-perfect, in terms of the art of stand-up, and perhaps even achieved the sublime. Some of those words, and the masterful way Cosby delivered them, can still bring tears to his eyes. Regardless what he thinks of Cosby the man, that art is stamped in his brain. What to do?
Castro feels the same about Cosby the man as pretty much everyone else (except for some deniers who think it's all a conspiracy – a crowd, it seems, that consists of Cosby himself, his lawyer, and a handful of people who also think O.J. was innocent and that we never went to the moon); namely, that Cosby the man is a sexual predator with a lifelong habit of drugging women to have sex with them, and he deserves to be where he is: in jail. Like so many of us when a beloved icon is exposed to be not just less-than-perfect but sadistically criminal, he feels betrayed, violated, and absolutely flummoxed: How could a person so flawed write and perform pieces with such humane, sharp insight to family, life, the human condition?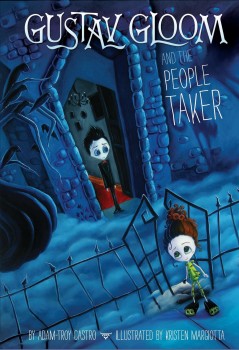 Castro favors separating the art from the artist in this debate: The art is true, even if it came from a corrupted vessel. Others who have engaged the question on their pages are not so forgiving. And perhaps "forgiving" is not the right word: Castro does not forgive Cosby for anything he's been accused and convicted of doing. Not in the least. Just, he has a nuanced view that sees the art as somehow being independent of the artist. (I should note, in citing Castro specifically, that his Facebook posts are set to Public and so intended for general consumption).
This morning I had something of an epiphany. I realized that my general philosophy of art accommodates this apparent paradox, makes some sense of it. It depends on the way that you see, though — your worldview. So if you don't share something of this worldview, it won't work for you. But I'll try to articulate it here.
Before I get to the epiphany, I want to bring up one more artist, and I'm reaching back about 4 centuries for this one. William Shakespeare is considered by most English historians, professors, and scholars to be the greatest writer in the English language. He has held that lofty pinnacle of admiration for more than three centuries, and while there are fewer who feel that way today than did a hundred years or even twenty years ago, his "polls" would still be a super-majority of people who care about literature. If you are not in awe of Shakespeare, my guess is you have never really read him, past maybe a play or two assigned in high school. Myself, a writer of four decades with a master's degree in English literature and language: I need only pick up a play and read a few lines to be once again flattened by his mastery of the language. And then to read just a little further to be reminded of his humbling understanding of the human psyche, passion, friendship, envy, love, hate – all the ingredients that go into our lives on this world's stage.
Shakespeare is to us, I suppose, what Einstein is to scientists and mathematicians. People have certainly achieved other things in the field that he did not, and surpassed his work in some areas, but no one before or since has had such sheer, native brilliance. He changed the playing field. In physics, there's a BE and AE: Before Einstein and After Einstein. There is likewise a clear demarcation in literature: BS and AS. There's still a lot of BS out there. (Couldn't resist.)
Okay, why the long rave about Shakespeare? His plays have been performed more than any other dramatic works; literally thousands of books have been written on them – they have been analyzed historically, psychologically, and through the lens of dozens of different critical theories; and as if enough hadn't been said about them or their author, new books and papers on Shakespeare are born every month.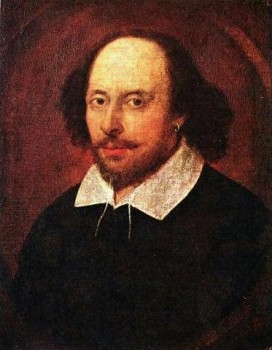 And yet, it is a truism that we know very little about Shakespeare. Apart from what he wrote, that is. The art he created. Oh, we know where his troupes performed, where he moved when he retired, who he was married to. That's about it. There is such a shortage of biographical information that there are still some scholars who argue that he didn't actually exist. That is, the actor named Shakespeare existed but didn't write the plays; rather, some other writer (or even a cabal of writers) wrote them under his name. Which is, incidentally, hogwash.
And so here we have a clear example of the art being separated from the artist simply by virtue of the fact that we know diddlysquat about him – there's nothing to separate. No leaked emails. No paparazzi pictures. No lawsuits. For all we know, he might have been a serial killer. Probably not; but I'd wager that, if we could bring a hidden camera back in time, we could find plenty of dirt on him. And if we did, would we still consider his best plays to be some of the finest literature humanity has ever produced?
But is it possible to expunge all the vile stuff we know about a modern artist and approach his/her work objectively like we do Shakespeare's? Or, conversely, is it possible – knowing that artist X was a sexual predator or a homophobe – to expunge the sublime art he/she created, that moved and indelibly affected us: to reject both him/her and his/her creations?
Some people will at this point in the debate inject the observation that they don't want to financially support a person guilty of reprehensible views or actions by buying their work. I want to clear this from the table quickly, because it is beside the point of what I'm tackling here. Yes, that is a valid position. You don't like Orson Scott Card's views on homosexuals, don't buy his books. But what about after an artist is dead, or if you're just checking his/her book out of a library and so not putting another penny in his/her coffers? Aside from considerations of financial support, can you still enjoy the work of one of your favorite artists once you've discovered something about them that makes you cringe?
Let me distill it into one simple hypothetical test: Imagine you walk into an art gallery. You turn a corner and meet before you a painting that immediately arrests your attention. (To keep this brain exercise completely free of any context or signals, let's say it's an abstract.) It moves you profoundly. You can't take your eyes off it. You find something about the work to be sublime. You're wondering if a print is available in the gallery gift shop. Then a curator walks up beside you and says, "Yes, brilliant painter. Terrible that he was _____." Fill in the blank with what you might find most objectionable or offensive.
I'm guessing that, if you're like me, you'd no longer want to buy a print – simply because, every time you looked at it, the curator's words would spring to mind and you'd always have that negative association. But how to make sense of the painting's effect on you? How could a person like that produce an object that touched you so keenly?
I've spent the first 1,600 words of this essay raising and reiterating the question. Now I've come to the closing paragraphs in which I'll lay out my own, personal answer. Again, it is a philosophical position, perhaps a metaphysical one, and so might not mesh with your own philosophy. As they like to say on social media, "Your mileage will vary."
There are, most broadly, two competing worldviews that stand in stark contrast in our modern world. One is a highly reductionistic, materialistic view. The other is metaphysical, and would most broadly encompass most religions as well as everyone who believes this is not "all that there is", i.e., that beyond the material there is spirit.
The strictly scientific, material worldview will see the human brain as a component of the material world, the thoughts and dreams and visions it fires off from its billions of neurons also simply part and parcel with the evolving universe. These are natural phenomena, and not strictly "higher" or more spiritually meaningful than a bolt of lightning from a thunder cloud or a wave crashing on the seashore (though much more complex).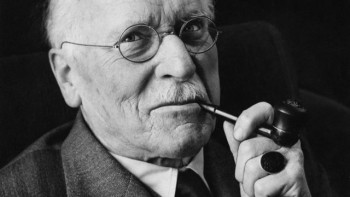 Most of humanity through most of its existence has seen art as an expression of our Higher Self or even of something higher than our self. We speak of the Muse expressing herself through us, or – using a more twentieth-century psychological-sounding term – the collective unconscious, as Jung codified it and T.S. Eliot adopted. So many writers have described the work as seeming to come through them from someplace else, themselves mere vessels channeling it.
As has been made all too clear in this age of transparency, there are few perfect vessels. Many vessels, in fact, are not just flawed in some minor way but contain in their cracks filth and viruses (that can leach into the art passing through them, infecting the art sometimes with just trace amounts and sometimes altogether poisoning and despoiling the art).
But the vessel is indeed a conduit, distinct from the final creation. Its suitability to the creation hinges, first and foremost, on its being open to the vision that comes to it and to expressing that vision. The song, the story, the stand-up routine: that is the vision, and if it has passed through its vessel relatively unscathed, it can impact and shake us and knock us off our feet, leaving us breathless or in tears or in gales of laughter. We are reacting to the vision, not the artist.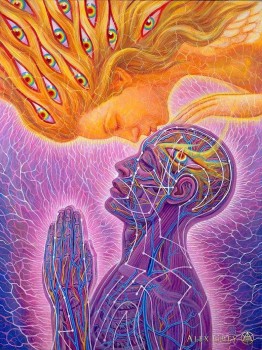 That is how I reconcile all this and answer the question. It explains why, for example, you can fall in love with characters so convincingly and compassionately rendered and then meet the author at a convention and discover he's a jerk. Bewildered, you think to yourself, "How – you – what – how did these characters come from you?" The answer is these characters came through him; they are not him. Nor is he them. Whatever character flaws or nasty habits he might possess, the configuration of his mind and his openness to receiving the vision was such that he was an adequate vessel to call those characters into being and deliver them. An absolutely horrible mother might deliver a saintly baby.
Now, a reductionistic worldview will not receive much comfort from this idea. There is no Muse, no collective unconscious, no heavenly music that we call down through our human instruments. The product of a human brain is no more or less material than the brain that produced it; art is, to put it crassly, a secretion of the brain and therefore inexorably tied to that brain. If we reject the brain that made it, we are also more likely to reject it. Reject the slug, reject the slime trail: even if the slime trail came out looking like the Mona Lisa.
This is far from the last word on this debate. It will be with us for as long as the Muse, that fickle and capricious light of humankind, continues to select vessels who are flawed, and who sometimes are so flawed they make our skin crawl, to deliver her music to the world.