Future Treasures: The Golden Age of Science Fiction: A Journey into Space with 1950s Radio, TV, Films, Comics and Books by John Wade
Future Treasures: The Golden Age of Science Fiction: A Journey into Space with 1950s Radio, TV, Films, Comics and Books by John Wade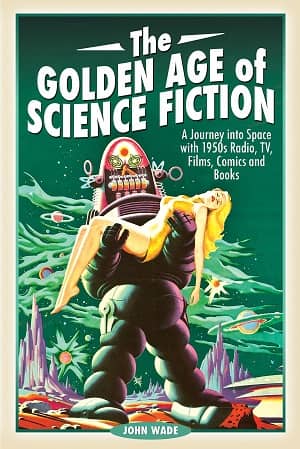 John Wade is the author of more than thirty books published in the US and the UK, including London Curiosities and The Ingenious Victorians. His newest is The Golden Age of Science Fiction: A Journey into Space with 1950s Radio, TV, Films, Comics and Books, a gorgeous hardcover that celebrates classic science fiction in all its forms. Well, the early forms that made vintage SF what it is, anyway.
John Wade grew up in the 1950s, a decade that has since been dubbed the 'golden age of science fiction.' It was a wonderful decade for science fiction, but not so great for young fans. With early television broadcasts being advertised for the first time as 'unsuitable for children' and the inescapable barrier of the 'X' certificate in the cinema barring anyone under the age of sixteen, the author had only the radio to fall back on – and that turned out to be more fertile for the budding SF fan than might otherwise have been thought. Which is probably why, as he grew older, rediscovering those old TV broadcasts and films that had been out of bounds when he was a kid took on a lure that soon became an obsession.

For him, the super-accuracy and amazing technical quality of today's science fiction films pale into insignificance beside the radio, early TV and B-picture films about people who built rockets in their back gardens and flew them to lost planets, or tales of aliens who wanted to take over, if not our entire world, then at least our bodies. This book is a personal account of John Wade's fascination with the genre across all the entertainment media in which it appeared – the sort of stuff he revelled in as a young boy – and still enjoys today.
Science Fiction has long been a genre of obsession, though modern fans have a healthy range of sub-genres to obsess over, like video games, anime, role playing games, comics, television, Marvel movies, Star Wars, toys, Star Trek, George R.R. Martin, and many others. In the 1950s there was just magazines, movies…. and radio.
The Golden Age of Science Fiction has a lot of appeal for me, since I hope it will be a look at the genre from a fresh perspective…. well, fresh to me, anyway. I don't know much about classic SF radio and 1950s monster movies, I'm looking forward to it. It will be published by Pen and Sword Books on February 28, 2019. It is 240 pages, priced at £25.00/$42.95 US. Get more details at the Pen and Sword website here.
See all our recent coverage of the best upcoming SF and fantasy releases here.